Back
Should We Allow Comments on Our Company Blog?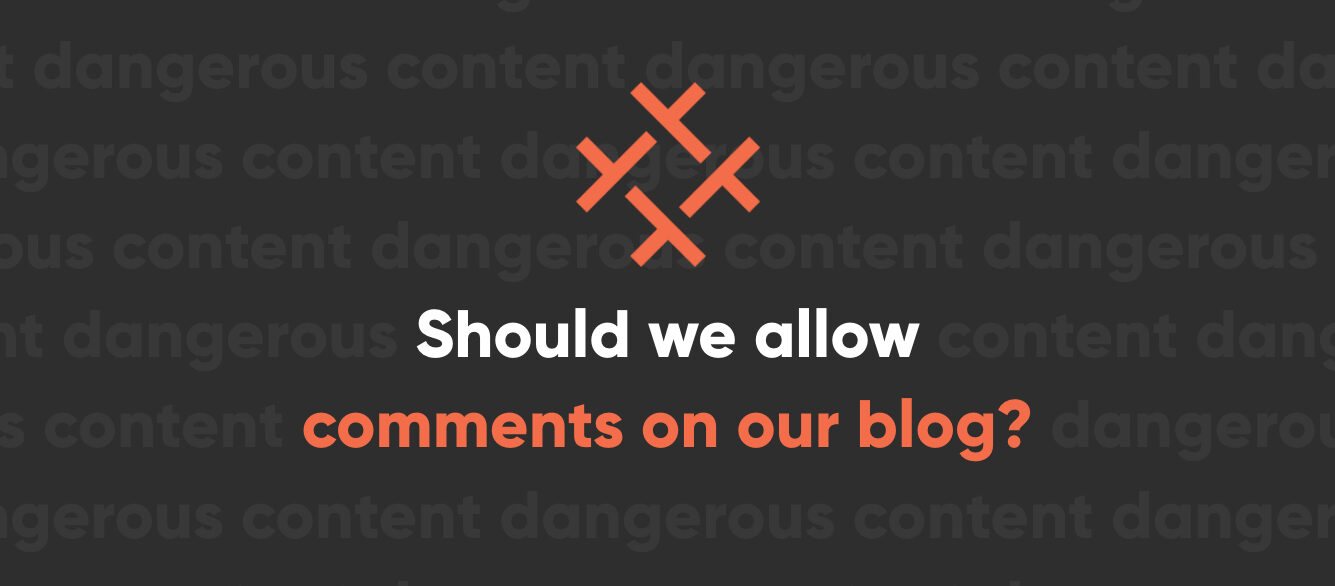 Having a blog on your company website can have a positive impact on your business. It can also feel like the bane of your existence. Coming up with content for your business blog is difficult enough without having to deal with loads of useless blog comments.

Yes, that's right. It's 2015 and spammers are still commenting on our blogs. Didn't they get the memo that WordPress automatically added "nofollow" to all blog comment links back in 2005 when it released version 1.5?
Let's be realistic. Blog comment spammers haven't paid much attention to many memos in their lives. They're far too busy ruining discussions and driving website owners crazy. We're probably not ever going to make them realize the error of their ways, so there's not much point in dwelling on it. We just need to know how to squash their pathetic efforts and take control of our blogs.
The Potential Danger of Blog Comments
Blog comments are a bit of a contentious topic. Many business owners and even some marketing experts are afraid of them for one or more of the following reasons:
Links in blog comments can drive traffic away from your site
Spammy blog comments can hurt your search rankings
A blog post with zero comments looks unsuccessful
Let's briefly dissect each of these "dangers."
A link posted in the comment section of your blog can certainly entice people to visit other websites. But that doesn't mean they are leaving your site for good. Let's be honest: if links in blog comments are driving traffic away from your site, your content probably isn't that worthwhile.
Having spammy blog comments shouldn't impact your search rankings. As mentioned above, WordPress automatically applies the "nofollow" tag to all links in the comment section. This tag basically tells the search engines that your website is not endorsing these links. Therefore, no amount of spammy links in the comments should hurt you from a technical standpoint. Of course, the impact these comments may have on your reputation and credibility is another story.
Comments should never be treated as a key performance indicator (KPI). The success of a blog post cannot be measured by the number of comments you get. A blog post can influence your visitors and even make them more likely to become your customers without forcing them to leave a "Hey, this is a great post!" comment.
Can blog comments be dangerous? Sure. A commenter might express an alternate viewpoint. A commenter might criticize your business. A commenter might derail the discussion completely. And even if no one directly attacks you, tons of crappy blog comments can destroy your credibility. Fortunately, you can do something about this.
How to Be a Master of Your Blog Comments
You should never give people free rein over your blog. When your blog posts are overrun by garbage in the comments, it gives your readers the impression that you don't care much about your site. It also makes it hard to take you seriously. In order to establish any credibility with your blog (which is exactly what most business blogs should do), you have to be in control.
To maintain control, there are a couple things you need to do. First, you need to take a preemptive approach to weeding out spam. If you're like most business owners and use WordPress to power your blog, this is incredibly easy. The Akismet plugin is excellent at catching all that spam for you. Just in the past two weeks, Akismet has caught over 3,000 spam comments on our blog. Here's a small sampling of the gems automatically filtered out for us:

Some of these may seem fairly innocuous, but none of them would provide any value whatsoever to our visitors (although I am slightly curious what Eccellente sconto Adidas Jogging's roommate had to say about our topic).
Second, you need to moderate all comments before they are published. In WordPress, this is incredibly simple. In the Discussion Settings, you can choose when a comment will appear by checking a box:

I recommend setting it to "comment author must have a previously approved comment." This will allow your past commenters to contribute to the discussion immediately. Consider it a little reward for people who've been approved in the past. This actually works to your benefit because it speeds up the conversation. It also cuts down a bit on your work—you don't have to log in to WordPress every five minutes to approve another comment.
How to Determine if a Comment is Worthy of Approval
Since you're already filtering out a majority of your spam, it shouldn't be all that time consuming to moderate the remaining comments. With this simple checklist, you can easily determine if a comment is worthwhile:
The comment should relate directly (and specifically) to your topic
It should provide potential value to your users
It should be written by a real person, preferably with a real name
It should be free of offensive language and/or inflammatory opinions
Most spam comments are pretty easy to spot. They generally look like they're written by robots or by people who have no specific interest in your content. You should never approve comments that do any of the following:
Contain lots of links
Speak very generically about your content ("This is a great post. What an interesting topic. I could never have said it better. Write more of this.")
Mention cheap NFL jerseys, fake Rolexes, Viagra, muscle building supplements, or any other product
Offer guest writing services
Talk about your on-page SEO or mention anything about your search rankings
This:
Fortunately, your Akismet plugin is going to catch the vast majority of these ridiculously spammy comments. Even if you have a popular blog with a lot of comments, you shouldn't need to spend more than a few minutes a day moderating. You might even come across a few stupidly hilarious comments that will make the process worthwhile.

Wow, I knew my blog posts were good, but I didn't realize they provided this kind of satisfaction. 
Why Allow Blog Comments At All?
Blog comments are not a requirement. Depending on your business, your industry, or even a specific piece of content, it might not make sense to allow any blog comments. That being said, there are a couple potential advantages to allowing comments:
Comments encourage discussion and show your company values the opinion of your readers
Comments can be a great place to collect feedback and other ideas from your visitors and potential customers
If you are going to allow comments—and if they are important to you—then you should use specific calls to action to encourage comments. This is as simple as asking people to share their own experiences or post any questions they have. You should also make it a point to respond to their comments. Thank them for taking the time to read and post their own thoughts. Answer any additional questions they have. Keep the discussion going and show you care.
Most importantly, have a reason for allowing comments. If you're allowing people to comment on your blog just because you think you're supposed to, then you haven't given it enough thought.  
This post is part of Internet Marketing Mysteries, a weekly column addressing actual client questions related to SEO, analytics, website best practices, and any other topic connected to internet marketing. Have a question you'd like to see tackled in a future post? Let us know in the comments.

Nate Tower has over 10 years of digital marketing experience and currently serves as the President of Perrill. He is a creative expert gifted in pinpointing our clients' realities, goals, and audiences and turning that information into a captivating and never-before-heard brand story. With roots in digital marketing, education, and creative fiction, Nate's an Old Faithful-caliber fountain of knowledge.