Back
4 Things You'll Learn About Your Business During a Website Redesign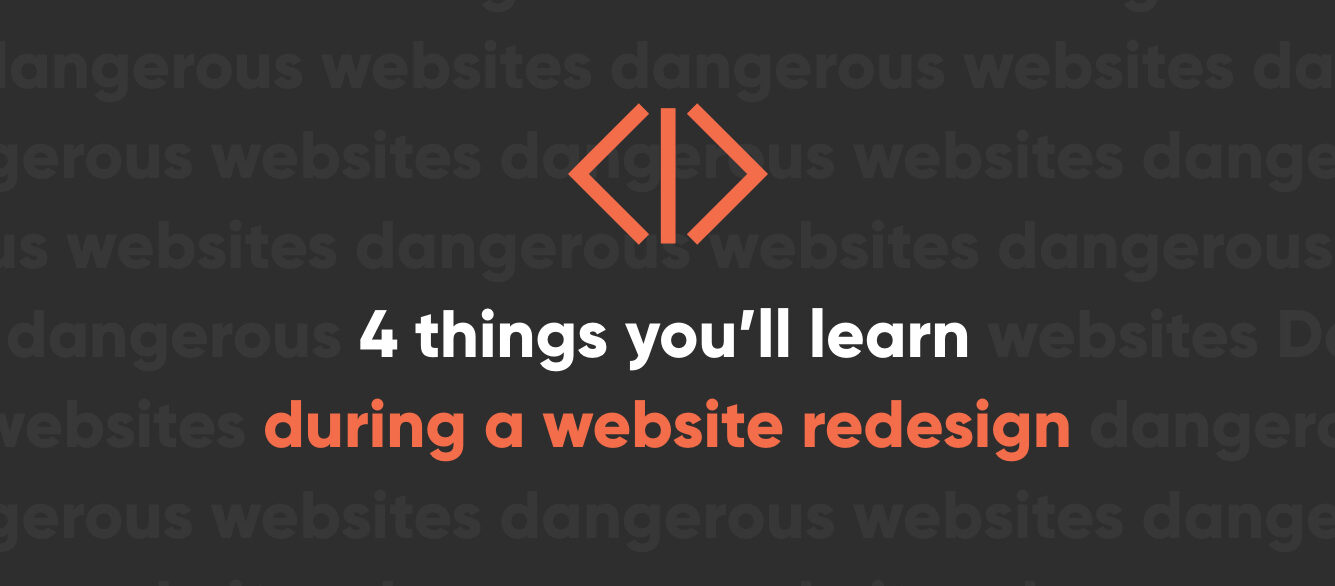 You may not realize this now, but your next website redesign will be a major learning experience for your business. At least it should be, if the web design company you hire does it the right way.
Your website is the digital face of your business. It's where most people first meet your company. It's the first place everyone turns when they consider whether or not they want to do business with you. Whether stumbling upon you through organic search, a social media post, or word of mouth, your potential customers are your website visitors.
That being said, your website needs to be an accurate reflection of who you are as a company. It has to be the decisive factor that will make you stand out from your competition and make your potential customers become your actual customers. It needs to have a purpose beyond looking good and giving visitors a vague notion of what you do. 
When we work with our web design clients to plan out their new websites, they almost always learn something about their business. In some cases, the web design process even causes a business to reevaluate the way they do things. In the end, our clients come out not only with beautiful and highly functional websites, but also with a better understanding of who they are as a company.
During the course of a website redesign, here are 4 things you will learn about your company.
What Your Unique Value Proposition Really Is
Ask any business what makes them better than the competition, and almost all of them will tell you it's their people or their service. Every business has the best employees and the best customer service. With these two things combined, every business is somehow infinitely better than the competition.
Unfortunately, this simply isn't true. Not every business has the best people or the best service. Yes, some companies really do. And other companies have really good people and really good service but not necessarily the best. But even if your people are good and your service is good, those things don't make you unique. They don't set you apart from the competition. Something else does, and the process of a website redesign often brings out the true differentiator.
Your web design team won't create that unique value proposition for you. It already exists. Your design team will ask the tough questions that will make you realize why your customers are choosing you over the competition. And then your design company will make sure this value proposition is positioned on your site in a way that will help your business grow.
What Your Business Doesn't Do Well
Every business has a weak spot. Maybe it's a service you don't provide that your competitors do. Maybe it's a bad reputation in certain circles. Maybe it's an inability to accurately convey your services to your customers. Maybe your product is just plain lousy or doesn't have any market value. Or maybe you're just really unorganized and don't have a good sales process. No matter what the case, there's something you aren't doing well. A website redesign uncovers these issues and helps you resolve them.
No, your design team isn't going to fix these problems for you. But they are going to help bring them to light and create a website or strategy that helps you navigate around these issues. That doesn't mean the launch of your new website will solve your business problems. Rather, it means your new website will put you in a better position to sell your strengths and overcome your weaknesses.
What Your Business Goals Are
Almost every conversation about goals starts something like this:
Us: What are your business goals?
Client: Get more leads and sales.
That seems logical, right? There aren't many companies out there saying they want to decrease leads or see their sales flat line. Businesses want to grow. If they didn't, they wouldn't bother with new websites (although an out-of-date website could also result in losing existing customers, but that's a different story).
But getting more leads and sales isn't a true goal because you can't really measure the success of it. Sure, you can say, "Hey, we got 1 more lead this year than last year," but what does that do for your business? If you want to grow, you need to have more specific goals and a more specific plan. And you need to understand how your website is going to be a part of that. A good web design company will make sure your new website fits into your business plan.
What Matters Most to Your Business
You have value statements. You have a motto or tagline. You have words that say what your business stands for. But do you really know what matters most to your business? A new website is a new way to position yourself to your customers. It's often a period of soul searching. During the process, you may realize your value statements are nothing more than words you wrote down because you had to have value statements. The new website turns those value statements into more than just words. Your business values become a true part of who you are as a company, strategically positioned on your website to help your business grow.
It sounds a bit overwhelming, doesn't it? You thought you were just signing up for a new website. You didn't realize you were signing up to learn more about who you are so you could become a better company. But that's what a good website redesign does. No, it's not part of the proposal. It's not a deliverable. It's one of those intangible things. And if none of this happens, then your new website probably isn't going to be all that effective. 

Written by
Nathaniel Tower
Nate Tower is a Director of Marketing at Perrill. He is a creative expert gifted in pinpointing our clients' realities, goals, and audiences and turning that information into a captivating and never-before-heard brand story. With roots in digital marketing, education, and creative fiction, Nate's an Old Faithful-caliber fountain of knowledge.