Back
5 Biggest Website Redesign Mistakes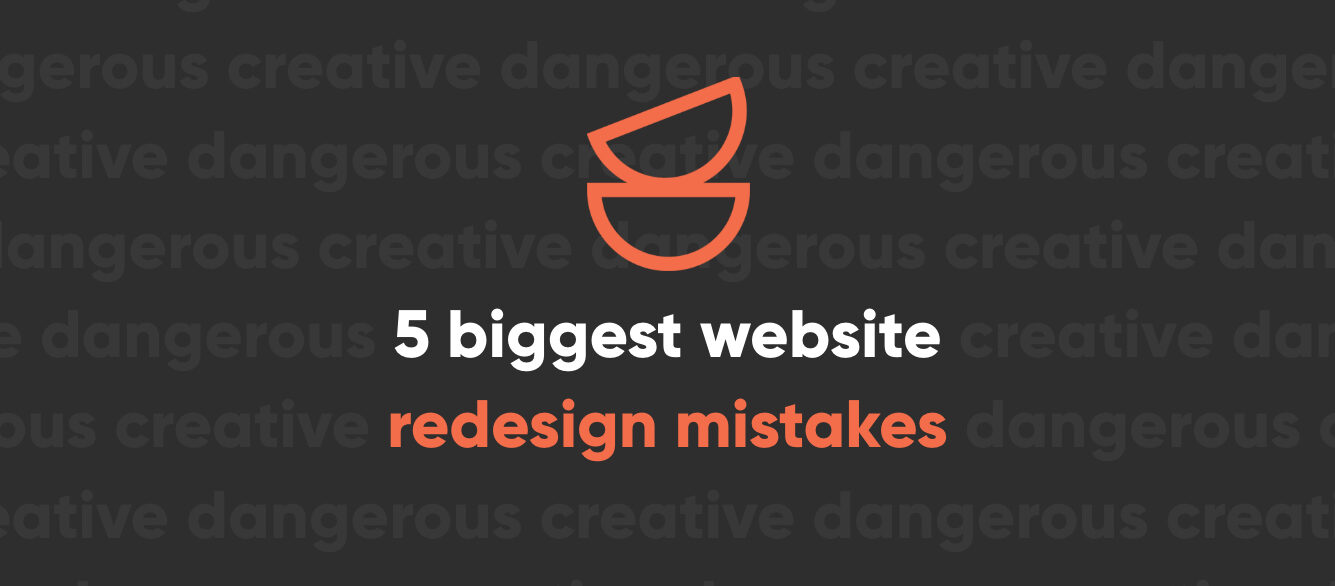 A new website can be a great way to give your business a boost, but it can also be a big waste of money. Redesigning a website shouldn't be a quick fix. Nor is it the ultimate solution to a bigger business problem. But it definitely can increase your sales or bring in more leads—as long as you don't screw it up.
When website redesign is done the wrong way, at best you end up back where you started (minus the thousands you spent for the new site). In more extreme cases, your new website results in fewer leads and a big drop in sales. And then there are other instances where you have absolutely no clue if it was worth it or not.
So how do you make sure your website redesign isn't a colossal failure? Here are the 5 biggest mistakes you need to avoid when redesigning your website.
Not Having a Goal
Do you know why you are redesigning your website? Is it because you have a gut feeling that a new site will work better? Or did your big competitor just launch a new site of their own? Regardless of your reason for wanting a new site, you probably stand to benefit. But you need to know what your goal is. That means you need to have an idea of the problems or deficiencies with your current site. Simply saying "more sales" or "new leads" isn't good enough. What do you really hope to get out of your new website? If you can't answer that question, you may want to hold off on signing a contract for a new site.
Going Too Cheap
You don't want your new site to put you in a financial hole. You can't afford to pay $50,000 for a new site if your annual sales are $80,000. But you also don't want to find a rock bottom deal. If you own a business—or even if you don't—you've probably gotten emails promising you a slick new website for anywhere between $200 and $2,000. Well, guess what? Those sites are going to be generic templates that lack functionality and are riddled with problems. Almost every business can benefit from a real web design process—a process that results in a website customized for your needs. If a company offers you something that's dirt cheap, you'll get what you paid for—if you're lucky. Sure, you can't go way over your budget, but going way under might cost you even more money in the long run. Fixing all those problems at a developer's hourly rate will have you wishing you'd done it right from the start.
Favoring Appearance Over Function
You want your site to look great. It needs to pop. It needs to jump off the screen, grab users by the face, and pull them into your store so they want to buy a million bucks worth of product. Oh, and it actually has to work. Many business owners get so caught up in how a site looks that they forget to care about how it works. Your website needs to provide the right functionality. It doesn't matter how amazing the layout is if the shopping cart doesn't work. Sure, that portfolio looks so cool it makes me want to hire you on the spot, but the fact that I can't sort anything or find the service I need leaves me wondering if you even do what I want. Before you even think about what your new site should look like, make sure you know exactly what it needs to do.
Not Tracking It
The day of the new website launch is going to be the greatest day of your life. It looks great, works great, and is guaranteed to send visitors into a buying frenzy. Except you forgot to do one thing. You forgot to track it. You didn't establish benchmarks for the old site, and you didn't implement proper tracking on the new site. You just launched this awesome thing and now you have no idea if it's working. Yeah, that phone seems like it's ringing more, but do you really know that impact of the new site? This is a huge investment, and you need to make sure it's paying off.
Assuming It's Done When It Launches
You have a huge launch party. Your site gets a million visitors in the first week. Nothing but positive feedback all around. Congratulations! Now you can wipe your hands and walk away until it's time to redesign again in a few years.
Not so fast. Websites are living things. They need attention and nourishment. If you just launch it and forget it, you won't get much out of it. Once that site launches, it's time to start gathering data and doing some A/B tests. Yes, we all know that web designers are amazing and would never give you a website that isn't the ultimate conversion machine. But there are no universal answers that work for everyone. That new call to action that looks so great? Yeah, no one is being compelled to act. And your beautiful contact page could really benefit from some different copy. The site isn't finished when it launches. That's when things are really getting started.    
By avoiding these 5 major website redesign mistakes, you can ensure your new site will be a positive asset to your business. Fall victim to any of these traps, and you'll be cursing every web designer within 500 miles.  

Nate Tower has over 10 years of digital marketing experience and currently serves as the President of Perrill. He is a creative expert gifted in pinpointing our clients' realities, goals, and audiences and turning that information into a captivating and never-before-heard brand story. With roots in digital marketing, education, and creative fiction, Nate's an Old Faithful-caliber fountain of knowledge.