Back
5 digital marketing tips for 2020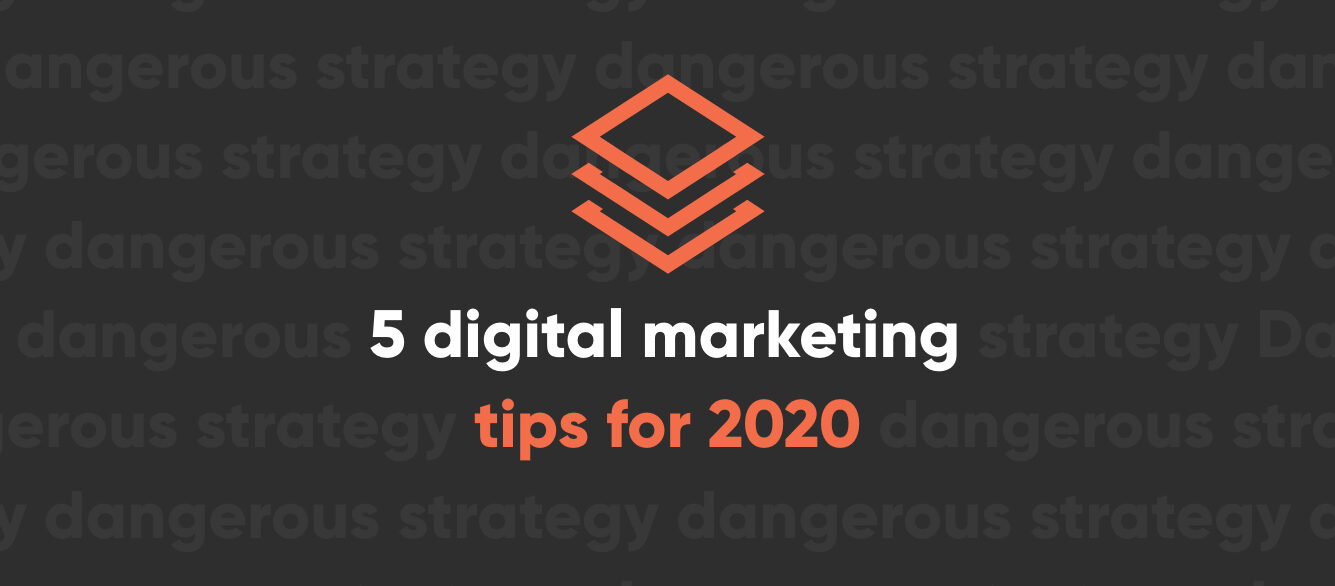 As we begin yet another new year, it's important to look back at all the things we've learned and trends we've observed over the past 365 days. It has certainly been an interesting year in the digital marketing world, chock full of surprises and industry change. Because of this, a lot of the strategies we were incorporating only a year ago are no longer as efficacious and efficient as we would like them to be.
With that said, here are 5 quick tips to boost your digital marketing efforts in 2020.
1. Don't confuse brand strategy and marketing
Marketing managers must deliver short-term financial results. Spending a considerable sum on branding contradicts that premise. Smart leaders understand that brands are long-term assets that, if managed properly, can live on for decades. And that lays the foundation for the fundamental difference between the two: brand strategy applies to purpose, values, mission, culture, etc., and as much, will set the tone for your marketing. Without a brand strategy, marketing is often just a bunch of tactics you try for short-term gain.
Never forget that strong brands deliver unilateral savings in cost per acquisition in the digital arena.
2. Understand and leverage your data
Category managers focused on short-term financial results often compare straight return on investment figures without understanding the implication that Source A has on Source B. Let's use Facebook and Google as an example. Facebook may indicate a net loss, but Facebook may also be the reason for Google's performance. It's also important to understand that Facebook can support Google, only for Source C (let's say Bing) to tell me to use a service and/or purchase a product. The point is, test regularly to ensure that your media mix is fully optimized.
Attribution isn't a zero sum game, and not considering the implications of such lacks mindfulness.
3. Understand the financials of your PPC and market for efficacy and efficiency
Spending too much money to rank #1 is almost always a waste of money. Can you market a non-branded search term that costs $2.80 on Google for a fraction of the cost on a similar platform that reaches an identical or similar audience? What corollary metrics can you cull to determine if you are properly allocating resources? It's important that you understand how auction structures on "maximum" bids work so that you don't overpay for what you already do.
Bidding to reach the top slot doesn't always indicate or guarantee profitability.
4. Don't overthink "strategy"
Above all else, your company's brand strategy should be unique and inimitable. Your digital strategy, on the other hand, often falls under the following framework: audience, strategy, industry, and channel. Who are we talking to? How should we talk to them? What should we talk about? And where should we reach them? If you're developing a digital marketing strategy without a hybrid-based (data and creative) persona, you should stop and reconsider.
Spend absent strategy equates to failure.
5. Secret sauce for 2020: email marketing
What's the cost to run? An email platform, HTML template, and copy—that's it! When contemplating the above framework, think about the return:
Audience: You're reaching people that you've previously acquired.
Strategy: You're adding value to your brand through consistency.
Industry: You're providing relevant and sought-after content.
Channel: People

 

still

 

check email almost every day!
Never sleep on email.
Closing thoughts for digital marketing in 2020
2020 will inevitably go down as the year of hindsight. If you make even one professional resolution in the new year, let it be to not regret your outdated strategies and stay ahead of the digital marketing curve by following these five simple tips.
Perrill is a digital marketing agency with over 25 years of experience helping businesses grow online. Contact us today for a free marketing consultation that will unlock new growth opportunities for your organization.
Dan Cole is the Manager of Content & Copywriting at Perrill. He has been professionally strategizing and creating original content since 2011 across agency settings, corporate positions, and journalistic beats, and now masterminds written materials of all kinds for Perrill's clients. He was named Acme Comedy Co.'s Funniest Person in the Twin Cities in 2014 and will never let any of us forget it.