Back
The legal impact of web accessibility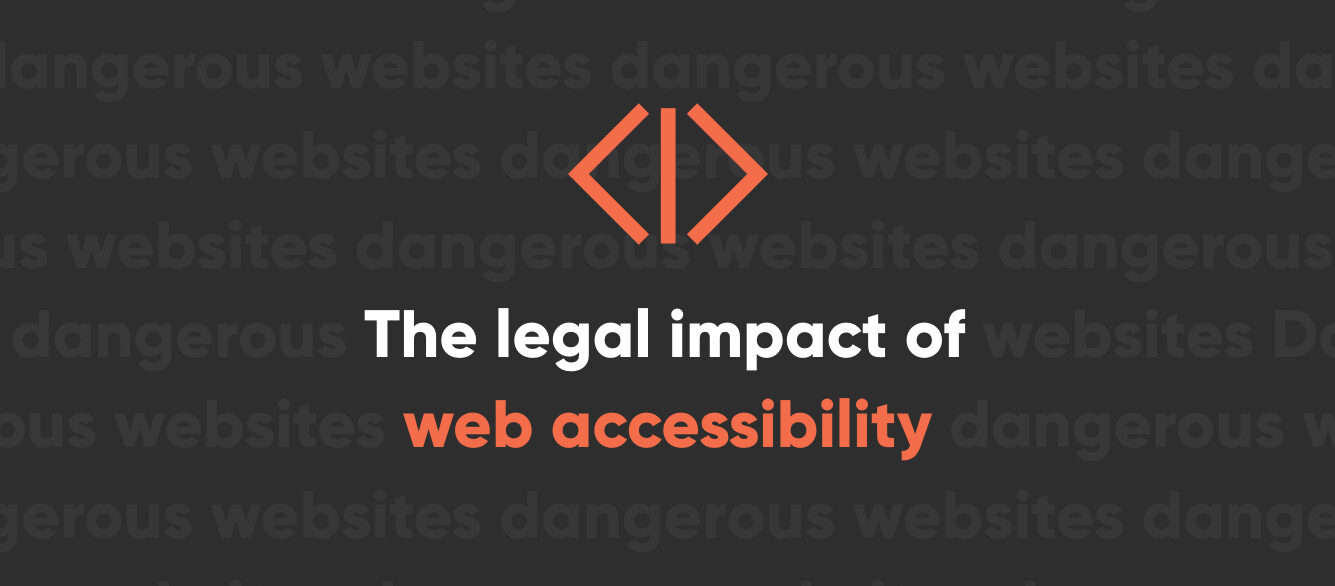 Web accessibility is a serious issue for both digital users and modern businesses. Users with disabilities aren't able to effectively use websites that aren't fully accessible, and companies with non-accessible websites face the growing risk of lawsuits and lost customers due to that fact.
2019 was an important year for accessibility lawsuits, and the research team at UsableNet monitored and documented all the federally filed ADA activity within the past year. Here's a closer look at some of the key findings from the 2019 report and what the numbers mean for your business's website.
Annual number of accessibility cases grows from 262 in 2016 to 2,235 in 2019
This indicates the growing nature of accessibility-related lawsuits and the need for ALL businesses to ensure their site is 100% accessible for all users. This number is expected to continue to grow in 2020, so if you're not practicing accessibility, it's only a matter of days until a costly and time-consuming case is brought against your company.
21% of all companies sued were sued multiple times
Unless your business responds quickly to remediate accessibility issues across your website, there's a high likelihood another suit is not far behind. You can't simply set it aside and expect it to go away with time. It's only going to come back with more force and added cost. You need to take action today.
Retail is the most targeted industry
More than 60% of all cases in 2019 took place in retail, with food service (9%), entertainment (8%), and travel (7%) following by a considerable margin. Each of these industries consists of highly visible websites that are rather difficult to make fully WCAG-compliant due to many of them having multiple physical locations and subsidiary brands, websites, or apps.
Regardless of industry, it takes a proven expert to efficiently and successfully optimize your site for accessibility – and to do so on an ongoing basis. Accessibility guidelines change just as quickly as everything else on the web, and any modern business needs a long-term partner to keep them compliant.
Companies of all sizes are at risk
Many of the web's biggest names have come under fire from accessibility suits, with over 66% of the Internet Retailer's Top 500 having been named in a case since 2017. But this doesn't mean only large brands are at risk. Any website receiving consistent traffic is at risk of being named in an accessibility suit.
Users with disabilities don't only visit big-name websites. Every business needs to behave as if it's a global enterprise when it comes to accessibility. The only difference is big names have the budget to take on major lawsuits. Chances are your business doesn't. Invest your efforts in getting ahead of accessibility issues before a costly case comes into play and lands your company in the red.
Lawyers are benefitting
More than 400 new lawyers filed or defended an ADA web accessibility lawsuit in 2019. Like we said, this is a growing threat, and lawyers are starting to see the blood in the water and jumping at the chance to get involved. Smart businesses are allocating their budgets toward WCAG remediation rather than legal fees. Whether or not you've been sued, web accessibility is an essential component of modern business and is something you need to take action on today.
Make your site accessible today
Every day you wait to pursue website accessibility means more lost customers and a greater chance for expensive litigation. Web accessibility shouldn't be viewed as another expense for your business, but as an opportunity to expand your customer base and protect your business. Even more importantly, it's an opportunity to make the internet a better place for everyone.
Have questions about web accessibility and what you need to do to be ADA-compliant? Contact us today to learn more.

Dan Cole is the Manager of Content & Copywriting at Perrill. He has been professionally strategizing and creating original content since 2011 across agency settings, corporate positions, and journalistic beats, and now masterminds written materials of all kinds for Perrill's clients. He was named Acme Comedy Co.'s Funniest Person in the Twin Cities in 2014 and will never let any of us forget it.