Back
5 ecommerce marketing automation best practices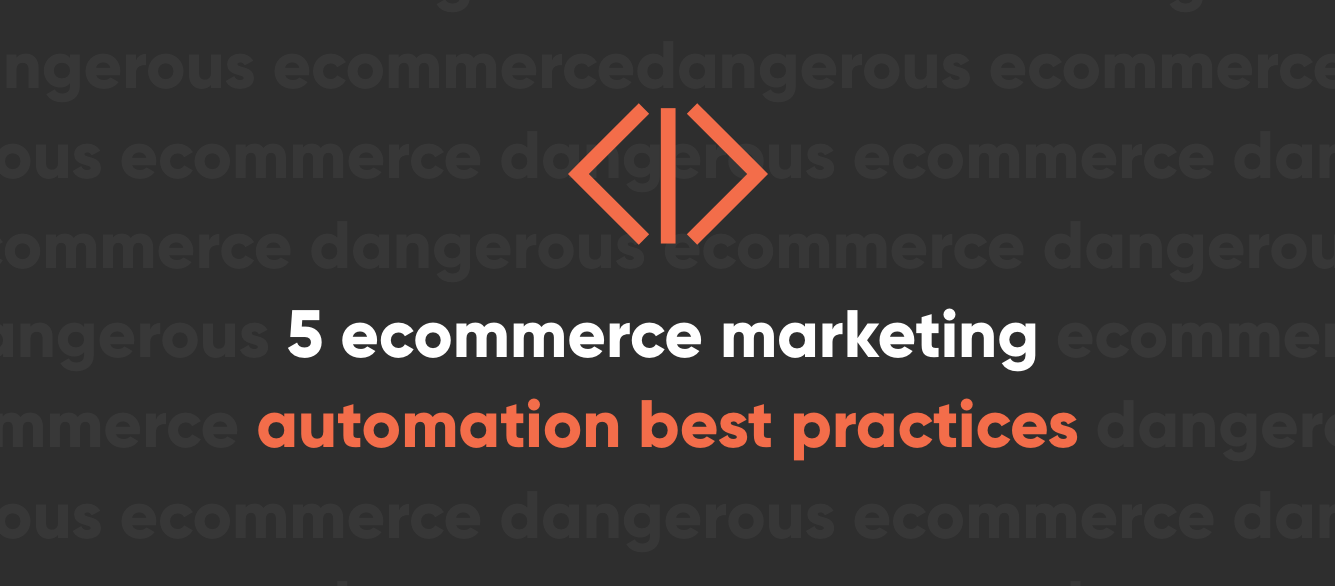 Digital marketing is essential for all businesses – and I'm not just saying that because it is literally my job to do so – but it is especially essential for ecommerce brands whose products are purchased directly through their websites.  
For these brands, optimizing marketing efforts can create an end-to-end experience for users that allows them to discover, consider, and purchase products without having to get up off the couch or put on what I call "outdoor pants." This makes dialing in your digital presence an absolute must for ecommerce sellers. 
Marketing automation is a key component of this, enabling efficient and personalized communications from your brand that can reach and engage with both prospective buyers and long-time customers with minimal recurring effort.  
More engagement + less effort = pretty good idea. 
I'm glad you agree. Let's take a closer look at what marketing automation is and how it can be leveraged by ecommerce brands to increase sales and revenue. 
What is marketing automation?
Marketing automation is very much what it sounds like – the automation of marketing activities through the use of specially developed software. It enables marketers to automate tasks like email, social, and ads, not only increasing the efficiency of these tasks but also providing customers with a more personalized user experience. 
Marketing automation allows you to nurture customer relationships at every phase of the sales process with highly tailored and useful content targeting both prospects and customers. For ecommerce brands, this could mean sending personalized emails and offers to leads, guiding them through the sales process, and following up with any confirmation/thank you messages and relevant supporting resources after the fact. 
Now, let's dive into five marketing automation strategies ideal for ecommerce businesses. 
1. Develop a lead management process
Any good marketing automation strategy needs a strong base of quality leads to start with. Otherwise, you'll have no one to automate personalized communications to! Once a solid network of leads is established, implementing systems to effectively manage and monitor those leads is essential. 
Establishing this process allows you to define parameters for finding, qualifying, nurturing, and managing leads. You can then aim to deliver relevant content to these leads at the right time and can alert sales reps when further assistance or personal communication is needed. 
2. Personalize messages and content
One of the greatest strengths of marketing automation is its ability to personalize communications to each specific user. But keep in mind that there's much more that goes into this than simply putting their first name in the greeting line of an email. 
You can personalize messages based on a lead or prospect's behavior, serving as one of the best tools to increase sales or conversions. Certain behaviors like website activity, previous purchases, and browsing data after a webpage visit all help increase the depth of personalization. 
Such customized content can include: 
Messages on landing pages

 

Graphics on landing pages

 

Offers

 

Emails

 

Newsletters

 

eBooks

 

And more

 
Marketing automation also allows you to trigger certain content and offers based on analytics and best results from similar prospects. 
3. Create automated email campaigns
A cost-effective way to reach customers and prospects is through automated email campaigns that can be triggered by events, website behaviors, or specific actions taken by users. 
These can include: 
Welcome series emails for when a user fills out a form or converts for the first time on your site ("Hello! Welcome to the DWC Bike Shop community!")

 

Thank you series emails for when a prospect or customer completes a purchase or other action on your site ("Thank you for purchasing your new bike helmet! Your shipment is on the way!")

 

Abandoned cart emails for when a user leaves items in their cart without checking out ("Get your ass back in here and buy this bike helmet… or else.")

 
All are effective email marketing automation strategies for sales, capable of reaching users at different points throughout their journey and either fostering loyalty and/or inspiring conversion. 
4. Identify the correct triggers
Triggers such as email signups or completed purchases are common, but you can also set up triggers for more obscure things like product pageviews or a user moving into the next stage of a buying process. 
Knowing your audience and how to interpret the intent behind their behaviors throughout the customer journey plays a big role in identifying the right triggers. And the more triggers you can identify, the better. But beware, because you also want to avoid contacting customers so much that they become annoyed with or disinterested in your brand. Knowing and using the right frequency of contact triggers is highly important. 
5. Create lists and segments based on behavior
Creating different segments of your contact lists allows you to tailor your communications accordingly using marketing automation. Maybe you want to reach users who have signed up for your newsletter in the past month and who have also visited a certain product category page in that same timespan. By setting up the right triggers, you can automate the creation of these segments and subsequent messages to reach your desired users with ease. 
Marketing automation allows you to understand what different groups of people in your mailing list are interested in and also allows you to deliver relevant content and promotions to those groups. 
Start driving qualified leads with less effort with help from Perrill
Since our conception as Minneapolis's first digital agency in 1993, Perrill has grown into one of the most experienced and capable SEO experts in the Midwest. We use sustainable strategies, high-value keywords, and proven tactics to position you at the top of search results and make sure you say there. 

Dan Cole is the Manager of Content & Copywriting at Perrill. He has been professionally strategizing and creating original content since 2011 across agency settings, corporate positions, and journalistic beats, and now masterminds written materials of all kinds for Perrill's clients. He was named Acme Comedy Co.'s Funniest Person in the Twin Cities in 2014 and will never let any of us forget it.