Back
6 Reasons You Should Keep Marketing When Results Are Great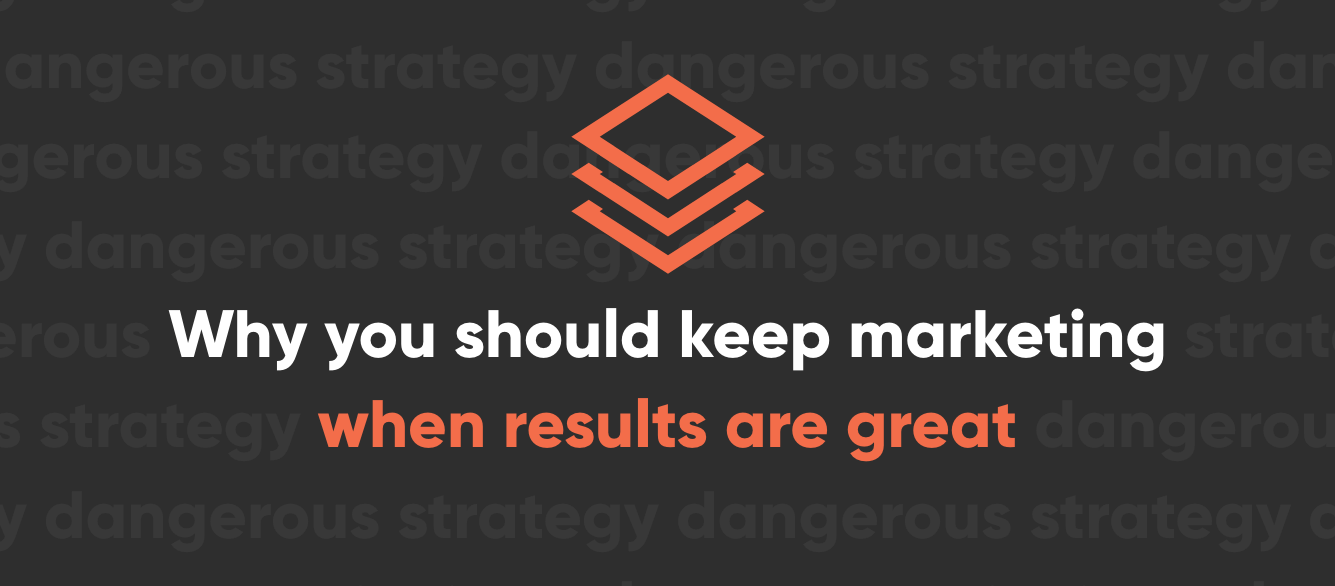 If you're reading this, chances are you have had some great business success from the past month, quarter, or year. You have so much business that you're turning down deals or you're booked out for the next 8 month.  The problem? You're not sure if you really need to keep marketing when your business is doing so well. After all, you don't want to spend any more time/energy/money than you have to – right?  The truth is that marketing should never stop, even when your results are pouring in.
When you stop marketing, you risk losing all of the momentum you've worked so hard to get. If you want to build long-lasting relationships with your customers, then you need to continue reaching out to them and offering great deals and information that they'll enjoy receiving in their inboxes every once in a while. Here are six reasons why you should keep marketing when results are great!
1. It's actually more work to stop and start
Many of us tend to think that when things are going well, we can turn off our marketing efforts. That's not a good idea, however. Just like your car, it actually takes more energy to stop and start your engine than it does to let it keep running. Even if you're going 70 mph, your car will eventually come to a stop if you take your foot off the gas.  Although it may seem hard to keep marketing as a focus when you are busy with the rest of your business, it's equally difficult to start marketing again after you've stopped—especially if you need to build brand awareness among new customers. If not handled correctly, pausing your marketing can lead to losing profits and momentum!
2. It's important for building your brand
Even if you hit it big, or have a lot of momentum behind your company, don't lose sight of marketing. Yes, your company will likely be more visible than it was before—but that doesn't mean you should stop marketing. It is vitally important for companies to keep communicating with their customers and building trust and loyalty with them. It's also important to keep expanding your reach, even if that isn't hard work at first—you never know who else might stumble upon your brand and become a customer or champion for you in some way.
3. It allows you to pick and choose the clients you work with
If your business is doing well, you have a lot of opportunities at your disposal. Clients want to work with you. The question is: which clients? If a client isn't a good fit for your company, it could be a headache.  Have you ever had to work with a headache client because you simply need the cash flow? By keeping your foot on the gas when it comes to marketing, you can maintain a consistently large enough flow of inbound opportunities that allows you to focus on quality vs quantity.
4. It helps you to stay current
If you keep marketing, you'll remain aware of new trends and technologies that can change your business. One minute you could be ahead of your competition and a month later, they could have taken a lead on you. Keeping up with what's new means remaining relevant. If people stop learning, they stop growing—and fall behind their competitors who are still trying to improve. Staying informed helps ensure that doesn't happen to you or your business.
5. When you pause, it gives your competition a leg up
Nothing kills momentum faster than when you stop marketing when things are going well. Remember, when you pause is when your competition is most likely to try and capture your market share. Unplanned breaks in your messaging can give them an opening they need to get more of your customers. Even if it's unintentional, letting up on marketing can be devastating for some businesses—you could lose business simply because you let up on marketing too soon. Resist complacency; keep marketing! There's no better time than now to expose new people to what makes you great!
6. It prevents reversion
Let's say your marketing is working. Your ROI data is in, leads are up, and your phone is ringing off the hook. It's easy to sit back and relax, but doing so could be a mistake. Every day you let go of marketing costs you money. Even when everything seems to be going right, it pays to keep pushing forward—and to keep implementing new, creative ways to get more eyeballs on your products or services. This will prevent reversion.  Marketing is a huge part of why you are currently succeeding. That should give you plenty of incentive to continue marketing even if you can't directly attribute it to your winning streak.
Keep your marketing engine running with the experts at Perrill
The Perrill team is comprised of collaborative experts in the latest and most proven trends in website design, development, and digital marketing. In more than 25 years as the original Minneapolis digital agency, we have helped countless local and national businesses establish themselves as online industry leaders.
Contact us today to learn more about how to craft and maintain a strategy designed to get the most out of your marketing dollars.

Nate Tower has over 10 years of digital marketing experience and currently serves as the President of Perrill. He is a creative expert gifted in pinpointing our clients' realities, goals, and audiences and turning that information into a captivating and never-before-heard brand story. With roots in digital marketing, education, and creative fiction, Nate's an Old Faithful-caliber fountain of knowledge.