Back
5 Things Prospective Web Design Clients Want (and Need) to Know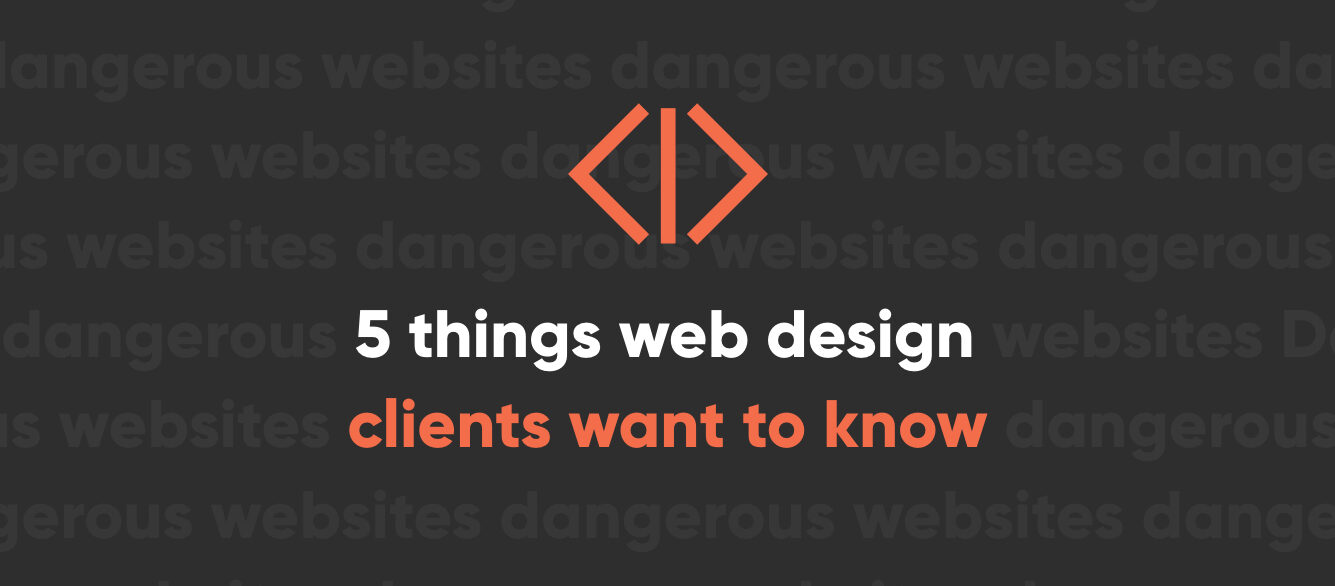 Web design is not a simple thing. Forget all those ads in your Facebook feed offering amazing websites built in just seconds for mere pennies. Real web design—the kind that helps businesses reach their goals—is a process.
As with every other process, there are bound to be a few questions along the way. As web designers and developers, we welcome these questions. We want to be sure the client is getting the right website. We're not in the business of launching expensive virtual paperweights.
Before any web design proposal is signed, there are plenty of questions both from us and from the client. Client questions are more than just "kicking the tires" or feeling out a quote. This is where a business owner can truly determine if we're going to be the best fit for the job. Sometimes we're not, and that's okay. And sometimes the client isn't a good fit for us.
Building a website requires a relationship. The client doesn't just hand us a bunch of specs and tell us to get to work. We don't just deliver a finished product a few weeks later and shout, "Surprise! What do you think?" We view web design as an organic and on-going process, and that's why we welcome these client questions. A client who doesn't ask questions is probably someone we don't want to work with.
So what are these questions like? Here are five questions that almost every prospective web design client wants (and needs) to know:
1. Why should I consider using a custom design versus using a template or a theme?
With so many cheap themes available from DIY website builders like Wix, it's no surprise that almost every client wants to know why they should go with a custom design. After all, custom usually means expensive. Or at least more expensive.
There's no denying that a custom design is going to run you more money than a pre-built template or theme. But it's also going to deliver a much better ROI. A pre-built template or theme will almost never match the look or functionality you need from your website. But even if you could get all the functionality you need from an existing theme, there's another issue at play. Your business is unique. You need it to stand out. If you use some cookie-cutter template, you're going to end up with a site that blends in with the competition. If you want to leave the impression that will make visitors convert, you need a custom design.
2. What is your design process?
Web design clients want to know what's going to happen. Are we just going to collect their opinions and assets before throwing a design together? Or are we going to involve the client along the way to make sure they get what they want?
We believe in an agile process. Yes, we have some preconceived "steps" that will happen along the way, but we also understand the unpredictability of business and the internet. We don't set a rigid time schedule and force the site to launch on a specific date at all costs. Things happen. That's why we include the client in every step of the process, from the initial strategy session to the creative kickoff and the initial wireframes. Our process involves getting to know you and helping you determine what is going to work best for your business. Nothing gets designed without a strategy in place, nothing ever moves to development without approval, and nothing ever launches before it's been thoroughly tested and you're ready to launch. Our process is thorough and designed to create the website that will maximize your business's online potential. 
3. How do you price your website design projects?
It's not the first question prospective clients ask, but it's one everyone wants and needs to know. When it comes down to it, it's often about the money. You have a budget, and you need to stick to that budget. We know how much time and talent it's going to take to deliver what you want. Many times these numbers align. Other times they don't. We're never offended if people tell us we're too expensive. But we're never the most expensive—and we're certainly not the cheapest either.
Websites are priced based on the specific needs of the client. We don't have any one-size-fits-all pricing plans. That would be a major disservice to us and our clients. Custom design has to come at a custom price. This ensures you'll get the website you're paying for rather than a hasty solution thrown together to meet a price proposed just to get you to sign the contract. Ultimately, the price is based on what it will take to create the website. Just keep in mind that your website is an investment, not an expense. 
4. Will I be able to edit and make changes to my website on my own?
After your site is launched, you want to be able to have some control. You don't want to contact a developer and pay $150 to make a simple text change. That's why we make it easy for you to update and edit your website. We help you choose the right content management system (CMS) so you can make these changes yourself. But we go beyond just giving you a username and password. We provide a free training session so you'll know how to make those changes. We also set up your CMS with your business in mind. This includes creating custom post types and custom styles in the backend that you can implement with the click of a button. That way you'll be able to update your site while maintaining the integrity of the design. And you won't break anything. Yeah, we want your site to look good for as long as you have it.
5. How long will it take for you to build and launch my site?
You want your website to launch quickly. We hate having websites that sit in queues for months on end waiting for the next phase to happen. That's why we work closely with you to make sure your site will be launched in a reasonable amount of time that works according to your schedule. If you're looking for a brand new site to go live by the weekend, we're not the web design company for you. But if you want a professional custom website that's built to maximize ROI, we can get your project on the schedule. We'd love to give an average start-to-launch timeframe, but design projects vary too much based on custom needs. We'll do everything we can to meet your (reasonable) target launch date. Just be warned that the number one reason web design projects take longer than planned is because of holdups on the client's end.
There are plenty of other questions you should ask before signing a web design proposal. You want to know things like who you're working with and what the company's experience is. Obviously you'll want to see examples of other websites they've built. And most of all, you'll want to feel comfortable with the answers they provide. Your website is one of the most important aspects of your business. Make sure you're getting something you're going to love. 

Nate Tower has over 10 years of digital marketing experience and currently serves as the President of Perrill. He is a creative expert gifted in pinpointing our clients' realities, goals, and audiences and turning that information into a captivating and never-before-heard brand story. With roots in digital marketing, education, and creative fiction, Nate's an Old Faithful-caliber fountain of knowledge.