Back
6 common web design pitfalls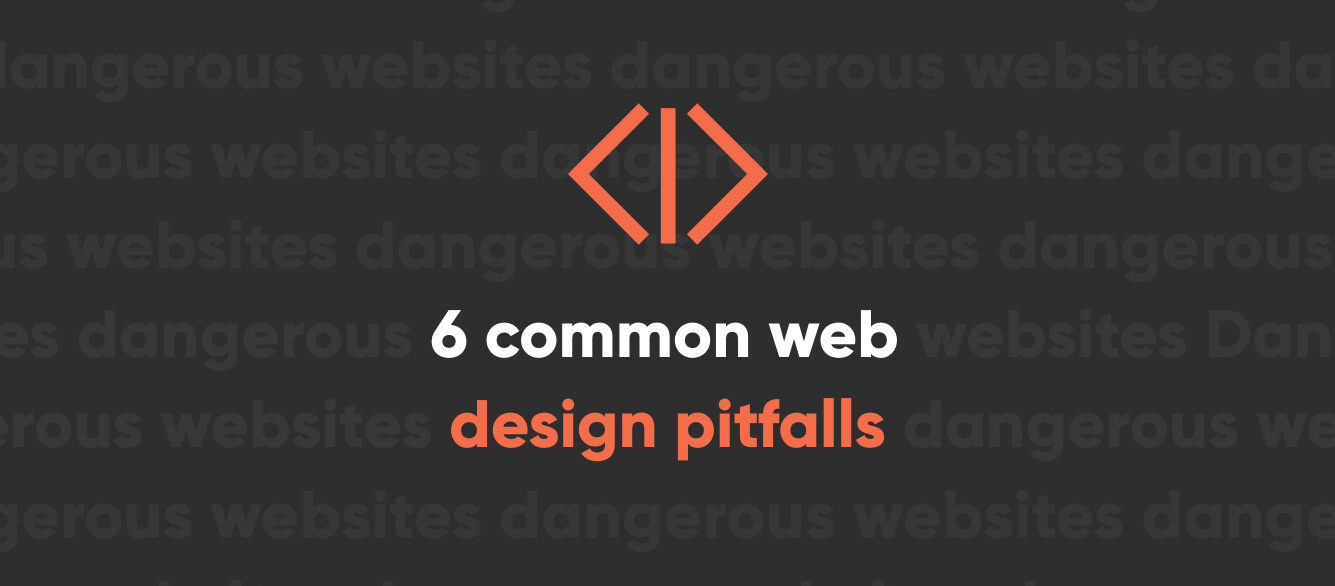 Your website's design is arguably its most important feature. But we're not just talking about the way it looks. That's only one aspect of effective design. A site's appearance and the way it functions need to come together to deliver the greatest level of user experience. Your visitors' first impressions are crucial, and no one wants to hang around a site that's not well-designed. Executing effective design is obviously easier said than done, especially if you're not aware of which mistakes to avoid. Here are six of the most common web design pitfalls to steer clear of as you rebuild and optimize your site.
Don't hide your purpose – or the user's
It needs to be entirely obvious what you do and why the visitor should care. This information should be front and center right when the home page loads. The user shouldn't have to ask, "Why am I here again?" If they do, they'll most likely leave you for a competitor's site that quickly and clearly addresses all their most intimate needs. You should place items like services, products, testimonials, and other useful info in prominent locations that will be seen right away. Don't let your users forget why they need you. And don't make it a clever puzzle for them to figure out.
Design for the right device first and optimize across all devices
If your site's design doesn't provide an easy-to-use and enjoyable experience on mobile devices, you're light-years behind your competition. It should go without saying that nearly everyone and their grandma is browsing the web on their iPhones, Surfaces, and Moto Razrs these days. In fact, mobile devices accounted for nearly 52 percent of all web traffic last quarter, up from less than 33 percent during Q2 of 2015. Mobile keeps growing, but it's not huge for everyone. There are still plenty of sites out there that get 90 percent of their traffic from desktop devices. The key is to know your audience and design your site accordingly, making sure it works well across all devices and screens.
Use reader-friendly fonts and styles
Few things look less professional than a whacky font that clashes awkwardly with its backdrop. This mid-90s web design trend needs to stop existing. Today's typeface usage is all about readability. Using too many different fonts can disorient or confuse the user and point toward branding inconsistency. Sans-serif typefaces provide the easiest reading experience on the web. These fonts look more modern and many have even been developed specifically for electronic media. They also play a role in making your site accessible for all users, including the visually impaired. You should also use appropriate font sizes to differentiate the importance of certain items. Headers are important, subheaders are slightly less important, and body copy is descriptive and informative – and all of it needs to be readable. Speaking of readable, using dark text on a light background is easier on the eyes than light text on a dark background.
Call your users to action
At the tail end of your user's journey lies the call-to-action. At least, it should. In most cases, you'll need to explicitly tell your users what to do (don't swear at them), otherwise they can often be left unsure of what to do with the information they've just gotten from your website. A good call-to-action doesn't have to be cute. A link or button that is well-designed, prominently placed, and clearly directs the user toward conversion is all you need. Make sure it stands out. A CTA that blends into the page is going to be less noticeable and thus less effective. You should craft your CTAs to visually complement your brand AND draw the user's attention.
Have seamless and intuitive navigation
There's no set of golden rules to follow for web navigation, other than it must be intuitive and it must contribute to a seamless user experience. Every visitor to your site should be able to find what they want without getting frustrated or confused. Don't bury important pages and don't make the navigation menu an endless sprawl of expanding panels and complete sentences. Make it easy. You should develop a well-planned sitemap strategy early on to ensure your menu is not overly cluttered with too many pages. If every page is important, then no page is important.
Don't trust your vision over a professional strategy
You'll no doubt have several design criteria burned into your brain that you feel are a must to bring your website to life. That's fine and all, but don't get married to those ideas if they go against what a professional strategy is telling you. You're an expert in your field, and web designers are experts in theirs. They're much more experienced and prepared to bring your objectives to life in a way that is both functional and aesthetically pleasing. And if they're a good designer, you certainly won't argue with the end results: a more high-performing website and a more successful business.
Web design from Perrill
Perrill is a full-service web design, development, and digital marketing agency specializing in helping business websites reach their full potential. Our team is experienced in designing and building sites the right way. Contact us today to turn your business's website into a lead-converting machine.

Dan Cole is the Manager of Content & Copywriting at Perrill. He has been professionally strategizing and creating original content since 2011 across agency settings, corporate positions, and journalistic beats, and now masterminds written materials of all kinds for Perrill's clients. He was named Acme Comedy Co.'s Funniest Person in the Twin Cities in 2014 and will never let any of us forget it.