Back
A Year in Review: 2022 Social Media Recap

It's in social media's nature to change. Nothing stays constant for long as channels adapt to user needs and innovative ideas arise. That can make it challenging to try and predict what's going to be the next big thing.
Over the course of 2022, we've seen plenty of noteworthy social media innovations and events: the integration of social commerce, the growth of UGC and influencer marketing strategies, and Elon Musk buying Twitter, just to name a few. But which events made a lasting impact and which trends will ultimately die on the vine? Looking back on the past year, we can get a better understanding of some of the biggest trends and developments, and how those trends might influence what happens next in the new year.
Social Media Channels as Search Engines
A development that shouldn't be too surprising is the consumer behavior of using social media platforms as search engines. GenZ is leading the charge by entering search queries that would typically be entered into a search engine like Google into social media platforms like TikTok, Instagram and Pinterest.
This practice is most common around queries that are more opinion than fact, like "best Minneapolis restaurants" or "what does a business casual wardrobe look like?" By searching for those queries in TikTok, users get firsthand information in a video format, which, for younger users, seems to be much more effective than other forms of content consumption like reading a blog post. Since TikTok's algorithm serves up such relevant content, the videos users see tend to feel much more personal than traditional search results. This New York Times article further articulates GenZ's reliance on TikTok and Instagram for search queries.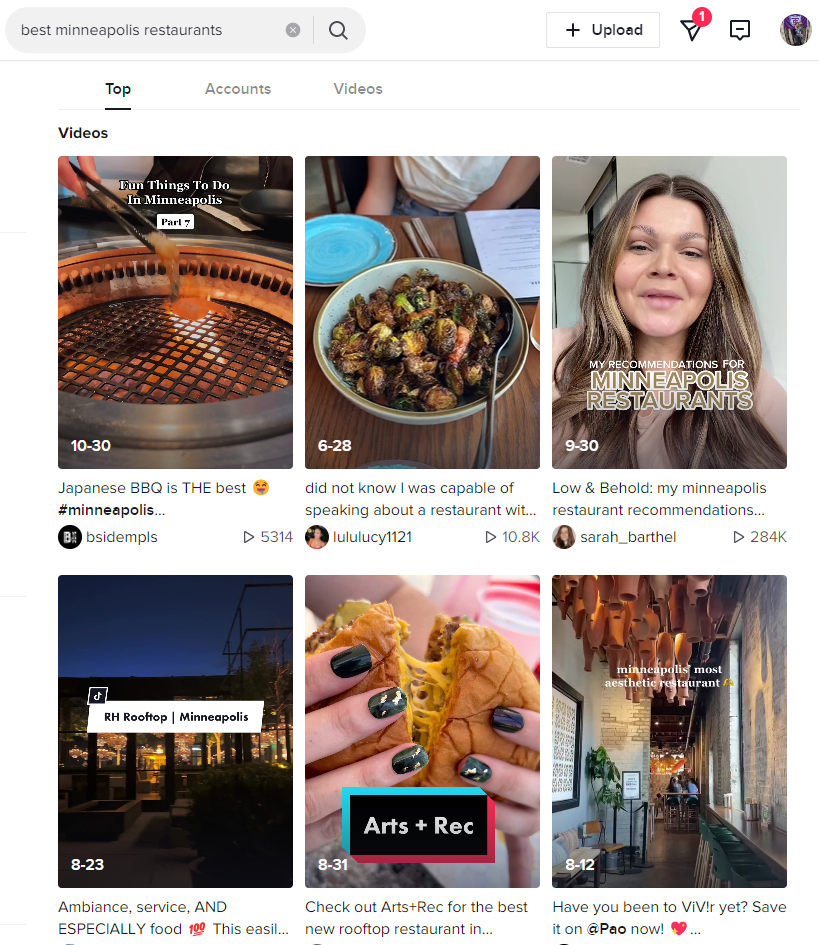 This move to searching for content on TikTok spurred the platform to make content more searchable, helping users find what they're looking for while giving brands an opportunity to optimize their content for TikTok search results. Brands can rank higher in TikTok search results by using keywords or hashtags and can also sponsor their content to have it show up higher in TikTok's search results. But be warned, TikTok users are quick to spot and scroll by videos that are too obviously ads.
2023 Takeaways
Figure out which keywords and hashtags your brand wants to be associated with and use those in your content captions.
Create quality content that appeals to the user and try to stay away from content that comes off like an advertisement. Providing value is the best way to reach your audience.
This doesn't mean you should abandon more traditional search engines, like Google. Instead, you should diversify your tactics and make sure you are reaching the right audience on the right channels.
User-Generated Content
In our digital world, everyone can be a content creator. Influencer marketing has taken on a new look with the rise of TikTok, and user-generated content (UGC) is now more important than ever before. The creator market has grown substantially in the past year and is here to stay.
Creators make content for brands, but unlike influencers, they tend to have little to no following on their own social media channels. They create content for monetary gain and can share the content organically to their own socials. The brand can then take that content and distribute it however they wish. The content is less branded and looks more natural, as if a customer created the content themselves. This is a new spin on the more traditional take on user-generated content, where customers do create the content and brands reach out asking for the rights to share that content. In 2023, brands will increase their use of UGC in their marketing strategies and will find ways to reward their customers for creating UGC.
Influencer Marketing
Influencer marketing is still alive and well, but influencers are being more selective about the partnerships they join. Rather than agreeing to any partnership pitch they receive, influencers are paying more attention to things like company values and the relevance of products to their personal brand and interests. As Hootsuite puts it in their Influencer Marketing Guide, "A social media influencer who has worked hard to build a following will not accept a deal that makes their own personal brand seem inconsistent." Influencers want any sponsored or branded content to feel organic and natural on their platform so they don't lose their followers' loyalty and trust.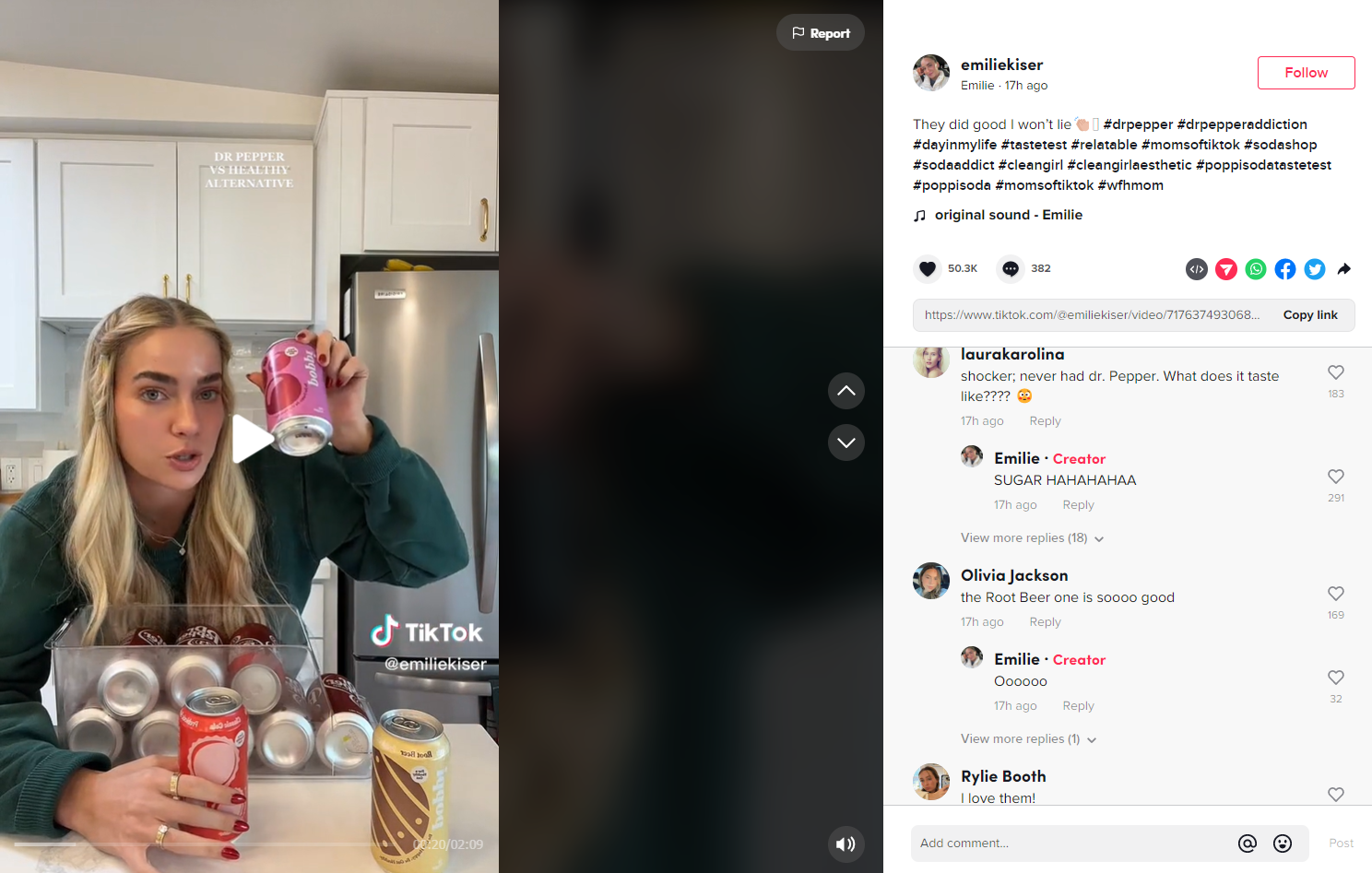 Brands should be selective of influencers, too. There truly is an influencer for every brand, so choosing someone who has a smaller audience but fits better with your target audience makes much more sense than picking an influencer with a larger audience that isn't related to your brand (i.e., a technology brand pitching a beauty/lifestyle influencer). In the TikTok pictured above, content creator Emilie Kiser reviews samples of Poppi prebiotic soda that the brand sent to her, comparing it to her go-to soda, Dr. Pepper. This was a smart move on Poppi's end because Emilie Kiser often shares about her love of Dr. Pepper on TikTok so making a play for her endorsement can potentially get the brand lots of positive sentiment while aligning with Emilie's usual content.
2023 Takeaways
Research influencers before you pitch them to make sure your brand fits their brand.
Consider using creators for user-generated content rather than influencers if you're looking for more natural, organic-looking content to share to your channels.
Has Twitter Met its Downfall?
Maybe not, but over the past couple of months Twitter has received its fair share of attention after Elon Musk bought out the platform.
Many companies have long struggled to find their position on Twitter - what Wendy's achieved on Twitter is fairly uncommon, and for B2B brands, Twitter hasn't always been the most effective place to reach customers. Now, as many people are speculating whether or not Twitter will survive Musk's ownership, companies have started pulling ad dollars from Twitter or pausing content creation. The hunt for a potential replacement Twitter platform is underway as users prepare for the worst.
Whether you believe Twitter will come out on top or the platform is nearing its final days, it's important to be aware of the changes to the platform and be ready to adapt to whatever platform might surface to take its place. And while I'm not as pessimistic about the Twitter situation as this writer from The Atlantic is, exploring other solutions and finding ways to create conversations on other platforms isn't a bad idea.
2023 Takeaways
Pay attention to channels that are surfacing as Twitter replacements. Two that I've seen talked about recently are Mastodon and Hive, but there are countless others rivaling for Twitter's spot.
Evaluate your spend on Twitter as well as your current Twitter content plans and start considering what Twitter's downfall might mean for your brand.
Customer Service + Social Media
For convenience and speed, consumers are turning to social media to try to get their questions and pressing issues addressed by brands. This concept isn't new but is growing increasingly common. Social media managers have to be prepared to field a variety of questions, comments and complaints across social channels and on posts that aren't even related to the nature of the customer's inquiries. Social media managers have to provide quality customer experiences to retain customer loyalty and brand image.
More and more often, websites are adding chat features to address urgent customer issues, which can be a great way to take some of the pressure off of phone lines. But now that these conversations have moved to social media, it's likely that social media platforms will also innovate to accommodate customer service needs.
For brands, this consumer behavior is crucial to pay close attention to. If customers aren't getting their concerns resolved quickly, they'll share their dissatisfaction on social posts or website reviews, so finding ways to resolve issues fast is important for maintaining a good public persona.
2023 Takeaways
The customer service social media takeover is already in full-effect, but as more brands start to feel the push for better customer service practices and quicker response times, companies might need to consider what this means from a social media staffing perspective.
Social media experts should have some level of customer service to be fully equipped to handle engagements with unhappy customers.
The Continuing Rise of Social Commerce
B2C brands have a great opportunity to leverage their customers on social media through social commerce - rather than linking out to websites and getting redirected from platforms like Instagram, brands can link their products directly to their social posts or stories and encourage viewers to purchase from the platform directly.
This adds a level of convenience for users as well as an opportunity to create more meaningful and effective advertisements on social media. In the new year, B2C brands should consider the potential of advertising on social platforms and experiment with social commerce. Social selling offers an opportunity to reach new audiences through promoting advertisements, and if nothing else, gives you another touchpoint in the sales funnel to connect with prospective customers.
2023 Takeaways
Set up your B2C brand on relevant platforms like Instagram, Facebook, Twitter and Pinterest.
Tag your products in product posts and promote your products in ads with direct links to your product URL.
Make sure to watch for innovative social commerce changes - this is a rapidly growing area of social media.
Should Your Company BeReal?
The social media platform that took off earlier this year has some brands wondering if there's an opportunity to capitalize. And as of right now, there's no great way to do that.
For those of you who haven't yet checked out BeReal, the platform is very much catered to the individual user and the user's friends. Unlike most social media platforms, BeReal's feed is finite - once you've viewed all of your friends' posts, you run out of content. This doesn't really leave space for brands to play.
There is a "Discovery" tab that users can opt into which will share their posts to a larger, global audience. Users can always go look at their Discovery feed, which houses infinite content, but as a BeReal user myself, I find little value or interest in doing this - it's basically just looking at posts from people you've never met before. I could potentially see brands making a move in this space, but it doesn't seem realistic or worthwhile at this time. So for now, I would advise that brands hold off. Even though Chipotle, e.l.f. Cosmetics and a few other brands adopted the platform early, the platform forbids advertising and limits followers, so the reach that these brands can have are limited. That's not to say brands shouldn't pay attention to BeReal and look for creative ways to use the platform, I just don't think it's worthwhile for most brands at this time.
One thing brands can take away from the popularity of BeReal is the idea that consumers are resorting back to traditional social media content consumption - rather than sharing overproduced, filtered images, BeReal encourages the opposite. And users seem to love it, which has prompted TikTok and Instagram to follow suit with their own variations.
2023 Takeaways
It seems that no social media stays free of businesses for long, so watch for updates with this channel.
BeReal might not make sense for some businesses even if it does get updated to fit them, so consider whether or not including your business BeReal would make sense and what kind of content would be most relevant.
Snapchat's Snap Maps
In a somewhat surprising innovation, Snapchat recently updated their Snap Map feature, where many users share their locations with their friends, to make it more similar to Google Maps or Apple Maps. Snapchat now identifies restaurants and other businesses, particularly locations that a users' friends are often frequenting, and personalizes them with icons.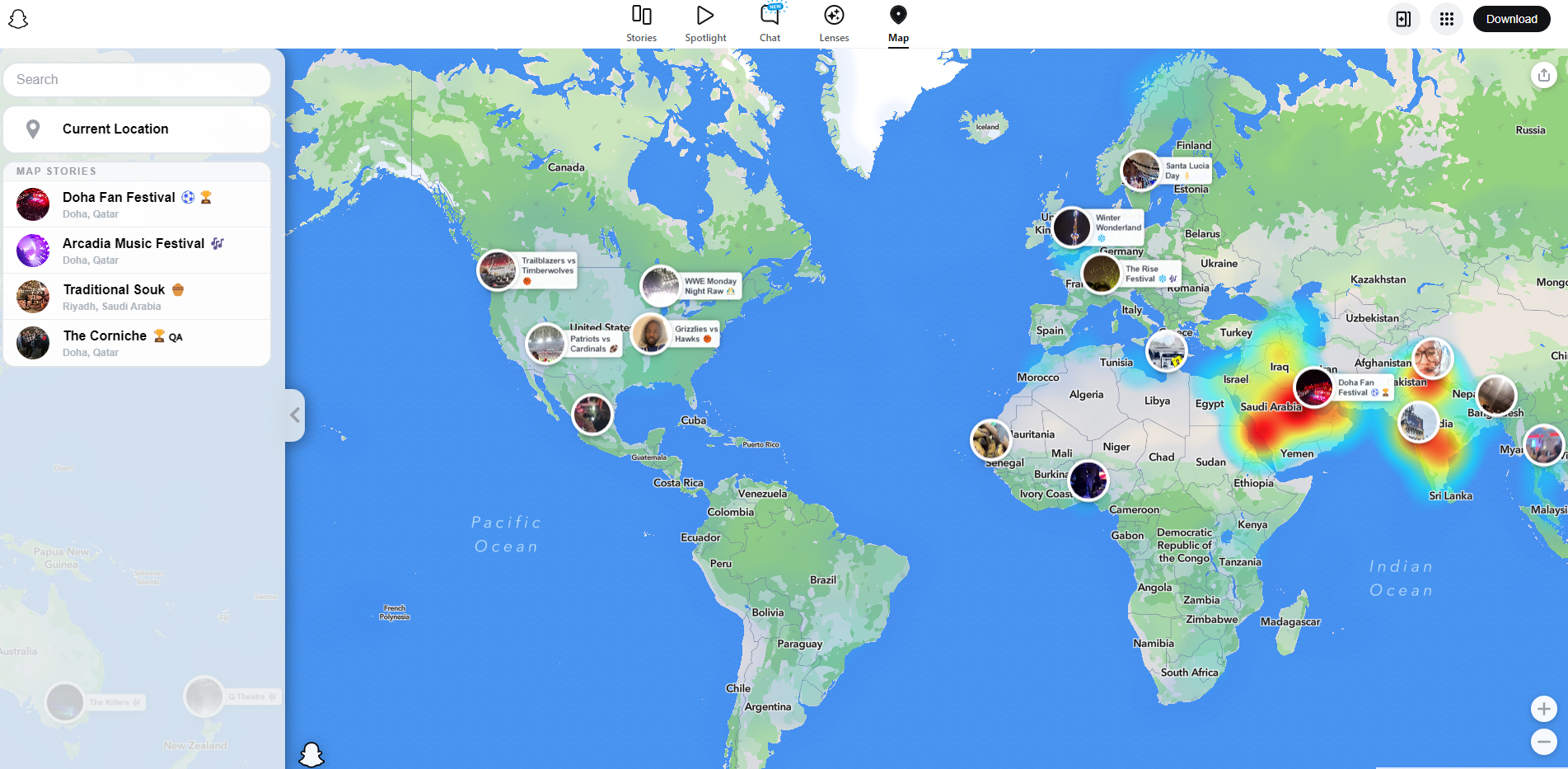 Businesses have the opportunity to optimize their profile on Snapchat similar to Google My Business Profile. Snapchat shows information like hours, ratings, popular times, the address and phone number. While you can't navigate to the location from Snap Maps yet, it's only a matter of time until they implement full GPS capabilities.
Snap Map is also available to use on web browsers and includes a search function along with stories from areas on the map worldwide. It's interactive and engaging for users.
2023 Takeaways
Depending on the type of business you work for, it might be worthwhile to check out your business's profile on Snap Map by creating a Snapchat business account if you haven't already.
Making your business user-friendly for Snapchat users is important as younger generations continue to use social media in unique ways. Reaching this audience is crucial.
Highlighting ESG Content on Social
If you're not sharing your ESG (Environmental, Social, and Governance) initiatives, you're running behind schedule. Talking about the initiatives your business is involved in to better society is a great way to build brand loyalty and trust with your customers.
So how can you do this? Start by identifying the things your company is doing, things like volunteering, donating to charity, working on being more sustainable, etc. Then you can create messaging around these initiatives and share them with your stakeholders and audience.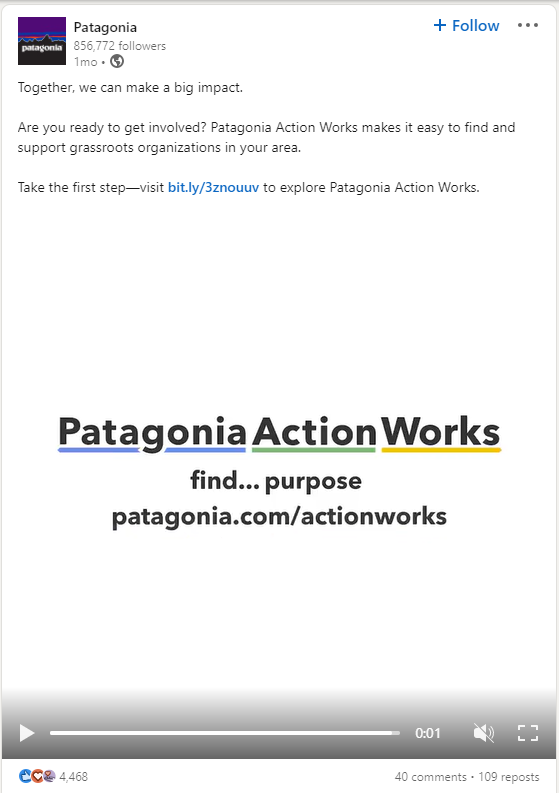 Share your company values and the work you're doing to improve not only your business but to improve society. But make sure you're not just going through the motions but actually practicing what you're sharing. Patagonia is a great example of a brand that follows it's sustainability values closely.
You can then implement this on social media by sharing any relevant website content, reminding followers of your values or mission statement and share reports that overview the work you're doing.
2023 Takeaways
As more companies share their ESG efforts, you'll stand out for the wrong reasons if you don't start sharing yours.
Stay true to your brand - if you're commenting on every social issue, it will come off as inauthentic and insincere.
Find ways to connect with your audience on social media around what matters to them and what matters to your brand.
2022 brought many innovative social media changes, allowing for brand growth and experimentation. If there's anything big this year that we missed, drop a comment!
And if you're looking for help building out your social media plans for 2023, reach out. We're always happy to collaborate to build out successful, smart marketing campaigns.

Grace Hallen is a Digital Marketing Specialist at Perrill. Her passion for communication and crafting engaging content led her to Perrill's marketing team. She loves flexing her creative muscles and finding clever ways to reach readers. In her free time, you can find Grace playing trivia at local breweries, exploring the Twin Cities or getting lost in a good book.