Back
Beginner's Guide to TikTok Marketing

We've all heard of TikTok at this point. It's been around for years, though it wasn't until 2020 that it experienced rapid growth at the peak of the pandemic – when at-home, DIY content creation and consumption reached an all-time high.
With this extreme popularity, it is no surprise that brands have started to notice the marketing potential this app can offer. This is our beginner's guide to marketing on TikTok, detailing some potential ways marketers can utilize this app for business growth.
TikTok Overview 101
TikTok is a social media platform that focuses on the creation of short-form videos. Users can upload videos up to 10 minutes in length and have access to a wide variety of trending music tracks and an engaging set of filters and effects. These videos can fall into several interests and niches such as fashion, fitness, food, general entertainment, and dance.
TikTok describes its space as a "collaborative place where it's easier to go viral than other platforms."
While users can follow their favorite creators, they don't necessarily need to thanks to the "For You Page" (FYP) feature – essentially a bottomless pit of videos curated based on your interests and past interactions on the app.
Who uses TikTok?
The primary demographic for TikTok is Gen Z and younger teenagers, as well as young adults. 60% of TikTok's users are Gen Z. While there are older generations on TikTok like baby boomers, most users are in the age 16-24 range.
TikTok has 1 billion active monthly users, and it recently ended Google's 15-year reign as the world's most popular web domain.
TikTok Tips for Businesses
There are many ways businesses can use TikTok to their advantage. There are three popular ways businesses are using TikTok:
Sharing user-generated content
Working with influencers
Using the variety of ads TikTok has to offer for different advertising purposes
Creating your own content
It would be in your business's best interest to use all of these when developing a TikTok strategy, which can help make sure you're reaching a wider audience, utilizing and testing different features, and seeing what works best for your business.
Sharing User-Generated Content
User-generated content (UGC) is unpaid and unsponsored content that is created by people and users instead of brands or businesses. UGC is very beneficial because it offers social proof. Social proof is key to attracting new customers because people trust real people. Certain industries can benefit from UGC more than others. For B2C companies, having users create content for your products is an easy and inexpensive way to improve visibility. UGC on TikTok is a great way to get many results through one strategy.
Brands can do the following by sharing user-generated content on TikTok:
Fill their profile with high-quality content
Bring in new customers by leveraging social proof
Provide customer recognition
To share UGC, brands can create branded hashtags, create challenges, or collaborate with influencers – which brings us to our next tip.
Working with Influencers
Influencer marketing is not a new trend in marketing and is a strategy many like to use because of how effective it is. This is an effective strategy because it uses lots of social proof and word-of-mouth tactics.
TikTok redefines influencer marketing. Influencers on TikTok know the ins and outs of TikTok and how to craft engaging content. They know how to use all the tools and features to their advantage. The stats on TikTok influencer marketing don't lie. TikTok has an influencer engagement rate of roughly 17% compared to platforms like Instagram which is at roughly 3.6%.  The ROI potential on TikTok is tremendous, especially if the influencer has a high follower count. Keep in mind, however, that the higher the follower count, the more expensive they usually are.
When working with influencers, make sure you find one that fits your niche, product, or service. If you're in the beauty or fashion industry, partnering with an influencer in the gaming industry is not going to be in your best interest.
Advertising on TikTok
Like other social platforms, TikTok has also developed a monetized advertising feature where brands can pay to show their products or services to their audience. There are five ad types on TikTok, and each type will provide you with a different outcome since they serve a different purpose for usage.
TopView ads are shown at the top of a user's TikTok feed when they open the app. These ads can last up to 60 seconds. Users can engage with these ads by liking, commenting, and sharing. 71% of users say TopView ads grab their attention, and they rank #1 on the engagement scale according to TikTok.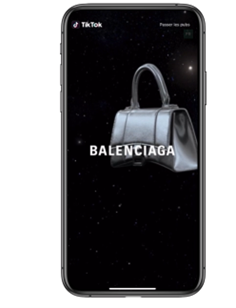 Source: TikTok
In-feed ads are similar to the ads you see on Snapchat or Instagram story ads. These ads are played on the full screen, and users can skip through them. They must be less than 60 seconds. These are often referred to as native ads because they have the same interface as organic posts. This ad type is embedded into their For You Page.
Metrics on In-feed ads are best measured through clicks, impressions, click-through rate (CTR), and views.
Branded Hashtag Challenges
Branded Hashtag Challenges (HTC) give brands the ability to create and spark new trends. This enables them to interact with their audience in new and creative ways. Hashtag challenges are extremely popular on TikTok, and they show up on the discover page.
Millions of users see this and want to take part in the viral challenges. HTCs allows the brand to target its audience and allow them to uniquely express themselves. It is changing the advertising game from passive engagement to active participation.
Brands can sponsor an HTC and each user/participant posts their videos using the corresponding hashtag. The median engagement rate on Branded Hashtag Challenges is 17.1% compared to other platforms at less than 1%.
If you have opened TikTok and seen an ad immediately on your screen, those are brand takeover ads. These ads appear on your full-screen right when the app is opened. Only one brand can run a brand takeover per day per category. Since one brand gets the full-time slot, that will come at a high price. With these takeover ads, businesses can embed links to their landing pages. The best metrics to measure the success of Branded Takeover ads are impressions and CTR.
Branded effects are things such as filters, stickers, special effects…etc. You can create your own effects for users to apply to their videos. If you are looking for a simple and easy way to promote your business, this is a great way to do so. Many users use special effects and filters, making this a great way to go viral – which is the main point of TikTok for marketers.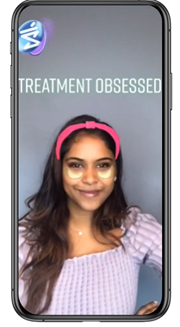 Source: TikTok
Creating Your Own Content
This may be easy for a large business but can seem intimidating for small businesses. Even if your brand is not that well-known, you can still create your own content. If you are a small business and want to start creating your own videos, keep these tips in mind:
Be unique: You may see these TikTok creators who have expensive equipment to create high-quality videos. But most people simply create videos on their phones. Investing in a couple of basic things like a ring light and tripod may be in your best interest, but you don't need anything too fancy. By creating videos that stay true to your brand, your community and followers will trust you and feel a connection.
Add a creative twist: Remember, TikTok's bread and butter is challenges and hashtags. You don't need to struggle to find new and creative ideas for content for each video. Participate in challenges, find existing trending content, and create videos off of that.
Quick Tips for Small Business
TikTok's massive popularity right now makes it an incredibly valuable marketing tool. TikTok can be used by any business large or small. While large businesses may have a leg up with their high visibility, small businesses can still succeed on TikTok. Below are some quick tips for small businesses to help boost their engagement on TikTok.
Participate in Challenges and Prevalent Trends
Challenges can be both sponsored and un-sponsored. There are tons of viral challenges going around TikTok. Find out which activities and songs are trending and going viral, and create your own videos participating in these.
TikTok's volume is high around videos like dance, pranks, DIY, and entertainment. See where your ideal customer is in these categories and make content reflecting that.
Less Formal, More Laid-Back Approach
If you have been on TikTok, you have probably seen it's not as professional as other platforms. This is a place where users express who they are. It is a creative space. When creating content, it may be worth creating content that is less commercialized and uber-professional. Dive into the fun and creative side of your brand and be sure to clearly state your values and culture in your videos.
Benefits for Businesses
TikTok can prove to be a very beneficial tool for businesses to invest in if they do it right. Be thoughtful and strategic when you create your TikTok marketing strategy, and you will see all the creativity and diversity the platform has to offer.
Engagement:
Perhaps the biggest benefit you can get from utilizing TikTok for your business is engagement. Engagement on this app is like none other. TikTok is changing the game from passive engagement to active. Instead of scrolling through a feed of images, users can engage with the brands through different challenges, trends, songs, filters…etc.
Creativity:
Another thing TikTok has going for it is creativity. Brands can tap into their creative side and show that to their audience. Creating entertaining, trending, and authentic content will prove to be beneficial for your business. Take advantage of all the different effects, filters, music, and trends they have to offer. Figure out which suits your business culture the best and utilize them!
Audience Reach:
TikTok is one of the most popular social media apps right now. With 1 billion active monthly users, this means huge potential for audience reach. By using all the trends and viral opportunities, your brand has the potential to reach millions of people.
TikTok has exploded into one of the most used and loved social media apps right now and it is safe to say it has not gone unnoticed by businesses. TikTok has transformed what social media marketing means by creating different engagement opportunities and encouraging its users to tap into their creativity. Businesses large and small both have a place to succeed on this platform. Following the tips listed in this article is a great place to start when deciding to use TikTok for your business.
Create a Winning Digital Strategy with Perrill.
Tired of falling short of your marketing goals? Do you even know what your marketing goals are? Then it's time for us to talk. Contact us today, grab some time on the calendar, and start unlocking your online potential.