Back
How B2B Brands can Leverage LinkedIn

LinkedIn can be an effective marketing tool, especially for B2B companies. Other social media platforms tend to be better suited to B2C companies – even though social commerce is on the rise across social media channels, it's pretty exclusive to B2C products and services.
LinkedIn is the place where B2B companies can successfully reach their unique audiences. Generating leads from LinkedIn requires strategy, quality content, and knowledge of the platform. From setting up your profile for optimal exposure to utilizing LinkedIn ads to expand your reach, LinkedIn is full of opportunity.
Optimizing Your Company's LinkedIn Profile
Start with a strong profile to show off your company to page visitors. LinkedIn will lead you through the setup process to make sure you don't miss any of the important steps, but we have a few tips for getting the most out of your profile.
While your profile image should be your company's logo, you can get creative with the banner image. Maybe you've got a cool office space you'd like to show off. Or maybe you'd rather design a graphic with your company's tagline or display some of the work your business has executed - it's really up to you. You can switch it out as needed, but just make sure the image looks professional and matches your branding.

You should also update your contact and website information, and include a button that users can click on to head to one of your website pages.
A great thing about LinkedIn is that you can post careers, events, and products, all in one place, making it easy for your audience to find what they're looking for. Utilize these areas as needed.
Make sure to keep your profile updated and check for any changes to the platform regularly.
Building a Strong LinkedIn Network
Creating your profile is the easy part; the next step is to create a reliable, engaged network.
Post regularly
The key to keeping your audience engaged is posting regularly. It sounds obvious, but posting content in a cadence gives your followers an idea of when they can expect new content from you, creating an element of anticipation.
Get in the habit of posting a few times a week or however often you see fit for your brand. If you have some good website content to work with, like a library of case studies or quality blogs, or have other content at the ready like employee bios, you'll be in a much better position to increase your post frequency. It's really dependent on the amount of meaningful content you have at your disposal. You can utilize a social calendar to help you stay organized and committed to posting frequently.
What to post
While it's easy to say, "ok, go post three times a week!", coming up with the content and knowing what to post is challenging, especially when you're just getting started. Here are a few tips on sharing content that will engage your audience.
1. Share relevant, helpful content
This might seem obvious, but keeping your audience top of mind when you share content is important for keeping them engaged. Make sure your posts are entertaining, educational, and insightful. Find a way to add value to your followers' social media experience and they'll find themselves coming back for more.
Get to know your audience on social media by testing content, sharing a variety of posts, and learning what resonates. Experiment with posting blogs, case studies, client testimonials, videos, infographics, newsletters, etc. The options are endless, so vary your content to reach as many social media users as possible.
Need some inspiration? Here are a few content ideas:
Take your followers behind the scenes with a video that demonstrates what your company does
Break down difficult processes in a short video series
Compile case studies or testimonials that demonstrate the effectiveness of your product or service
Introduce your team through meet-and-greet videos or posts
Write blog posts that provide advice or expertise related to your industry, products or services
Offer an educational webinar or live video where your audience can ask questions
2. Share trends
Position your brand as an industry expert by sharing industry trends or insights. The post can either be one that you come up with yourself, or you can share a post and add your own comments. By sharing helpful, interesting content, you'll prove your knowledge and credibility.
3. Share or engage with employee posts
Engaging with employee posts is a great opportunity to boost engagement on their posts and drive traffic to your page by commenting or sharing. Just make sure the content they're posting is relevant to your audience before you share it on your Company Page. This is a great tactic for building community and loyalty.
LinkedIn makes this especially easy by including a separate Analytics tab for Employee Advocacy so you can keep track of brand mentions and quickly act on them.
4. Create a newsletter
LinkedIn is working hard to make its platform more effective for companies, and one way they're going to implement that is by displaying the newsletters that users follow in their profiles.
If you haven't checked out LinkedIn newsletters yet, you're missing out! They're usually very timely and digestible, a great way to get information on the topics you care about.
By starting and promoting a LinkedIn newsletter, you can grow your company's reach, offer valuable content that will build trust with your readers, and grow brand awareness.
Interact with other accounts
A great way to build your brand's LinkedIn presence is by identifying accounts adjacent to your own and building relationships with them. For instance, if you're an SEO agency, follow industry news sources and digital publications, build relationships with local associations and event organizations, etc. Any opportunity you have to align your brand with a relevant, reputable organization on social media is a win.
You can also associate your company with select hashtags that will show you relevant posts that use those hashtags. This makes it super easy to find other relevant, reputable organizations doing well on social media that you can follow and engage with.
Grow your relationship by commenting on and sharing their content, linking to their content in your blogs, and sponsoring events.
Join relevant groups
Another aspect of LinkedIn is its Groups function. You can't join Groups with your Company Page, but you can take advantage of it with your personal profile. In Groups, you can share relevant company content and industry updates, similar to what you might share on your Company Page. Choose Groups that make sense for your business to reach an audience that's much more targeted toward your industry, hopefully inspiring better conversations.
You can share anything from company content to local events to a hiring memo. Not everything will perform well in Groups as there can be a lot of content floating around, so just test it out and learn what works.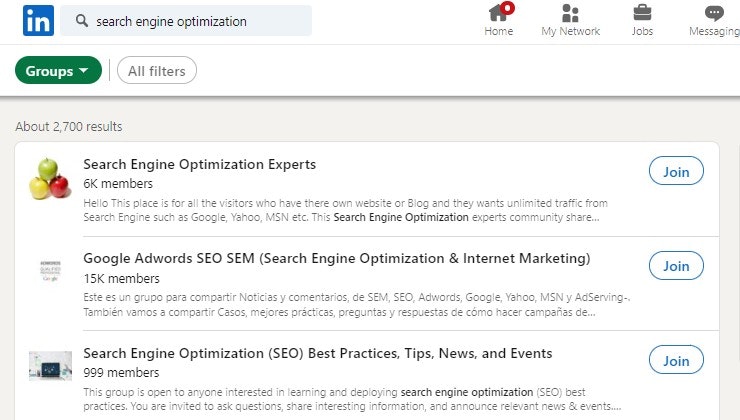 Create an employee advocacy program
Getting your employees involved in your social media efforts will help you boost community while building your social media following.
Employee advocacy programs look different for every company, depending on needs, but the bottom line is getting your employees engaged with the content you're posting, encouraging them to react and share that content, and incentivizing them to post and share their own content.
Within these efforts, you should prioritize getting company leaders involved. They likely have a stronger network and can craft messages to position themselves as industry thought leaders. This is a great way for them to build their personal brands while giving the company a boost. Focus their efforts on sharing relevant content with their personal takeaways, crafting original posts with advice or knowledge, and commenting on content from other industry leaders or from the company.
Use LinkedIn's Employee Advocacy report in Analytics to track the success of your efforts.
Utilize LinkedIn's built-in Analytics
LinkedIn has its very own analytics tool that the platform continuously improves. Track followers, account activity, and most recently, competitors on the platform. This is a convenient way to keep tabs on your growth and the performance of your competitors. You can even export this data to share it with your stakeholders.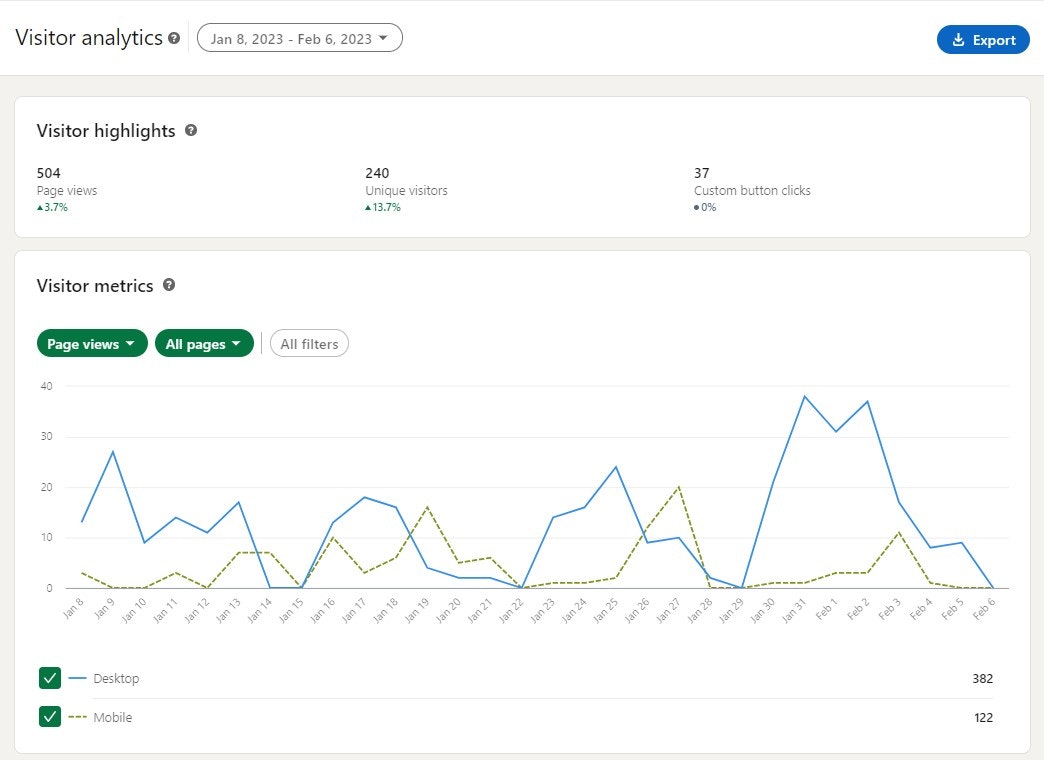 Leveraging LinkedIn Advertising
Once you've established your organic LinkedIn presence, grow your reach and drive leads by leveraging LinkedIn's advertising opportunities.
LinkedIn is an excellent place to advertise for B2B companies because LinkedIn users are far more likely to engage in business-related content than other social media users are. LinkedIn offers a variety of targeting options, making it easy for you to narrow in on your audience.

LinkedIn also supports a number of ad types including video, carousel, single image, events, and more, making it convenient for promoting a variety of content. You can run ads for each stage of the buyer's journey, including awareness, consideration, and conversion. Plus, LinkedIn ads are relatively easy to set up in Campaign Manager and you can start with as little or as much of an investment as you want. It's just one more opportunity to reach your target audience.
Grow your LinkedIn presence with Perrill
LinkedIn is an effective B2B marketing tool that shouldn't be overlooked. It provides many ways to share content and connect with your audience.
If you're looking to grow your brand's LinkedIn presence and create strong, impactful ads that get results, reach out today. Our team of experienced digital marketing professionals will create a custom-fit strategy to help you get results.

Grace Hallen is a Digital Marketing Specialist at Perrill. Her passion for communication and crafting engaging content led her to Perrill's marketing team. She loves flexing her creative muscles and finding clever ways to reach readers. In her free time, you can find Grace playing trivia at local breweries, exploring the Twin Cities or getting lost in a good book.