Back
20 B2B Social Media Content Ideas to Grow Your Brand's Presence

Social media marketing can be a fast-paced and exciting field to work in. But when you're lacking inspiration, are strapped for time, or aren't seeing results, it can feel repetitive and frustrating. B2B marketing is a unique space that requires a lot of trial and error before something sticks. Pulling together a strong LinkedIn strategy takes time and creativity, and building an audience of dedicated followers requires creating useful, engaging content that resonates.
If you're stuck in a social media rut and need a new source of inspiration, this blog is for you. 
Here are 20 ideas for your next post:
1. Share stories from your company
The people and events in your office (whether remote or in person) make your business interesting and unique. People are curious about other companies, so share stories about your culture and your employees. For instance, if one of your employees does something notable, like running a marathon or starting a nonprofit, highlight them! It's good to show what employees are interested in, both in and out of the workplace. 
2. Create short videos
No, you don't have to be a videographer, and no, your videos don't have to be professional level. Video content is what's in right now, so taking advantage of this popular form of content could pay off for your brand.
To get started, experiment with turning some of your existing content into short videos or GIFs (you can do this for free in Canva), or put yourself or another employee in the spotlight. Video content isn't rocket science, so don't over-engineer it. Genuine, natural content is winning right now, so be yourself and let your brand's voice shine through (cheesy, yes, but true).
3. Take advantage of relevant dates
If you aren't already doing this, check out a national date calendar like this one from Meltwater to pick out some relevant national dates that correspond with your company. You'd be surprised how many national dates could work for your brand!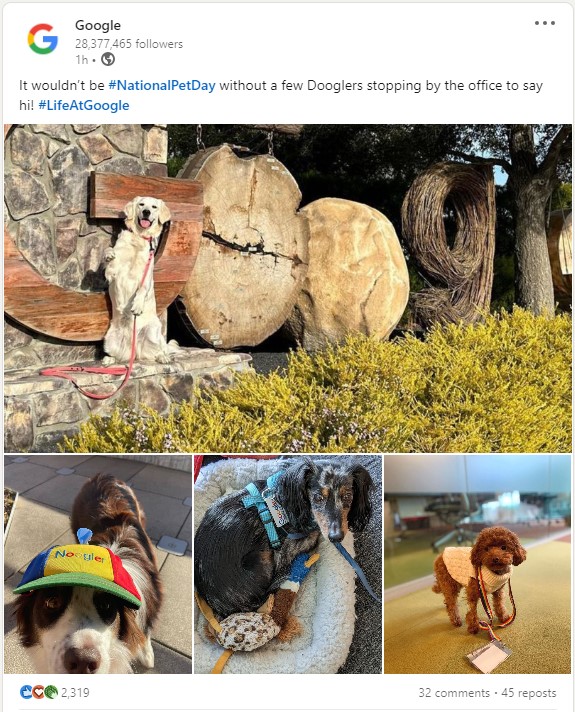 4. Highlight your employees
Spotlighting employees on social is a great way to get your employees involved while giving your social media channels more personality. Show off the people who make your brand what it is.
5. Celebrate the work you're proud of
When you're working in social media, it's ok to brag a little. Don't hesitate to share some of your coolest products and services, your biggest wins as a company, and even awards you've won. This will look different from company to company, but the idea is to take advantage of your platform to show off a little bit and earn some credibility. This can also be an effective way to acknowledge and appreciate your employees.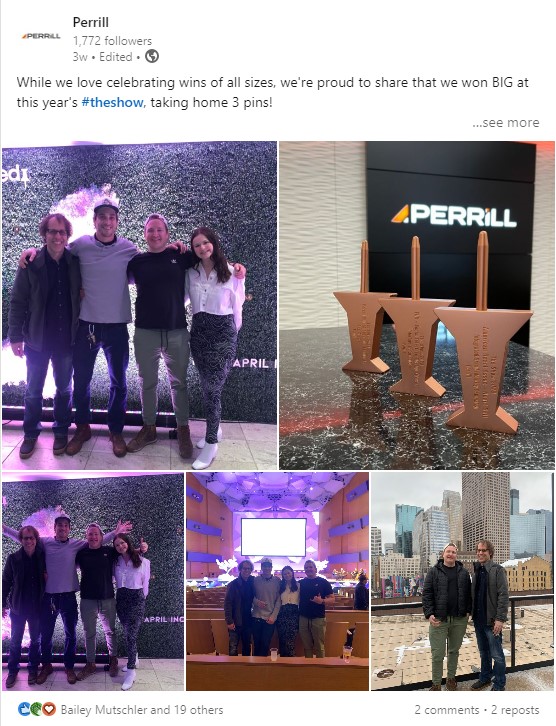 6. Go live or create a webinar to engage users
This isn't everyone's cup of tea, but if you have some experts willing to get in front of the camera and share a few insights or record a webinar, take advantage of it. If you're successful, consider doing a series. You can even ask your audience what questions they have and pull together an FAQ session. Have fun with it!
7. Encourage employees to post for your brand
Posting organically on your company pages is super important, but your employees have the potential to bring in an entirely new audience. Consider implementing an employee advocacy program, where a select few employees, preferably ones who are already pretty active on social media, post content on behalf of your brand or share and engage with brand posts.
8. Create helpful graphics
Generally speaking, you should always lean toward creating helpful content. Share your knowledge by sharing a quote from a blog in a simple graphic, creating a few slides of information users can swipe through, etc. Break up a blog post and see how many posts you can get out of it – you might be surprised!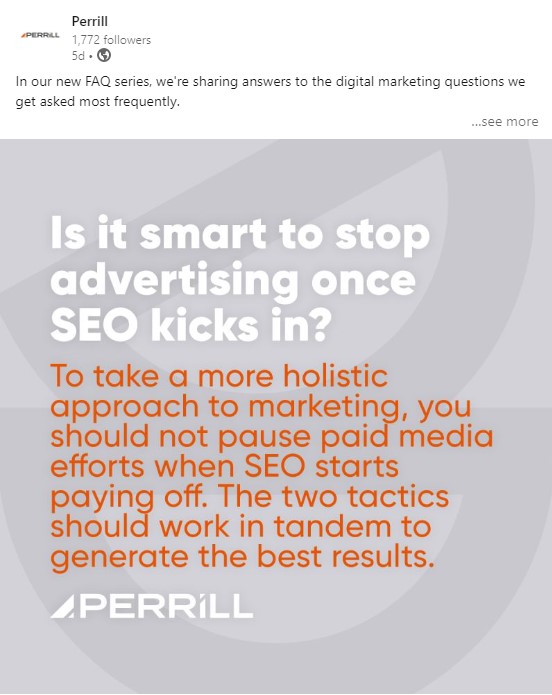 9. Follow trends and act on the ones that make sense
Trends are short-lived and easy to miss, especially when you have to follow a strict approval process.
Generally, it makes more sense to focus on evergreen content, but if you can build trust in your organization, it can be extremely fun to take advantage of relevant trends – and can help boost your brand awareness.
10. Share old content that performed well
If you're hitting a creative block, it never hurts to sift through your old posts, pull out one that worked well, and share it again. Based on how algorithms work on social media, most of your audience doesn't even see your posts the first time around. Posting again just expands your reach – but make sure you're waiting a few months before posting again. You don't want a visitor to come to your page and scroll to see the same post twice in the span of a couple of weeks, so space your content out accordingly.
11. Watch and learn from your competitors
A great way to freshen up your social media strategy is by taking a look at the types of content your competitors are posting. If they're getting lots of engagement, you might want to draw inspiration from their content. Check out LinkedIn's competitor analytics tab to track the competitors you care about most.
12. Post before and after images of your product/service
Kind of like a case study, this is a great way to show how well your product/service works.
If you own a flooring company, share a room before and after installing new flooring to show how the product can transform a space. If your company sells something less tangible, share some data points like a graph or chart that tells a story. This is a very convincing way to sell your product in a way that doesn't feel sales-y.
13. Share posts from satisfied customers or employees, or create your own case studies
Testimonials are another great option for social posts. Sometimes the things that your customers or employees think are awesome about your company are selling points you may not have thought of. Sharing reviews and testimonials or asking your employees to tell you what they like most about working at the company is a great way to build brand credibility.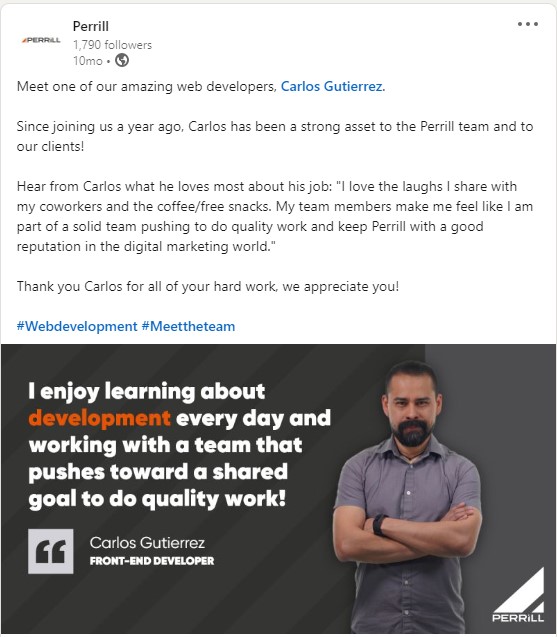 14. Post a throwback picture from a few years back
Similar to drumming up old, successful posts, you can share pictures from past team events or milestones as throwbacks.
15. Share your office or workspace
If you have a cool office (or even if you don't), show it off! People love to see where others work and what a company looks like, so these posts are generally pretty good for engagement.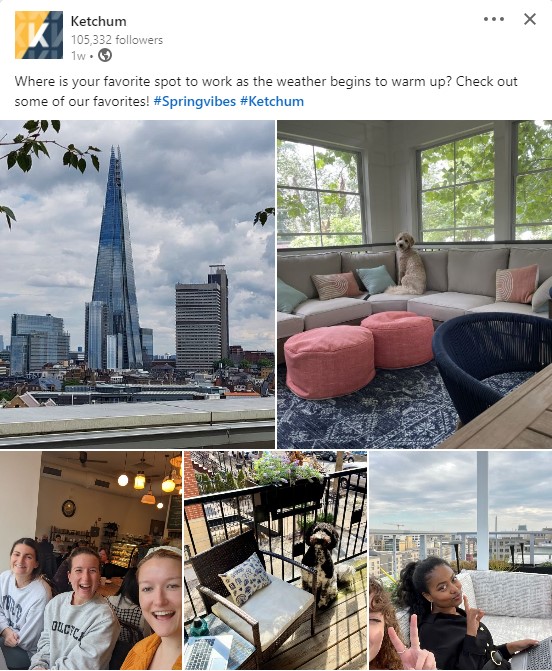 16. Take people behind the scenes in a day in the life
Related to the above point, finding ways to take users behind the scenes into what it's like working at your company or showing the process for creating your product from start to finish or in stages could be super interesting to your followers. Brands are doing this a lot on TikTok to reach younger users.
17. Elevate an industry topic or issue that your audience cares about
Keeping your finger on the pulse of what's going on in your industry is a big part of social media strategy. It's all about identifying what's important to your audience and finding ways to insert yourself into the conversation in helpful ways.
If there's a big issue taking place and it impacts your customers, they'll probably be looking to you for guidance and support. Make sure you're there when they need you, both on and off of social media.
18. Interview employees from different departments and share their stories/expertise
Chances are, your company employs a lot of different people who can offer interesting perspectives on the type of work your company does. A fun way to get employees involved on social media is by having them share their expertise. Get creative with it and customize it to your business.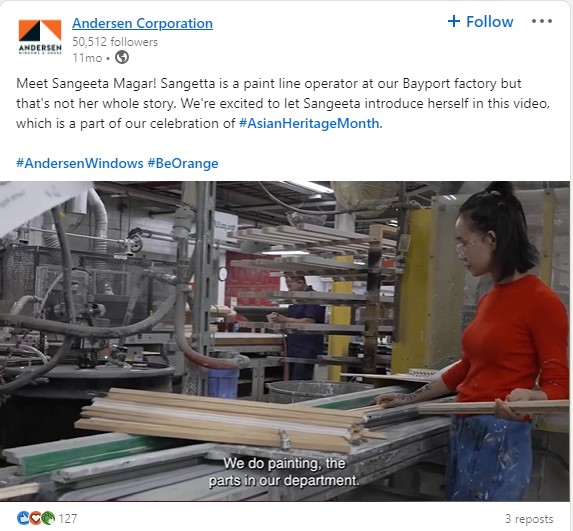 19. Create a series of posts around a topic or theme
A fun way to drum up engagement is by creating a series of posts around a specific topic. For instance, if you're a website development company, you could do a 3-part series on the best ways to upgrade your website for user experience. It's simple, easy to put together, and useful for your audience. You could create slide shares on LinkedIn or post short videos on Instagram Reels – choose the medium that works for your brand.
20. Start a social newsletter
Finally, consider starting a LinkedIn newsletter or promoting a newsletter on your social media channels. Creating a designated piece of content that gets distributed regularly is a strategic way to encourage your audience to anticipate new content from your brand and allows you to provide updates on what's most important. Check out our LinkedIn newsletter, Unified Digital Digest, to see how we're connecting with our audience.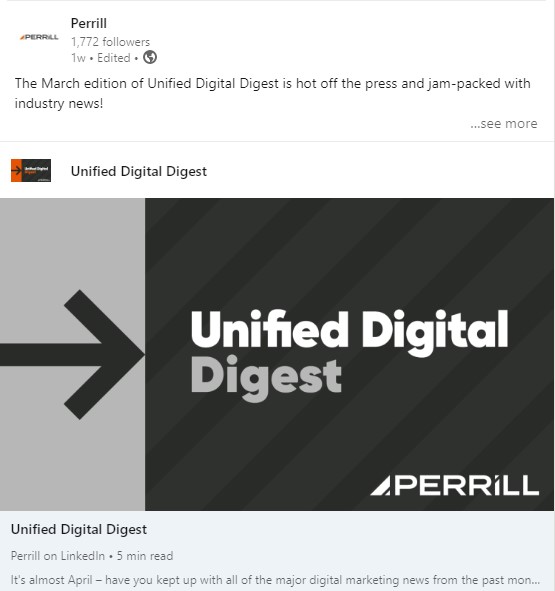 Finding success on social media
When you're thinking about your social media strategy, think about bringing your office culture to the digital space. Finding ways to share the unique aspects of your company, people, processes, and products/services will go far in engaging and connecting with your audience.
You should also remember that generally speaking, social media posts should be snackable, easy-to-consume content. Finding ways to capture attention and engage your audience when there's so much content on the internet is the tricky part. But once you've got an engaged group of people, you'll only keep growing. Use your employees as brand advocates, continue to share content regularly, and listen closely to conversations in your industry.
One last tip is to make sure your marketing team is aligned with your sales team. They're hearing pain points firsthand, so brainstorming with sales could help open up some new alleys.
Grow your social media presence with Perrill
There is no one-size-fits-all approach to social media, but Perrill can help you find success on the social media platforms that are most important to your audience. Social media marketing shouldn't take place in a vacuum, however; it should be part of a greater digital marketing strategy. Using our unified digital approach, we'll support your social media strategy with our other in-house marketing services to expand your reach and results. Reach out to get started building out a custom social media strategy and content creation plan today.

Grace Hallen is a Digital Marketing Specialist at Perrill. Her passion for communication and crafting engaging content led her to Perrill's marketing team. She loves flexing her creative muscles and finding clever ways to reach readers. In her free time, you can find Grace playing trivia at local breweries, exploring the Twin Cities or getting lost in a good book.