How Can I Make My Products Rank Better In Search Results?
May 22, 2015
This may seem obvious, but people won't buy something they can't find.
Getting people to find your products isn't always easy. Sure, once they land on your site you can direct them to the right products by having fluid navigation and accurate search features. But you have to get them to your site first.
Many of today's online shoppers already know what they're looking for. This means potential customers are often using the search engines to find a specific product by name (or even by SKU). If your website doesn't pop up in the search results for that product, you aren't going to get the sale.
Make Your Product Pages Relevant
So just how do you get your products to rank well in search? The answer is simple: make your product pages highly relevant to the search.
Of course, this isn't as simple as having the product name and SKU on the page. No, if you want to rank well and drive these highly targeted customers to your site, you need to fully optimize your product pages.
If your site is like most eCommerce websites, then your products can be purchased elsewhere. You have competition. Other websites have the exact same products with the exact same SKUs. How can the search engines differentiate and rank one over the other?
That's why it's so important to have the best product page possible. An optimized product page might include:
Detailed and unique product descriptions
High quality product images
Product reviews
Product specs
Product videos
Product tutorials (how to install, how to use, etc.)
Product manuals
Product schema (to make products more readable for search engines)
If that seems like a lot, it kind of is. But that's often what it takes to be at the top of the Google search results.
Get Your Product Descriptions Right
One of the most difficult elements of a product page for many companies is the product description. Writing product descriptions isn't exactly fun, but it's definitely a necessity. Without a proper description, your page will likely be too thin for search engines (not to mention pretty useless for your consumer). You can't expect to drive much traffic or many sales without some detailed content about the item. 
Since you are probably carrying the same product as 157 other websites, it would make sense for the product description to be the same, right? Yes and no. Obviously you want to represent the product correctly, and using a manufacturer's product description often makes sense. But if you and 157 other websites are using that exact same description, then what can possibly set one product page apart? Having a more detailed product description might give your page a big boost.
The description should tell your potential customers what they need to know about a product in order to make their purchase. It doesn't necessarily need to be presented in a giant paragraph (bullet points are your friend), but it shouldn't just be a generic sentence. If you're writing your own product descriptions, make them creative and helpful. Provide the information your customers need while compelling them to place an order.  
Check out how REI incorporates detailed product information (and pretty much everything else):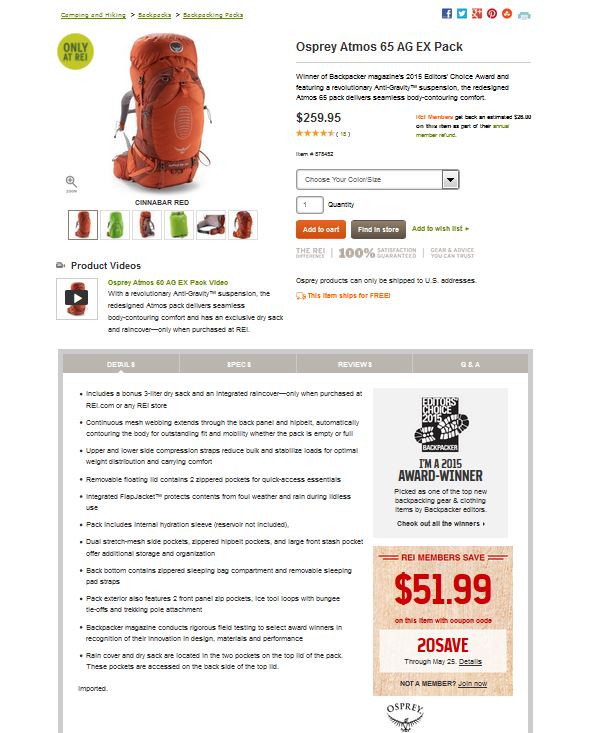 Use the Right eCommerce Platform
The good news about your product pages is that a powerful eCommerce platform like Magento makes most of this pretty easy to implement. With Magento, you can get product reviews, product images, product tabs, product videos, and product schema onto your pages without too much effort (aside from assembling all the content, of course).
By implementing as many of these "advanced" product features as possible, you give your products the best chance of standing out in the search results. None of this guarantees you'll outrank the Amazons or other big retailers of the world, but it drastically improves the odds.
But wait, there's more.
Guess what else happens when you have high quality product images, detailed descriptions, product reviews, product videos, and other pertinent product information? If you guessed more sales, then you're absolutely right. In particular, we're talking about a better conversion rate. Your customers will be much more likely to buy the product if you give them a great product experience.
Well, as long as your checkout process doesn't stink.
Do you want people to find your products? Then give them as much detail as possible. Don't treat your products like throwaway pages. The search engines (and your customers) will reward you for the extra effort.
This post is part of Internet Marketing Mysteries, a weekly column addressing actual client questions related to SEO, analytics, website best practices, and any other topic connected to internet marketing. Have a question you'd like to see tackled in a future post? Let us know in the comments.