Back
How to predict the ROI of an SEO campaign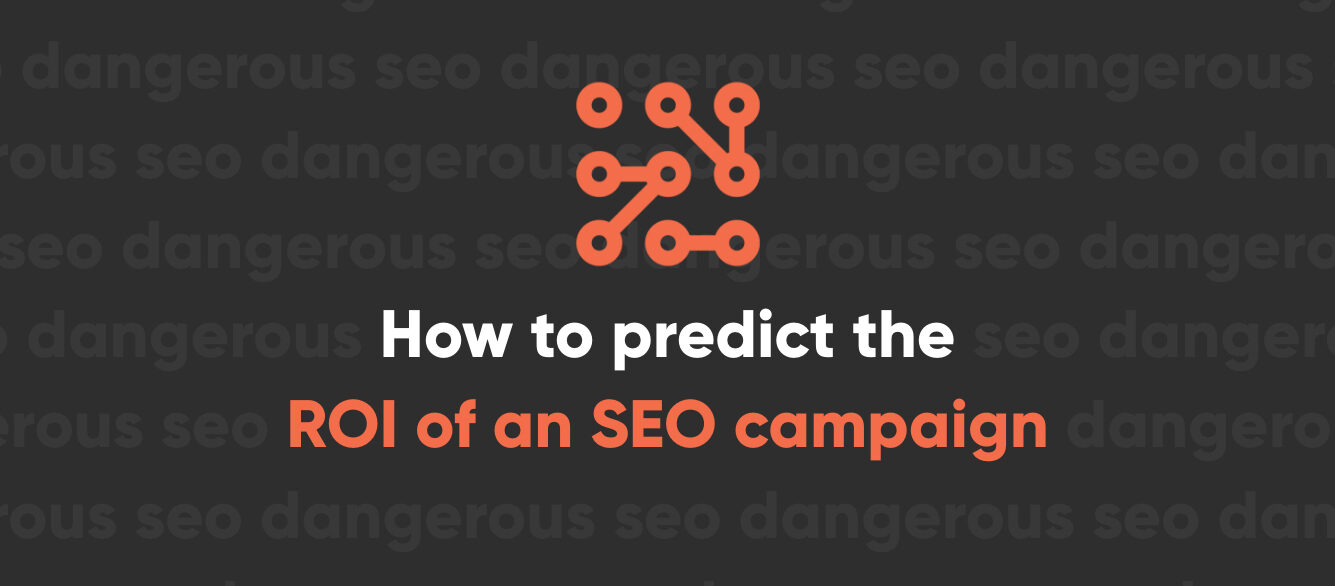 Getting buy-in for SEO can be tough. Most business owners realize they need some type of digital marketing, but it can still be difficult for them to justify spending thousands of dollars on SEO if the return on their investment is unclear. After all, there are no guarantees with SEO, so there is always some risk involved. At the same time, if you want to win in your industry, you must have a solid SEO strategy.
Fortunately, it isn't that hard to measure the ROI of SEO. It's also pretty easy to predict the financial impact SEO will have on your business—as long as you have the right data. 
What you need to calculate the value of SEO for your business
In order to accurately understand the value of SEO for your organization, you need to have a decent understanding of a few things related to your business:
The average lifetime value of a customer

Your margins

Percentage of sales qualified leads (need to eliminate fraudulent leads, tire kickers, etc.)

Your approximate close rate
Additionally, your SEO team will need to know the following:
Your website's conversion rate

Monthly search volume for target keywords

A realistic goal of where your site can rank

Approximate click-through rates by position
Let's talk about those realistic goals for a second: If an SEO company tells you they can get you to #1 for everything, they aren't being realistic or truthful. This is particularly true if, say, Wikipedia is currently ranking #1. In 99.9% of cases, you aren't going to outrank Wikipedia. But that shouldn't really matter because your website offers something Wikipedia doesn't. If your potential customers need the product you sell, Wikipedia simply isn't going to meet their needs. They are going to have to click on other search results. Settling for #2 in this type of situation makes all the sense in the world. 
In other words, a #1 ranking isn't everything. The money you are going to make from your investment is. 
How to predict your ROI from SEO
So what does all this look like on paper?
Let's look at an example:
Let's pretend we are an SEO company in Minneapolis who isn't ranking well for Minneapolis SEO and other related queries. So we identify a strategy to go after these keywords so we can drive more qualified traffic and leads. 
Note: The numbers below are just examples to give you an idea of how all this works. It's important to understand your close rates and profit margins in order to predict the ROI of SEO. 
Average lifetime value of a customer - $150,000

Margin - 40% 

Website's conversion rate - 3% (this is our ratio of leads to visitors)

Percentage of qualified leads - 40% (the percentage of legitimate leads) 

Approximate close rate - 35% (the percentage of SQLs that become customers) 

Monthly search volume for our target keywords - 1000

Realistic ranking goal - #1 (it's competitive and difficult, but there aren't any major obstacles to a top ranking other than doing the work)

Approximate click-through rate for a #1 position - 18% (a conservative estimate based on averages)
Side note: I always recommend being a little conservative with the estimates. You want to show a wow factor, but you also want to underpromise and overdeliver. 
Now let's do the calculations and make sure this is worth our efforts:
We expect to see 180 new website visitors a month (.18 x 1000), which will be 2,160 per year

Of those 2,160 per year, we expect to see 65 leads (2,160 x .03)

Of those 65, about 26 will be qualified (65 x .4)

We should close around 9 of those (26 x .35)

Our expected lifetime value of those 9 new sales is $1.35 million (9 x 150,000)

Our profit should be around $540,000 (1.35m x .40)
Keep in mind this profit will be spread out over 4 years (the average lifecycle of a new SEO client). So this is roughly $135,000 in profit per year. Not too bad, depending on how much we paid for those SEO efforts. 
Factoring in the cost of your SEO
We anticipate our SEO costs will be about $5,000 per month to achieve these rankings. That's $60,000 over the course of the year. Now let's calculate our ROI:
Based on the cost of our SEO, our net profit drops to $75,000 per year. Still not bad, right? So our annual ROI in this case is 125%. Here's how we calculated that:
(135,000 - 60,000) / 60,000 * 100 = 75,000 / 60,000 * 100 = 1.25 * 100 = 125%
Also, let's keep in mind, this is only our annual ROI. Our lifetime ROI is actually significantly higher because of how long we are keeping each customer. The actual ROI is closer to 800%: Here's the formula: 
(540,000 - 60,000) / 60,000 * 100 = 480,000 / 60,000 * 100 = 8 * 100 = 800%  
And that should be the holy crap moment for any business owner. I can get an 800% lifetime return with this SEO stuff? Why didn't we do it sooner? And don't forget we're only talking about one keyword and using conservative estimates. Your actual ROI could be much higher. 
On the other hand, we'll have some business owners say something like this: that's nice, but it just isn't that much money compared to our total revenues. For these business owners, you may need to present even larger SEO opportunities that focus on even larger lifts in revenue.
Now that's just bad business. Imagine this situation. If I told you all you had to do was hand me $60K and I would give you $75K plus your original $60K in the first year, and then I would give you an additional $135,000 a year for the next three years, you would take it, right?
Of course you would, provided you had the $60K upfront to give, and provided you believed in me enough to give you that money back. And that's the hard part of all this. You need to have the cash, and you need to trust your SEO team enough to deliver. 
How much is a new customer worth to you?
Another thing to consider here is how much we are spending to acquire each customer. In this case, we are acquiring 9 new customers for $60K, or approximately $6,666.67 per customer. 
It might sound like a lot at first, but remember the lifetime profit of these customers is $60,000 (our lifetime value of a customer multiplied by our margin). In this case, it's definitely worth it to spend $6.6K to get a customer. 
Trusting in the right SEO strategy
SEO can be hugely profitable for any business. You just need to invest in the right strategy. If you opt for cheap SEO, you won't get these results. In fact, you will lose a lot of money in the long run if you don't pick the right SEO agency out of the gate. These losses will be realized both in missed opportunity and in costly damages that will need to be repaired by a more qualified company in the future. Spending $5,000 a month on SEO when someone else is selling it for $500 a month might seem foolish at first, but remember you get what you pay for. That $500 a month will likely be pure loss, whereas that $5,000 a month will result in major ROI. 
A good SEO company will help you understand the value before you sign the contract. If they can do that and have the past results to prove it, then it would be a bad business move on your part not to go with them.
Perrill is a full-service digital agency that delivers SEO with proven results to clients in Minneapolis and throughout the U.S. Contact us today to find out what SEO can do for your business.

Nate Tower has over 10 years of digital marketing experience and currently serves as the President of Perrill. He is a creative expert gifted in pinpointing our clients' realities, goals, and audiences and turning that information into a captivating and never-before-heard brand story. With roots in digital marketing, education, and creative fiction, Nate's an Old Faithful-caliber fountain of knowledge.