Back
How to maintain a #1 ranking in organic search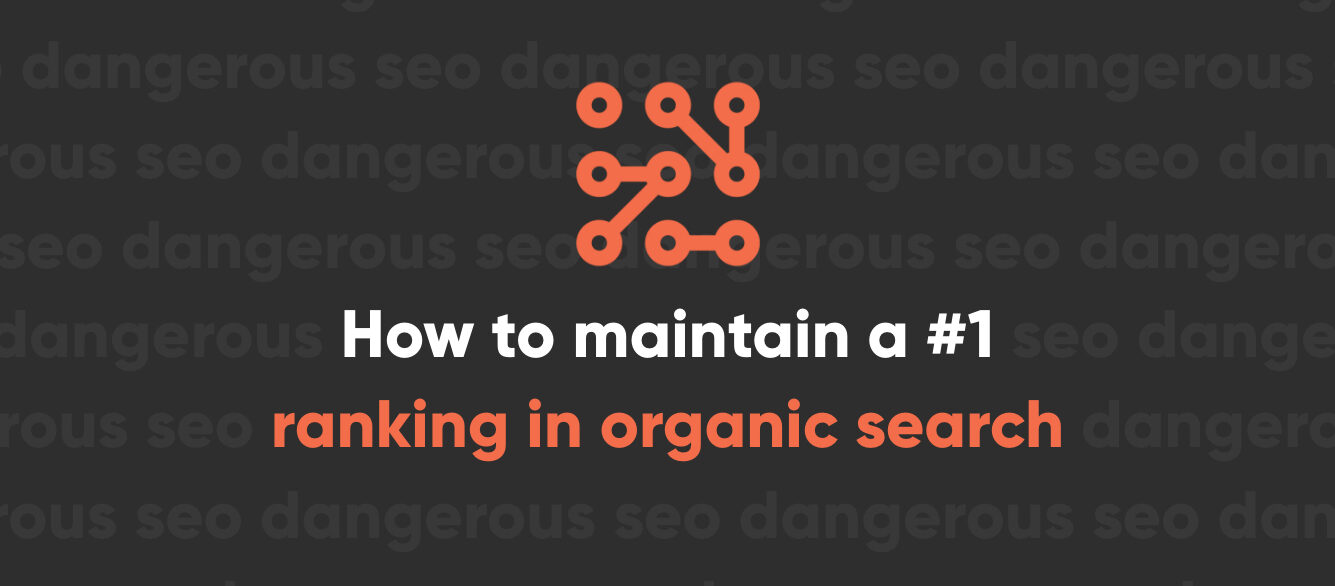 You finally did it. After busting your ass for months, you finally have your web page ranking number one on Google for that highly competitive, high-value keyword. 
Congratulations! You're now driving highly qualified traffic and generating new leads like crazy. 
So what now? Do you move onto other keywords and leave this page alone? 
Not so fast. Being number one today is no guarantee you will be the king of Google tomorrow. After all, the competitor you just dethroned is pissed off and threatening to fire their SEO agency if they don't get back on top. 
In other words, you have a target on your back. You are the 1997-98 Bulls. Everyone wants to take you down, and they are going to do everything they can to do it. 
Fortunately, it's easier to maintain the #1 ranking than it is to get it in the first place. You can do this, but now is not the time to rest on your laurels. 
So how exactly do you go about optimizing a page that's already on top? In this post, we're going to take a close look at the elements you should keep optimizing--and the ones you should leave alone!
1. Title tag
2. Meta description
3. On-page content
4. Internal links
5. Schema/structured data
6. Page speed
7. Backlinks
8. Miscellaneous future updates
Title tag
The title tag is arguably the most important on-page SEO element. It tells the search engine (and the user) exactly what your page is about. If you've optimized your title tag for a keyword and achieved a #1 ranking, then you better not touch that title tag. 
Seriously, if you touch the title tag when your page is ranking at the top of Google for your target keyword, then I'm going to hunt you down and take away all your SEO privileges. 
Meta description
Unlike the title tag, the meta description isn't a direct ranking factor. That doesn't mean it's not important to your SEO. A page's meta description is one of the top factors behind click-throughs. Tinkering with the meta description of a #1 page can be tempting, but there's a pretty clear formula to determine whether or not you should.
Open Google Search Console and find your primary query. If your CTR is below the accepted averages for a #1 position (think 15-20% as the standard), then you should adjust your meta description. Make it more enticing to searchers to increase those click-throughs. After all, a low click-through rate (CTR) can cause your ranking to drop. 
On-page content
A big reason you're number one is because your content is so damn good. Remember, content is king. 
Common sense would tell you not to fiddle with your content if you're ranking #1 for your target keyword(s). However, there are a few instances where you will want to make adjustments:
If there are other keyword opportunities this page can address

If the

conversion rate

from organic traffic is low

If the

bounce rate

on this page from organic search is high
What's a low conversion rate or a high bounce rate? In this case, simply compare the organic traffic segment to your other channels. If your sitewide conversion rate from all channels is 5% but you're only seeing a 2% conversion rate from organic traffic to your top-ranking page, then there might be something amiss. 
If you're experiencing #2 or #3, that doesn't mean you should run and rewrite all your content. Before you touch it, you need to evaluate a few things:
The headlines/headers - Are they compelling and consistent with the organic search?

The layout - Is the page designed to convert?

The CTAs - Are you leading your users in the right direction for conversion?
If you have a low conversion rate or a high bounce rate, then I would recommend running some A/B tests on the above items. You already have the traffic. Now let's figure out how to make it convert. 
Sidenote: if the content on the page becomes stale or outdated, then you should update it to help preserve that number one ranking. Otherwise, a competitor might swoop in with a more accurate piece of content that bumps you from the top spot. 
Internal links
You've probably strategically linked your top-ranking page from other content on your website. It's probably in your main navigation. It might be hanging out in the footer as well. I bet you even sent some links with very specific anchor text from some high-performing blog posts. Great! Don't change any of those things. 
But that doesn't mean your work is done. Whenever you post a new piece of content that relates to your target keyword, you should link it back to that page. For example, let's say I'm writing a blog post about SEO. I might just link that to my Minneapolis SEO page, not necessarily for ranking purposes, but because it's relevant to what I'm writing about. 
In other words, keep adding internal links as they come up naturally, but there's no need to go around stuffing a bunch of new internal links onto your site. After all, you're already ranking at the top. 
Schema/structured data
Schema is so hot right now you're probably sweating just reading this paragraph. 
While Google has stated that schema itself isn't a ranking factor, web pages that have proper schema markup do tend to rank better. 
This doesn't mean you should go out of your way to implement a bunch of new structured data on your top-ranking page. Here's what you should do:
Make sure any existing schema is implemented correctly. 

Look for opportunities to add structured data that makes sense for this particular page. 
For example, is there a logical place to add FAQ or How-To schema? If you can get your structured data to appear in the search results, then your listing is going to be even more compelling at the top. Use schema to provide value and take up as much real estate as possible on that SERP. This is one of the best ways to improve your click-through rate and hold down that #1 position. 
Page speed
A slow web page can be the death for any top ranking. Currently, Google only demotes the slowest of web pages. However, when the Core Web Vitals shift occurs in 2021, any underperforming website should be prepared to take a hit. 
If your page is slow, then find a way to make it faster. Making a web page faster will never hurt your ranking. It can only help. 
If there's one thing you should do to your page that's ranking #1 for your target keyword, it's make that page faster. 
Backlinks
Now that we've covered the primary on-page elements that helped you attain the #1 ranking, let's move to the most important off-page factor. 
If your page is ranking #1 for a competitive keyword, then there's a good chance you have a backlink or two pointing to it. 
So here's the question: should you keep building new backlinks to this top-ranking page? 
Here's my advice: keep building natural backlinks at a natural cadence to support your already strong SEO efforts. 
In other words, don't do anything spammy or take any unnecessary risks. If a backlink opportunity presents itself, take it. 
And make sure you monitor your existing backlinks. If you lose any or find any toxic ones, then you should take immediate action. 
Miscellaneous future updates
Because of the frequency of Google algorithm updates, it's impossible to say exactly what you will need to do to maintain a top ranking. If you want to stay on top, you need to stay aware of what Google is doing. When a new SEO trend pops up, be ready to update your webpage so you can keep that #1 position in Google. Just make sure that SEO trend is a proven ranking factor before you start running wild with changes to your site. 
Conclusion
Getting a #1 ranking for a competitive keyword is never easy. Maintaining that #1 ranking isn't necessarily a walk in the park either, but with a little bit of maintenance and routine care, you should be able to hold on to the top. 
If you do fall off, just remember what you did to get there in the first place. A solid SEO strategy takes patience and hardwork. But it's definitely worth it when you rise to the top of Google and watch those organic leads and sales roll in. 
Struggling to get your page to rank #1 (or to keep it there)? Get a free SEO audit from Perrill today.

Nate Tower has over 10 years of digital marketing experience and currently serves as the President of Perrill. He is a creative expert gifted in pinpointing our clients' realities, goals, and audiences and turning that information into a captivating and never-before-heard brand story. With roots in digital marketing, education, and creative fiction, Nate's an Old Faithful-caliber fountain of knowledge.