Back
How to choose the right digital marketing agency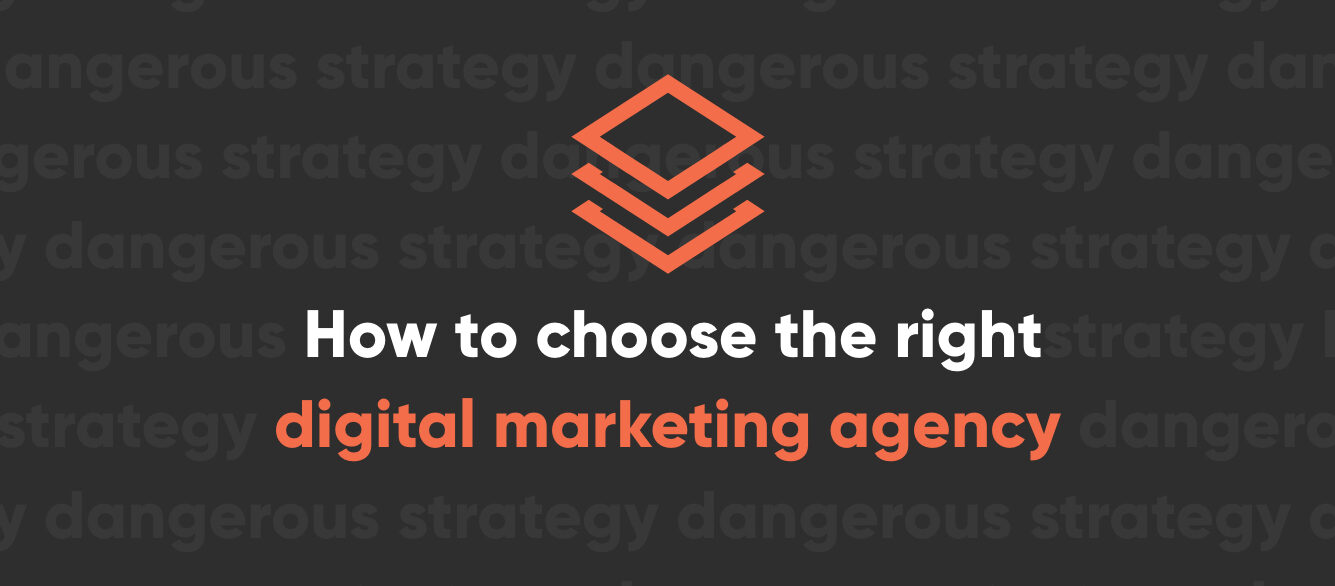 No matter what industry you're in, you need digital marketing. Why? Because we live in a digital world. Your customers are online. If you aren't marketing to them, then you are missing opportunities, losing to your competitors, and not growing as fast as you should be. 
So how do you go about launching your digital marketing efforts? You can either hire a full in-house team, or you can hire an agency. Spoiler alert: hiring a full in-house marketing team will be more expensive, more time consuming, and less profitable. So let's figure out how to find the right agency for you. 
The first step is to brace yourself. This isn't going to be an easy decision. If your business is in a major metropolitan area, then you probably have over 100 digital marketing agencies within a 20-mile radius. Every single one of them is an award-winning agency that delivers big ROI. Or at least they all claim to be. 
So how do you pick the right one? Here's what to look for when selecting your digital marketing agency:
They seem genuinely interested in learning about your business
Every digital marketing strategy must be rooted in your organization's goals and needs. A digital agency doesn't have to be an expert in your industry, but they should be sincere about wanting to get to know more about who you are and what makes you tick. They ask questions about your goals, they listen to your pain points, and they show some empathy. If you get the sense that they care about you, then they are off to a pretty good start. 
Side note: You might be tempted to go with an agency that focuses entirely on your industry and therefore already has a strong understanding of your business, but this can lead to dangerous preconceptions that don't work for your business model. Don't discount an agency just because they haven't worked in your exact vertical before.  
They aren't afraid to tell you what you're doing wrong
A good digital marketing agency is not a "yes" man. You need someone who will be honest and let you know when you have bad ideas. This starts upfront during the sales cycle with them pointing out issues with your current efforts. Maybe you're creating bad content. Maybe your website is terrible. Or maybe you're missing out on a profitable channel. This candid feedback isn't about throwing your current marketing team under the bus. It's about showing they have ideas for how to make you more successful. 
They focus on strategy rather than tactics
Any decent agency can come up with a list of tactics to employ to help you grow traffic. Tactics are obviously important, but they aren't a recipe for sustainable growth without an overarching strategy. The best agencies will start with strategy and be able to pivot quickly based on the results. No, they won't give you the strategy for free upfront, but you should be able to quickly tell if they are strategic thinkers. 
They are communicative and proactive
You want an agency that responds to your needs. That doesn't mean you need their personal cell numbers so you can call them at 3 am on a Saturday. But you shouldn't have to wait three days to get a response to a simple question. Pay special attention to how they communicate with you during the discovery and proposal phases. If they aren't quick to respond while trying to win your business, then imagine how slow they're going to be after you've signed that long-term contract. 
They don't hide behind meaningless reports. Instead, they care about the numbers you care about.
Every agency has its own reporting procedures. Make sure you understand how often and what your agency will report to you. Ask to see a sample report and pay attention to what metrics they focus on. If they care more about rankings or impressions when you need qualified leads and revenue, then stay away. The best digital agencies will speak about data that's meaningful to you.

They can show past results
Awards are nice. Case studies with real numbers are better (even if those real numbers are just percentages). But the best of all is a solid reference or two who will confirm the results. An agency that can't point to past success probably won't be able to produce success for you. 
They explain things to you rather than hide behind buzzwords or secrets. But they also know when you're bored with the details. 
You don't need to know all the hairy details about how they are going to market your website. But you are entitled to a basic understanding of what's going on. If they tell you something is a proprietary secret, then don't do business with them. Understand what you are getting before you sign a contract. That doesn't mean you should expect a detailed strategy and all the secret sauce upfront, but you should feel like they know what they are talking about and are on the up-and-up. 
They have in-house developers and designers
Speed to market is important. Every digital marketing campaign requires some level of design and development work. If your marketing agency doesn't have these things in house, then don't expect fast turnaround or seamless implementation. Look for a full-service digital agency to deliver the best results. 
They have certifications and utilize well-known tools
Don't trust a marketing agency that uses tools you've never heard of. Proprietary analytics and reporting? Stick with Google Analytics and Google Data Studio (unless you need something a little more robust like Adobe Analytics). If they aren't a Google Partner, don't use them for Google Ads. If they aren't HubSpot certified, don't let them manage your HubSpot account. And if they use cheap tools, then it's safe to assume they're going to deliver cheap solutions. 
They aren't the cheapest
Speaking of cheap, If you go with the cheapest marketing proposal, you will most likely get the worst results. That doesn't mean you should automatically go with the most expensive, but generally speaking you need to pay a premium for high-quality digital marketing. Just make sure they show the value. That company selling you $199 "kickass" SEO through Facebook ads? They aren't going to do a damn thing to kick any ass. It's simply not feasible to operate on such a small budget. 
Closing thoughts on selecting your digital marketing agency
No digital marketing agency is going to be perfect, and there will always be a risk involved. Select the agency that makes you feel the most confident about reaching your goals. At the end of the day, it's really that simple.
Perrill is a Minneapolis digital marketing agency with over 25 years of experience helping businesses grow online. Contact us today for a free marketing consultation that will unlock new growth opportunities for your organization.

Nate Tower has over 10 years of digital marketing experience and currently serves as the President of Perrill. He is a creative expert gifted in pinpointing our clients' realities, goals, and audiences and turning that information into a captivating and never-before-heard brand story. With roots in digital marketing, education, and creative fiction, Nate's an Old Faithful-caliber fountain of knowledge.