Back
6 Must-Have Events to Track in GA4

If you're like most marketers, you rely heavily on Google's Universal Analytics as the source of truth for measuring your website performance.
This summer, Universal Analytics is getting replaced by a completely different analytics platform – Google Analytics 4. Even though they're both Google platforms, they function in completely different ways, and the switch to GA4 requires setting up an entirely new property for your website.
While Google shared that it's planning on automatically setting up GA4 properties for any business with an existing UA account, Google recommends that organizations manually set up their accounts to ensure proper tracking. Google's automatic setup process is one-size-fits-all, meaning that if you have specific metrics you need set up that don't fit in Google's criteria, you'll probably have to set those up yourself regardless. Plus, the goals you're currently tracking in UA might not be ones you care to track in GA4.
The goals you set up in your Universal Analytics platform are obviously important to your business – they're the performance metrics that you care most about. Knowing what those metrics look like in GA4 and how to track them correctly is key to maintaining consistent reporting for your business.
How is tracking changing in GA4?
If you're a Universal Analytics user, you're probably familiar with goal tracking. Goals allow you to measure your progress in specific areas of your business and keep your key metrics top of mind.
Previously, some goals could be classified as conversion events in Universal Analytics. Events indicated a website behavior while goals were tied to actions that affect revenue.
In GA4, goals don't exist anymore; instead, conversions are tracked as events.
The only automatic conversion event is a purchase – but it's not really automatic. You have to first set up e-commerce tracking for purchases to track. Once e-commerce tracking is set up, purchases will be designated as conversion events in GA4.
You can turn on enhanced measurement to automatically track page views, scroll, outbound link clicks, video engagements, file downloads, and site searches – but they won't get automatically marked as conversions, requiring you to manually designate conversions and set up anything that isn't automatically tracked.

New and improved event tracking
One of our favorite features in GA4 is the improved event tracking. It's much more powerful and detailed than anything we saw in Universal Analytics.
In UA, you could set a Category, Action, Label, and Value for each event.
This usually led to marketers stuffing their actions and labels with a bunch of data in order to improve the level of tracking.
For example, if you were tracking call-to-action buttons, you might do something like this:
Category - CTA Button
Action - Button Click
Label - Text of Button | Button Destination | Button Color
That's a lot to track, and a single label makes for sloppy reporting.
In GA4, you give your event a name (be sure to use snake case) and then add up to 25 custom event parameters per event.
In the case of your CTA button tracking, we could do something like this:
Event name - cta_button
With these event parameters:
cta_location - page path
cta_destination - click path
cta_text - click text
cta_color - click class color
And so on.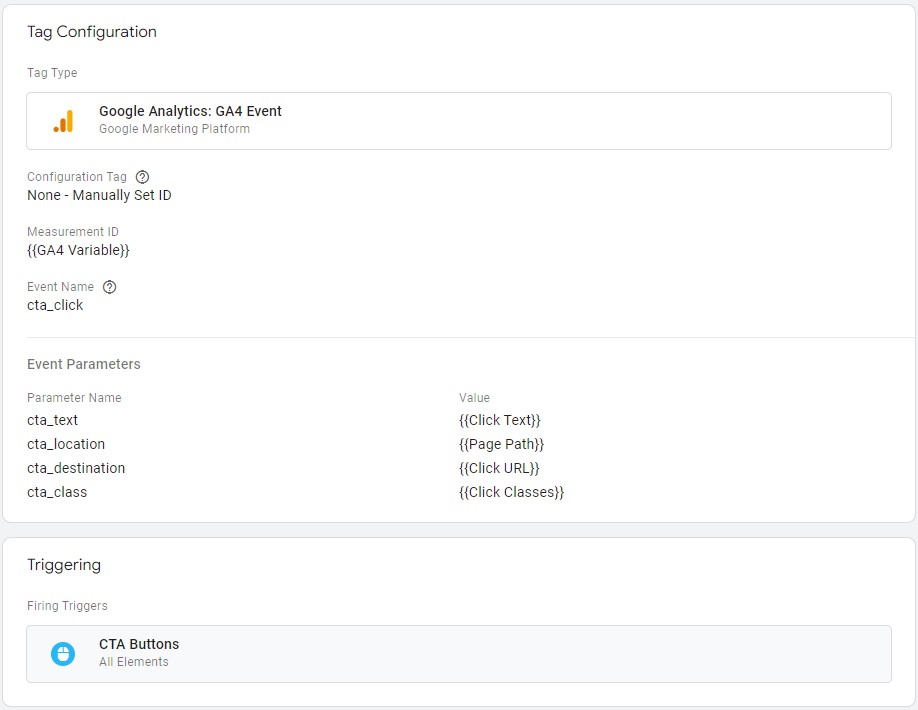 This makes for much cleaner reporting and an increased ability to capture the information you want to help you make important marketing and UX decisions.
One slightly annoying thing in GA4 to consider – once you set up your custom event parameters, you then need to go and register these as custom dimensions in order to use them in your reports. An extra step, but it's still much improved compared to the old Category, Action, Label method.
Which events should you track?
Any events you decide to track in GA4 should reflect your business' KPIs, or key performance indicators. KPIs are quantifiable measures used to evaluate the success of your website. Whether you're trying to increase your newsletter subscriptions or grow the number of phone calls you get each month, there's an event in GA4 that can help you track your progress. And since your website is such a valuable marketing tool, you'll want to make sure you're getting as much data as possible about how it's performing.
We're taking a look at the most important metrics that you need to track in GA4 – ones that won't get automatically set up as conversion events and will require manual setup.
Email click
Why it matters
Link clicks are pretty important measurements to track, especially when they're links on your website that prompt the user to contact you through email. By tracking email clicks, you can identify which page the user was on when they clicked, providing insight into which pages are performing best from a conversion standpoint. From there, you can optimize the page that's performing well or refresh the content on any pages that aren't converting.
Set up tracking
The email click metric isn't set up automatically, but it's technically tracked by default because it's included in clicks, which are automatically tracked. Still, we recommend setting up a separate event with custom event parameters. For a click to log as an email click specifically, you need to set it up as a conversion event. You'll need to set up a tag and trigger in Google Tag Manager before setting up a custom event in GA4. You'll also need to mark the event as a conversion for it to correctly log the email-specific conversion event.
Phone call click
Why it matters
Similar to email clicks, it's important to be able to track the number of times someone clicks a link on your website to call your business. You'll want to distinguish when a user clicks to make a call so that you can learn more about click paths and how your users are engaging with your website.
Set up tracking
Outbound link clicks are technically tracked by default, but to get phone call-specific clicks tracking, you'll have to set up a tag and trigger in GTM, create a custom event in GA4, and then mark it as a conversion event by going into event configuration and toggling to mark the event as a conversion.
Contact forms
Why it matters
Another key metric to track in GA4 is contact form submissions. While forms are tracked by default (although we recommend you don't use the default tracking because it has been known to trigger false positives if you are using other tracking pixels), you'll want to know which forms are contact forms so that you can learn more about your website usage and the number of people who are filling out the contact form on your site. Distinguishing your conversion-specific forms from other forms will help you determine important metrics around your contact form.
Set up tracking
These events are automatically tracked because form submissions are tracked by default, but if you have multiple forms on your site, you'll need to set up separate events in GA4 along with tags and triggers in GTM to make sure each unique form is tracked separately.
You can alternatively track form submissions by tracking the number of users who reach the Thank You page. You'll just have to create a custom event with the parameter page_location and include the Thank You page URL.
Our recommendation is to keep all of your event tracking setups in a single place. In other words, don't set up some events in GA4 directly and other events in Google Tag Manager. This will become a nightmare later.
CTA buttons
Why they matter
CTA buttons can give you lots of insight into how your users are navigating your site. By tracking specific buttons, you can determine which pages convert best and which CTAs are the most compelling or relevant to your audience.
Tracking the clickable elements on your website is important for understanding your site's click paths and the things your audience cares about most.
Set up tracking
Again, clicks are tracked automatically in GA4, but to track buttons as conversions, you'll need to set up a separate event using a tag in Google Tag Manager and a corresponding trigger in GA4. Then you'll need to specify your event parameters like in the example in the "New and improved event tracking" section.
Once a conversion comes through, you'll mark the event as a conversion event and you're all set!
Downloads
Why they matter
Measuring downloads is important to understanding how well your inbound marketing efforts are working, how well your content is resonating with your audience, and how interested your audience is in your business.
Set up tracking
Enabling enhanced measurement allows downloads to get tracked automatically, but to see downloads specific to your conversion events, you'll have to set them up with a separate tag and trigger and then mark them as conversions once downloads start coming in.
Newsletter signup
Why it matters
If you're running an email newsletter or some sort of regular email communication with your audience, you'll want to track the number of new subscribers you're gaining each month. To do this, you'll have to ensure the newsletter subscriptions are tracking as conversion events.
Set up tracking
Newsletter signups function as forms, so the easiest way to set up tracking is through setting up a Thank You page. You'll have to set up an event that is triggered once the user reaches the Thank You page URL. Saving this as a conversion event will allow you to track when you gain newsletter subscribers, making it easy to track the number of subscribers on a regular basis.
Simplify the GA4 Setup Process
Setting up your new GA4 property is not a simple process. It's time-consuming, confusing, and complicated.
Perrill can help.
We've set up over 100 properties already and can help set yours up, too. We have increased tracking accuracy by as much as 60% for our clients, allowing them to improve their marketing efforts, make profitable adjustments to their websites, and better optimize their ad spend for higher ROI. With less than 100 days left to migrate, we'll implement a GA4 migration custom fit for your business.
Without proper tracking, you're risking wasting marketing dollars on unknown performance. Ensure your strategies are data-informed by getting your analytics account migrated today.

Grace Hallen is a Digital Marketing Specialist at Perrill. Her passion for communication and crafting engaging content led her to Perrill's marketing team. She loves flexing her creative muscles and finding clever ways to reach readers. In her free time, you can find Grace playing trivia at local breweries, exploring the Twin Cities or getting lost in a good book.