Back
Ten Reasons Your Ecommerce Site Isn't Converting – And How You Can Fix It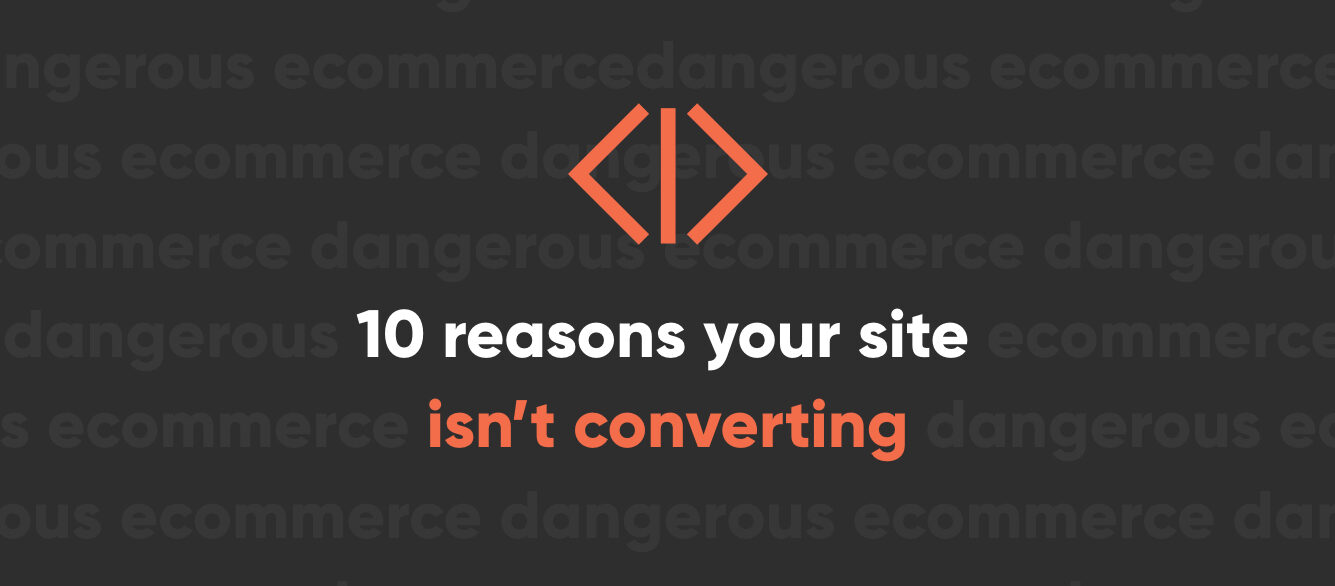 Getting people to your site isn't always the hardest part. For many ecommerce websites, the main problem is getting people to buy something. In fact, the median conversion rate for ecommerce sites is less than 2%. This means only a tiny fraction of your visitors are actual customers.
There are two main reasons why people shop online:
It's convenient
To get a good deal
To be competitive, your ecommerce site has to offer great user experience. If your sales are low and your conversion rates are depressing, here are some problems that may be plaguing your site.
1. Customers Can't Find the Right Products
How long do you think a customer is going to spend looking for the right product on your site? The answer: less than a minute. If the product isn't easy to find, the customer will find it elsewhere.
The Fix: Make sure your navigation and internal search are highly functional. If you see a lot of internal searches for the same products, make these products more visible on the homepage or in the menu.
2. Checkout is Confusing or Time Consuming
How many clicks does it take to get to the end of your checkout process? The longer it takes to checkout, the more likely a customer is to walk away. An "add to cart" button on the home page is great, but not if it takes you to another "add to cart" page that takes you to another "add to cart" button. Most online shoppers expect that adding something to the cart means they've actually put it in their cart.
The Fix: Remove any unnecessary steps from the checkout process.
3. Same/Similar Products Are Available Elsewhere for Cheaper
You have to make money, but it's going to be hard to make money if everyone else sells your stuff for cheaper. You may not be able to do much about your advertised prices, but there still is room for improvement here. Even if you can't lower your prices, you can offer customer loyalty deals or provide some other unique value or experience that makes your store better. Why do some people go to Target instead of Wal-Mart? It's usually not because of price.
The Fix: Make it clear to your customers why your website is the best place to buy the product. Offer unbeatable customer service, faster shipping times, and customer loyalty deals.  
4. Shipping Costs Are Too High
No one likes paying for shipping. The number one reason that shopping carts are abandoned is because shipping costs are too high. Customers are even willing to pay a higher base price in order to get free shipping.
The Fix: Offer free shipping options. If your margins aren't big enough to make free shipping a possibility, then raise your base prices. Just make sure the free shipping message is loud and clear.
5. The Site Doesn't Seem Trustworthy
People care about online security. There are many reasons why your site may not seem secure. Invalid security certificates, an outdated website design, crazy disclaimers about how secure the site is. If you give people a reason to be skeptical, they will be.
The Fix: Make sure your site looks modern and your SSL is valid. Share your credentials (BBB, Authorize.net, etc.), but avoid overdoing disclaimers that try to make people feel secure. Customers will feel safe if you give them a good experience. 
6. Preferred Payment Method Is Unavailable
How do people pay on your site? If you only allow one type of payment, you may be losing out on customers who really want to use PayPal or some other type of payment method you don't accept. Not everyone has (or wants to use) a credit card. Make sure there are other options.
The Fix: Offer multiple payment methods. Case studies show that adding a payment method can lead to a better conversion rate.
7. Requesting Too Much Info at Checkout
What do you really need to know in order to process a purchase? You probably need a name, email address, and mailing address, but do you really need a company name or even telephone number? If you don't need it, don't ask for it.
The Fix: Only require the info you really need. Of all personal data, people are most protective of their phone numbers. By not requiring a phone number, you may be able to improve your conversion rate. 
8. Too Many Distractions
When was the last time you purchased something through Amazon? Have you ever noticed that once you start checking out, there's nothing else you can do except check out? Don't overwhelm people during the checkout process. The best way to make sales is to get customers through the process as quickly as possible—before they have a chance to change their minds.
The Fix: Make the checkout as distraction-free as possible. Don't overdo it with other options like cross-sells, up-sells, newsletter subscriptions, or videos of cute kittens. Disabling menu features can really help keep people focused on the task of buying without doing something else first.
9. The Value of Your Products Isn't Clear
If you want people to buy your products without being able to see them in person, you need to be sure you clearly express the value of the products. This is especially true for more expensive items. If you are selling something for hundreds or thousands of dollars, you need to be sure the customer understands why this product is worth that much.
The Fix: Include as much information as you can regarding the value of the product. Use unique product descriptions that make it clear why it costs this much. Don't assume people will know a product is authentic or one-of-a-kind.
10. Your Site is Targeting the Wrong Audience
There's always the chance that you aren't selling products because you aren't getting the right people to your site. Having a great product and a usable website won't make much of a difference if the people coming to your site simply don't want what you have.
The Fix: Analyze your traffic and conduct further market research to determine how you can get the right customers to your site. If you aren't selling to the right people, you won't sell anything.
If you want to sell your product online, you need to give your customer a quality online shopping experience. Keep it simple and convenient while offering the best value you can. It seems pretty obvious, but so many ecommerce sites ignore the basic principles. The best test of all? Ask yourself if you'd buy from your own store. If you wouldn't, chances are that no one else would either.

Nate Tower has over 10 years of digital marketing experience and currently serves as the President of Perrill. He is a creative expert gifted in pinpointing our clients' realities, goals, and audiences and turning that information into a captivating and never-before-heard brand story. With roots in digital marketing, education, and creative fiction, Nate's an Old Faithful-caliber fountain of knowledge.