Back
Why Aren't We Ranking In Local Search Results?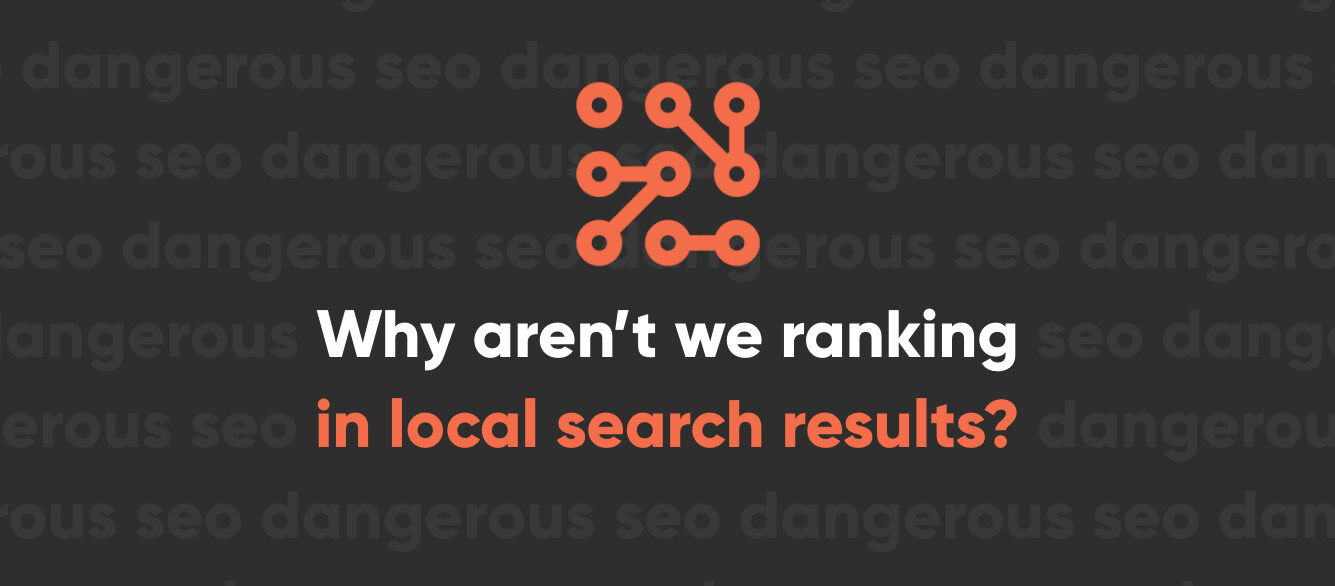 If you do business locally, you need to make it easy for your customers to find you. I'm not talking about having prime real estate along a high-traffic road (although that certainly doesn't hurt). No, I'm talking about online visibility. Your customers need to be able to find you when they're searching for the products and services you provide. 
Many local businesses want to know why they don't show up at the top of local searches related to their services. Appearing in local results is becoming even more important as "near me" searches continue to rise in volume. Being able to secure a spot in the organic results and the local map pack can give your website the boost you need to reach your business goals.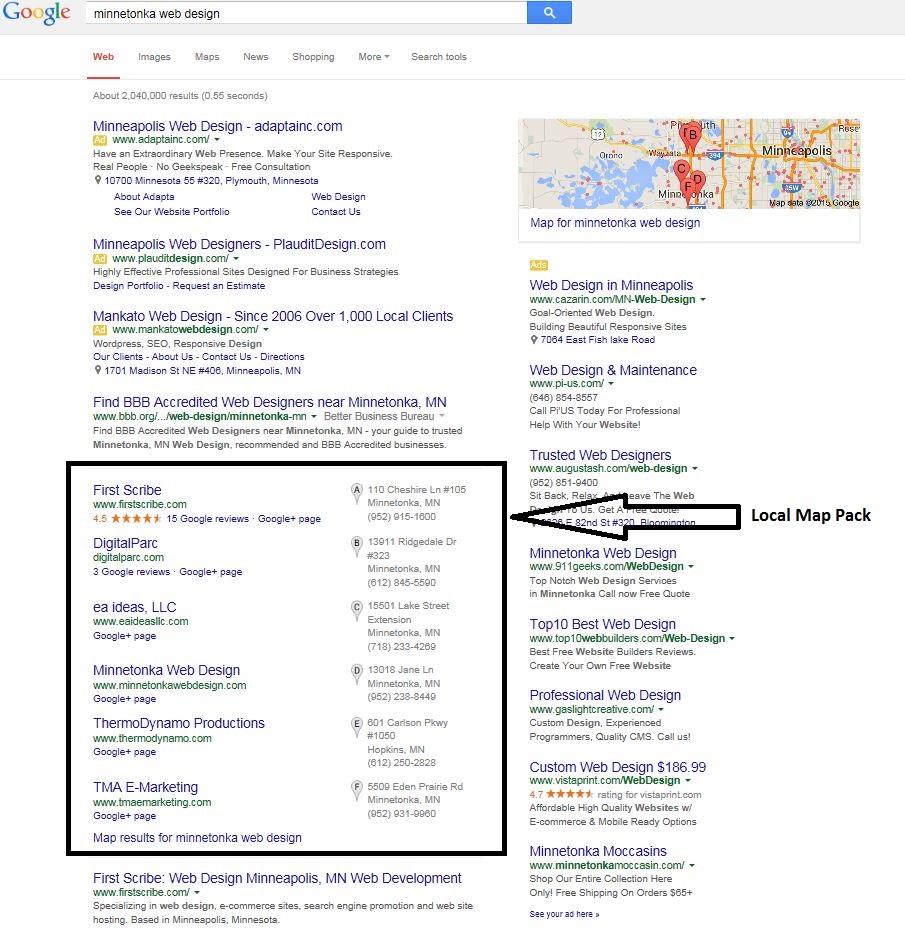 Local rankings aren't as simple as they used to be. With major Google updates like Pigeon and recent changes to the local map packs, things have gotten a lot more complicated for local businesses during recent years. Here are some of the major factors that affect your standing in the pack:
Location Is Huge
Location is everything, right? In Google's eyes, it means a heck of a lot. If you want to rank for a local search, your best chance of appearing in the results is to be physically located in that area. Google hasn't quite figured out searcher intent in this regard. For example, a searcher looking for a "Minneapolis landscaper" isn't necessarily looking for a landscaper who operates out of the city of Minneapolis. Unfortunately, a landscaper located in the city of Minneapolis is a lot more likely to appear in those results.  
However, this doesn't mean that all hope is lost if you aren't located at the center of the city limits. On a local level, we've seen businesses located in St. Paul rank for searches related to Minneapolis. Now, this isn't likely to happen for a restaurant (someone searching for restaurants in Minneapolis expects to see restaurants located in the city of Minneapolis), but it's possible for a broader service. It is an obstacle though, and it's something local businesses have to be aware of. It doesn't mean you need to pack up and move your business to a new address. Overcoming this obstacle often requires a bit of technical expertise and the ability to make up for it in other areas.   
You Need Reviews
If you look at almost any local map pack, the top results are often the ones with the most reviews—and typically the most good reviews. That doesn't mean you must have a ton of reviews to be at the top of a local search, but it certainly increases your odds. In a way, this makes sense. If Google is trying to deliver the most relevant search results, then showing the businesses with the best reviews seems like a good service to the public. Of course, this isn't always true in reality. The best businesses often don't have a lot of reviews, and inferior businesses sometimes have a mysterious way of getting a lot of good reviews. If you want to rank well in local search, reviews are highly important. That means you should have a follow-up process that encourages customers to leave a review. It's also important to provide great service so that people will be more likely to leave those positive reviews. As an added bonus, your good reviews will make customers more likely to seek out your services.   
Google My Business Is Essential
If you don't have a Google My Business page, then you need one now. Google isn't shy about promoting this service. The search engine has been pushing harder than ever with their new Get Your Business Online initiative. And it's free, so there' no reason not to do it. But just having your business verified on Google isn't enough. You need to have an optimized Google My Business page. This means having complete and accurate information about your business, including:
Business hours
Business description
Business categories
Business photos
You can also get a little extra oomph from your My Business page by actually using it on a regular basis. While posting on Google+ probably won't lead to many direct conversions, it can help you engage with the community. It can also help you stay relevant in the eyes of Google. And search results are all about relevance.
Consistency Is Key
If you're not familiar with NAP, you need to be. Your business name, address, and phone number should be consistent across the web. That means whatever phone number is on your website should be the same phone number in all other business directories. All of your social media profiles should use the same naming conventions. Don't call yourself one thing on your website and another thing on Facebook and Twitter. In order to ensure consistency, you need to perform regular directory audits. If your address changes, you need to change it everywhere on the web. Don't just assume the search engines will figure it out. Nothing kills local rankings faster than inconsistent NAP. Yes, Google is smart, but don't make the search engine work extra hard to figure out just who you are. If your business has different names, different addresses, and different phone numbers scattered around the web, then Google's confusion will keep you out of the rankings. 
Ultimately, there's nothing you can do to guarantee you'll be at the top of the local map pack for any given search. There are many factors at play, including a searcher's location, device, and history. You obviously can't control these things, and you can't control what Google does either. But you can improve your odds by playing all your cards right. By optimizing your online listings, promoting your business consistently across all channels, and securing high-quality reviews from real customers, you can often get yourself in a good position on that map. 
This post is part of Internet Marketing Mysteries, a weekly column addressing actual client questions related to SEO, analytics, website best practices, and any other topic connected to internet marketing. Have a question you'd like to see tackled in a future post? Let us know in the comments. 

Written by
Nathaniel Tower
Nate Tower is a Director of Marketing at Perrill. He is a creative expert gifted in pinpointing our clients' realities, goals, and audiences and turning that information into a captivating and never-before-heard brand story. With roots in digital marketing, education, and creative fiction, Nate's an Old Faithful-caliber fountain of knowledge.