Your 5-Minute Guide to New Google Business Photos
February 26, 2015
Earlier this week, Google announced it was making more changes to Google Business pages. In particular, the search engine is giving business owners more control over their photos (as well as some friendly advice).
This is long overdue. In the past, you could choose your profile photo and your cover image. Other than that, you just threw a bunch of images up on your business page and hoped for the best. You had no control over what images showed up in your listing. You also had little guidance.
So what's new? Here's a look inside: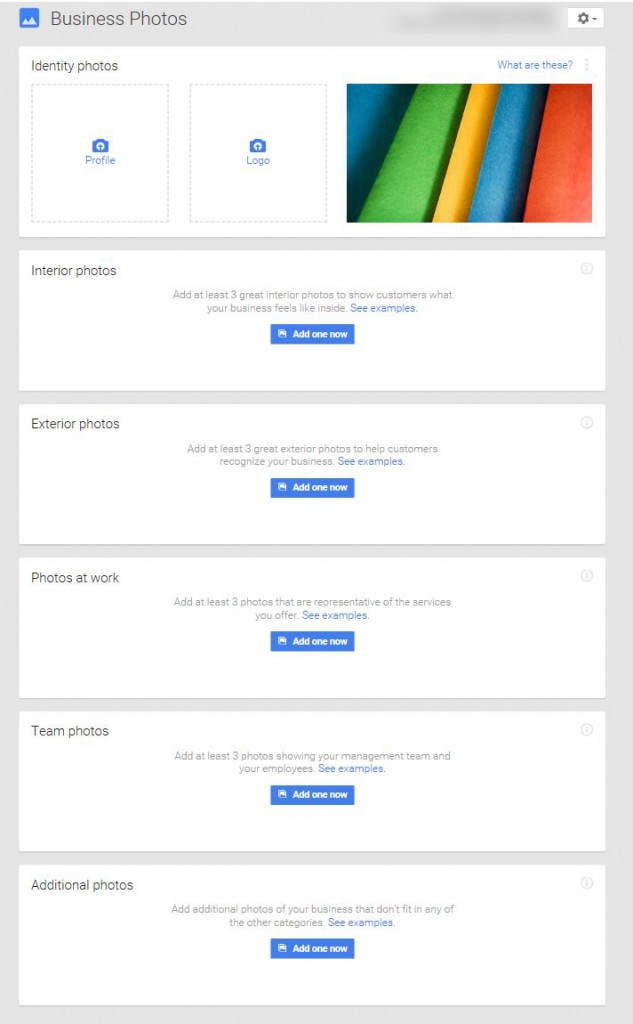 Google has everything broken down into categories—and gives you suggestions. Google recommends uploading at least 3 photos in each main category. Additionally, they provide some helpful hints for the types of photos you should use: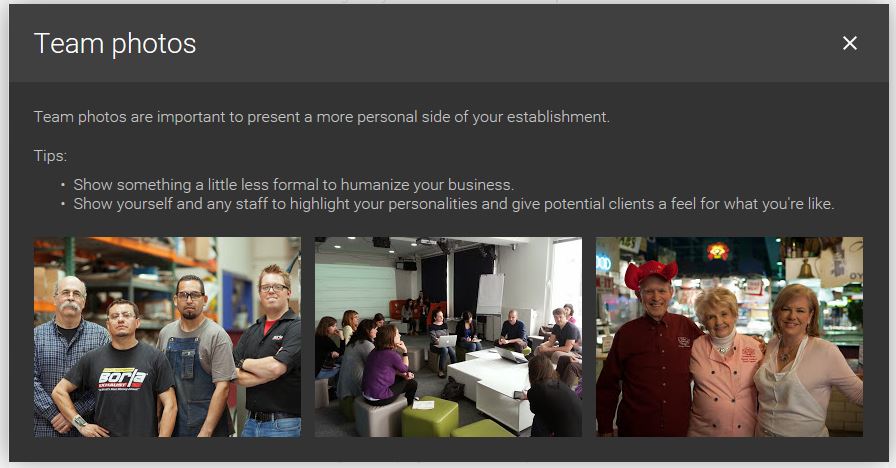 One of the coolest new features is that you can choose (I mean recommend) which Identity photo should appear in search and map results:

Of course, you can't just upload anything you want. Google has specific requirements for each category of image. Unfortunately, they don't make this clear until after you try to upload an image. If the image is too small, you will get the error message and have to try again: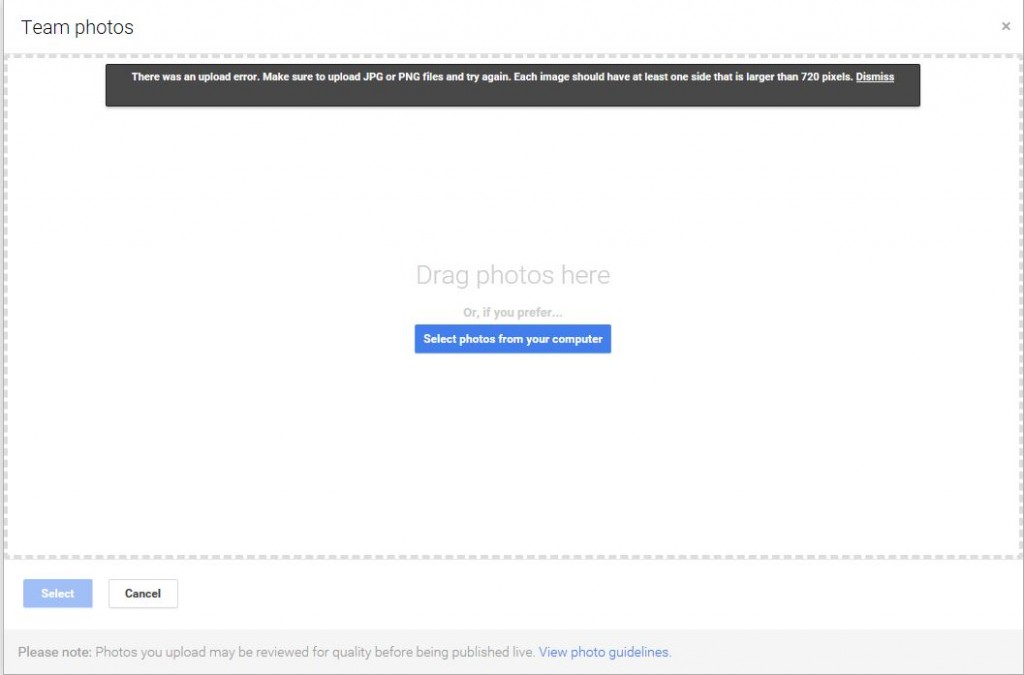 Here are the required dimensions for each category:
Profile photos must be at 250 pixels wide and 250 pixels tall (this is the same as before).
Logos must have at least one side larger than 250 pixels (Google strongly recommends you use a square image for the logo)
Cover photos must be at least 480 pixels wide and 270 pixels tall (this is much smaller than before).
Interior photos, Exterior photos, Photos at work, Team photos, and Additional photos must have at least one dimension that is 720 pixels or more.
In the old system, you could upload any size image you wanted for your non-identity photos. Of course, this often resulted in less than optimal viewing on your actual business page (translation: those little images you uploaded that looked fine on your website were blurry and hideous on you Google Business page). There's a lot more quality control at play here.
Any photos you've uploaded previously now appear in the Additional photos section, including the ones that are too small for the new guidelines. You'll definitely want to clear out those old images and work on getting better ones on your listing.
So what does all this mean for you and the future of map listings?
At the moment, we have no idea how these new photos are going to impact Google map listings (aka, there's no evidence that this will affect local pack results).  After you upload all your new images, there is nothing different between how an Interior photo and a Team photo appears on your page or your listing. Everything seems lumped together in a big slide show, just like it was before. I am guessing this will soon change.
Here's the bottom line: if Google is recommending that we use at least three images in each category, we should probably go ahead and do it. Google seems to be taking this seriously—and updating it fast. And I mean FAST. I uploaded fifteen new photos for one business and they all appeared on Google within minutes.
Now go get some great photos of your business and put them up on Google. Even if it doesn't boost you in the map listings, it will at least improve how your business looks. And we could probably all use a little improvement in that area.