Back
7 simple ways to improve your website's UX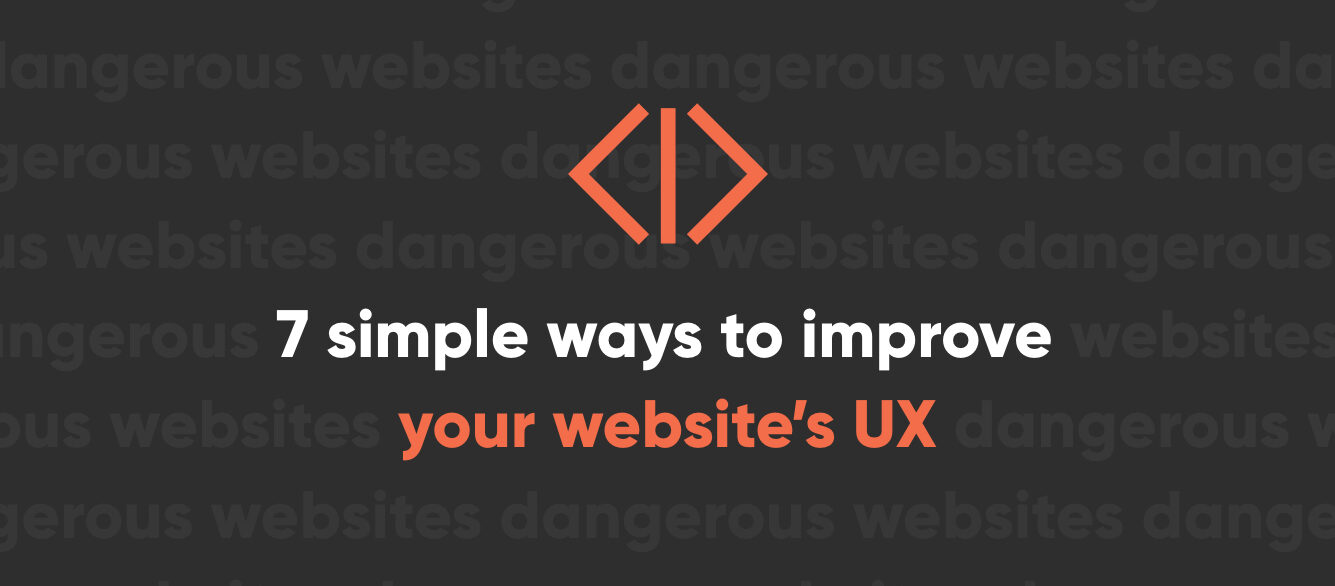 Few things matter to your website more than user experience. You could have innovative products and tons of useful information but none of that will matter if users have a bad time when they visit your site. Imagine going to the Super Bowl, being unable to find your seat, eventually sitting behind a pillar, and having a helmet full of nachos dumped on your head. The product means nothing without the right experience. Here are some of the best ways to improve your site's UX and ensure your users' heads remain nacho-free.
Welcome feedback from your users
The ultimate goal of UX is to guide the user through an enjoyable and informative journey via your content and design. It's a smart decision to include the user in the UX-improvement process by welcoming and using their feedback. Issuing surveys is a popular way of fielding feedback from users that can lead to useful improvements to your site. It's also smart to analyze heatmaps and take note of how users are interacting with your site and then use that info to guide changes based on what's working and what's not.
Utilize CTAs
A successful website needs to determine its primary goal and then organize its UX and CTAs around that objective. Your CTAs should be visually intriguing and should incite the user to do something, right then and there. CTAs like "Shop Now" or "Get Started" are great because they create a sense of urgency and invite the user to take immediate action before leaving the site. Visual elements like colors and buttons are also great ways to make CTAs more appealing.
Be responsive
Responsive web design is a must in today's internet landscape. This ensures users an enjoyable and consistent experience regardless of their device or habits. Just as important is the element of page speed. If your site loads slowly, there's a good chance users will ditch the loading screen before they even get the chance to see your homepage. With impatience at an all-time high, you can't afford to lose customers to slow page speed.
Make it easy to connect
You need to make it easy for your users to connect with you – without being overaggressive or annoying. Providing complete contact information is an all-too-easy aspect that too many sites still seem to overlook. Clearly indicating ways for your users to reach you via either email, phone, or mail is a simple but necessary task. Including links to your social media accounts on every page is another easy way to make connecting a breeze and to indicate to users that you are active on multiple channels.
Tailor your content
Your site's headers should be written and designed to resonate with your users' needs and to convey the value you can provide them. Using keywords in headers is a great way to ensure you not only attract the right audience to your site but that you also improve your search ranking within your industry. Utilizing bullets in content blocks makes text easy to read and can quickly share information without having to nest it inside a cluttered block of copy. You can even get creative with bullet icons to add to the originality of your site's design.
Use photos wisely
Stock photos or even photos that appear stock convey unoriginality and laziness to everyone who visits your site. You want to use photos that show how your brand is unique and how you alone can provide unmatched service to your users. It's worth the time and money to have original and thought-out imagery added to your site. That doesn't mean you can't use stock photos. You just need to choose the right ones and use them at the right time.
Consistency matters
Maintaining a unified look across your website makes navigating the site smooth and easy. Your user shouldn't have to wonder if they're still on your website just because they've switched pages. Honing consistency and UX is an ongoing experience and one that should be monitored continually to keep your site fresh and your users happy.
Perrill specializes in full-service web design and development and has the capability to perfect your site's UX to help take your brand to the next level. Contact us today to start doing business online the right way.

Dan Cole is the Manager of Content & Copywriting at Perrill. He has been professionally strategizing and creating original content since 2011 across agency settings, corporate positions, and journalistic beats, and now masterminds written materials of all kinds for Perrill's clients. He was named Acme Comedy Co.'s Funniest Person in the Twin Cities in 2014 and will never let any of us forget it.