Bing Predicts Goes 2-2 in Wild Card Weekend; Divisional Preview
January 12, 2016
Wild Card Weekend definitely lived up to its name. For the first time in NFL history, the visiting team won all four games in the opening round of the playoffs. This left Bing Predicts half right on the weekend, opening its playoff prediction campaign with an even 2-2 record.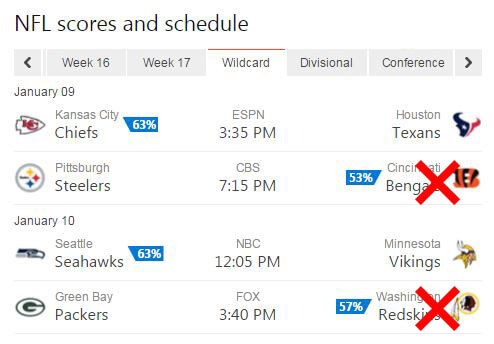 In our Wild Card Weekend preview, we predicted Bing would go 2-2. We also suggested the home team might lose every game even though we were certainly pulling for our Minneapolis team. We're not going to get too caught up in the whole laces out debate, so let's just say Bing Predicts was a horribly botched field goal away from opening the playoffs with a 1-3 record. 
Bing Predicts Playoff Picture
This weekend's wildness didn't have too much impact on Bing's playoff picture, but the search engine will need to make at least one adjustment.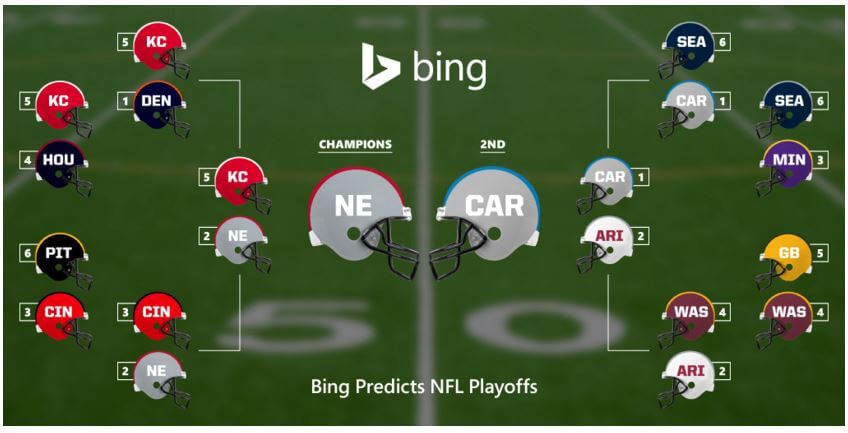 Bing didn't have any of this weekend's losers advancing past the next round, but there is a key matchup change for the prediction engine to consider. In its original prediction, Bing had the Chiefs beating the Broncos to advance to the AFC Championship game. Because the Steelers won on Saturday night, the Chiefs will now face the Patriots in round two. Given that Bing is predicting the Patriots to win it all, it looks like it will be the end of the road for the Chiefs this week (although we're not too sure about that). Does this mean a Brady-Manning showdown in the AFC Championship? Maybe. 
Bing Predicts Divisional Round Preview
Unlike last week where we saw Bing splitting between underdogs and favorites, the search engine is going with the top seed in each game this week. If Bing's predictions pan out, we'll see the 1 and 2 seeds kicking off for their respective Conference championships.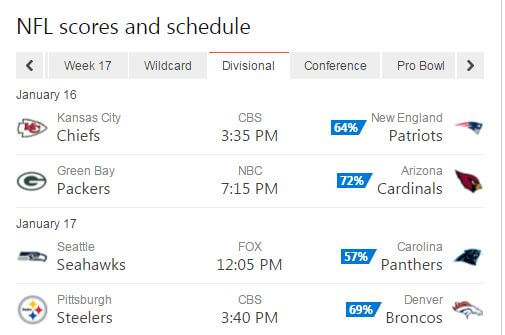 Bing feels pretty strongly about this, with only one game sitting below a 60% chance. I don't think Bing will be too far off this week. Expect the search engine to go 3-1 this round. As far as which game Bing will miss...I'm calling a Chiefs upset over the Patriots. 
Come back next week to see how Bing Predicts did in the Divisional round of the playoffs.