Bing Predicts Misses on Key Matchups in NFL Week 13, Looks to Score Big in Week 14
December 2, 2014
Note: This post is for the 2014 season. Click here to see the Week 13 results and Week 14 preview for 2015.
Despite missing several key games in NFL Week 13, Bing Predicts had another successful week. With a 10-6 record this past week, the prediction engine is now 126-66 on the season. This 65.6% success rate is well above Bing's goal of getting the majority of the games correct.
Bing Predicts Week 13 Recap
Week 13 was filled with high profile games that carry big playoff implications. Bing struggled in several of these games:
Bing favored the 49ers over the Seahawks; Seattle won by 16
Bing favored the Cowboys over the Eagles; Philadelphia won by 23
Bing favored the Cardinals over the Falcons; Atlanta won by 11
None of these games were major upsets, and Bing's confidence level was only in the 50% range for all of them. Still, these were all big misses for the search engine in very important games.
Here's a full rundown of Bing's stats for Week 13:
7-4 when picking the home team to win
3-2 when siding with the visitors
1-0 when switching picks
1-0 when predicting 80%+ chance
1-1 when predicting chance between 70 and 79.9 percent
4-1 when predicting chance between 60 and 69.9 percent
4-4 when predicting chance between 50 and 59.9 percent
As usual, Bing didn't predict any major upsets this week. The search engine tends to side with Vegas favorites, which makes sense because it uses an algorithm that focuses primarily on historical data. Bing also reportedly uses social signals to make its predictions, but it's unclear just how much this impacts the chances. From a social standpoint, there didn't seem to be any big noise from any teams this week, so this likely had little impact on Bing's predictions.
Bing Predicts Week 14 Preview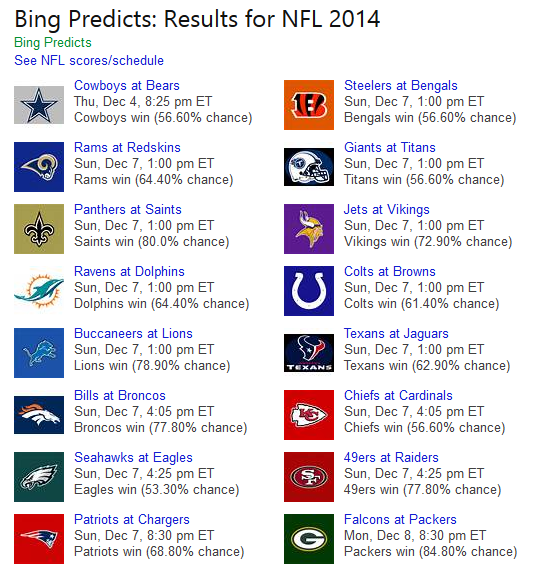 Bing's most interesting pick (and probably a wise one) this week is going with the visiting Chiefs over the Cardinals. It's an odd pick for two reasons: 1. Bing tends to favor the home team unless there is a major disparity between opponents, and 2. the Cardinals are tied for the best record in football. However, they are also dealing with some serious injuries and coming off a loss to the Falcons. At the same time, the Chiefs lost to the Raiders two weeks ago, which certainly doesn't give them much street cred. Still, these factors seem to balance in the favor of the Chiefs.
Elsewhere around the league, Bing's Week 14 predictions look pretty expected—and pretty safe. Nothing stands out as a bold prediction. On the surface, the biggest surprise is the number of times the search engine is siding with the visitors. However, this really isn't much of a surprise given the number of good teams on the road this weekend.
Here is a breakdown of Bing's predictions for Week 14:
Bing favors the home team in 9 games
Bing is siding with the visitors in 7 games
5 games with a predicted chance of 50-59.9%
5 games with a predicted chance of 60-69.9%
4 games with a predicted chance of 70-79.9%
2 games with a predicted chance of 80% and above
Last week, my Predicting Bing Predicts algorithm gave the search engine a 53% chance of going 9-7 or better. The search engine bested that prediction by one win. This week, I give Bing a 57% chance of 10-6 or better.