Bing Predicts Rolls in NFL Week 6, "Predicting the Predictions" in Week 7
October 14, 2014
Note: This post is for the 2014 season. Click here to see the Week 6 results and Week 7 preview for 2015.
Bing just proved Week 5 was no fluke.
After going 13-2 in Week 5, the search engine pumped out its second best round of predictions during Week 6. With an impressive 11-4 performance (for the record, I count the Bengals/Panthers tie as a loss for Bing since it did not correctly predict the outcome of the game), Microsoft's prediction machine is now 58-33 on the season (63.7%). Bing has recovered nicely after that dismal Week 4 performance, correctly picking 80% of the games during the past two weeks.
As you may recall, in my post last week I gave Bing a 71.6% chance of going 11-4 during Week 6. I arrived at this calculation using five weeks of historical data, primarily focusing on Bing's success percentages based on prediction chances and home/away results. Just like Bing is keeping its prediction algorithm secret, I'm not going to reveal my exact method of calculation. However, I will admit the 71.6% chance I gave to an 11-4 record was probably way too high. In other words, I got lucky this week. I guess there are some kinks to work out of my own formula.
Week 6 Doesn't Follow the Trends
Bing bucked the trends during Week 6. For most of the season, the prediction engine has favored home teams and performed poorly when picking the visitors. Bing also has struggled in night games and matchups where there isn't a heavy favorite. That all changed this week.
Going into Week 6, Bing was 11-11 when predicting the visiting team to win. This week, Bing dominated against the home teams, going 8-1 in the unprecedented 9 games in which it favored the visitors. The tables were turned when Bing sided with home field advantage: the search engine was just 3-3 in these games (including the somewhat surprising loss the Seahawks suffered in Seattle).
Bing's results also were reversed when it came to predicted chances. Bing was correct in 5 of 6 games in which the predicted winner had a chance under 60%. Prior to this week, Bing was 15-17 in these games. This week, Bing was only 2-2 in games where it predicted the winner with a chance in the 70-79.9% range (last week the search engine was 6-0 in these games). The search engine also nailed all 3 night games, an area where it has under-performed for most of the season.
What Will Happen in Week 7?
As of today, here is what Bing is saying will happen in Week 7: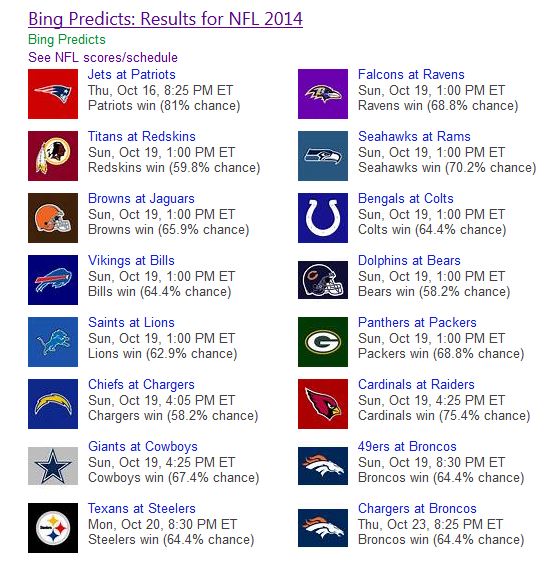 Bing likes the home team again this week, picking the visitors to win just 3 of 15 games. No big surprises from these away games: the Seahawks over the less-than-mediocre Rams, and the Browns and Cardinals over the winless Jaguars and Raiders, respectively.
As we know by now, Bing sometimes changes its picks during the course of the week. Will the prediction machine change any picks this week? The only real possibility of a change is the Titans/Redskins game. The Redskins look awful and have lost four in a row, but the Titans aren't exactly a powerhouse team. Still, I have a hunch that Bing will end up siding with the Titans before kickoff. Of course, whether or not they change the prediction will be based on data, not on gut feelings.
Here are the predictive ranges for this week:
50%-59.9%: 3 games
60%-69.9%: 9 games
70-70.9%: 2 games
80%+: 1 game
It's no surprise that Bing is favoring the Patriots by more than 80% against the Jets, but it's only the 5th time all season with a chance in this upper range (Bing is 3-1 in these games so far). Will Bing ever favor a team by a chance over 90%? Doubtful. There are too many factors involved to make such a "certain" prediction. (If you are interested in seeing Bing make predictions with outrageously high chances, see their new election prediction machine.)
So how will Bing do in Week 7? Using a slightly tweaked version of my patented "Predict Bing Predicts" formula, the search engine has a 57.8% chance of going 10-5 this week.