Bing Predicts Struggles Again in NFL Week 3, Week 4 Preview
September 30, 2016
We're three weeks into the NFL season, and Bing Predicts is just barely over .500. After a slight improvement in Week 2, Bing fell back with another 8-8 performance during Week 3. At 25-23, the search engine is now 5 games behind where it was at this point last season (30-18).  
BING PREDICTS NFL WEEK 3 RECAP
Bing might as well have just flipped a coin for each game this week. Here's a full look at Bing's Week 3 results: 
There were quite a few surprises around the league this week, and Bing did not fare well in any of them. Among Bing's biggest misses were:
The Vikings (3-0) stunning the Panthers in Carolina

The Bills (1-2) getting their first win over the Cardinals in Buffalo

The Eagles (3-0) dominating the Steelers in Philly

The Broncos (3-0) toppling the Bengals in Cincy
According to Bing's predictions, there should have been 4 undefeated teams left after Week 3. Two of Bing's chosen undefeateds lost (Giants and Steelers), and three teams Bing expected to have a loss kept their perfect record intact. That leaves us with 5 undefeated teams heading into Week 4 (Patriots, Broncos, Ravens, Eagles, and Vikings).  
Here's a full breakdown of Bing's Week 3 performance:
7-6 when favoring the home team (20-17 on the season)

1-2 when picking the visitors to win (5-6 on the season)

3-5 when predicted chance under 60% (8-16 on the season)

4-2 when predicted chance between 60% and 69.9% (10-4 on the season)

1-1 when predicted chance between 70% and 79.9% (6-2 on the season)

0-0 when predicted chance greater than 80% (1-1 on the season)
Once again, Bing struggled in games with predicted chances under 60%. The search engine has been unable to find its groove in games with no clear favorite, a trend that's doing serious damage to Bing's overall record. If the search engine has any hopes of salvaging this season, it's going to have to make some adjustments.
BING PREDICTS WEEK 4 PREVIEW
Bing doesn't take any time sulking about a bad week. The search engine is right back at it, telling us who is going to win each game in Week 4: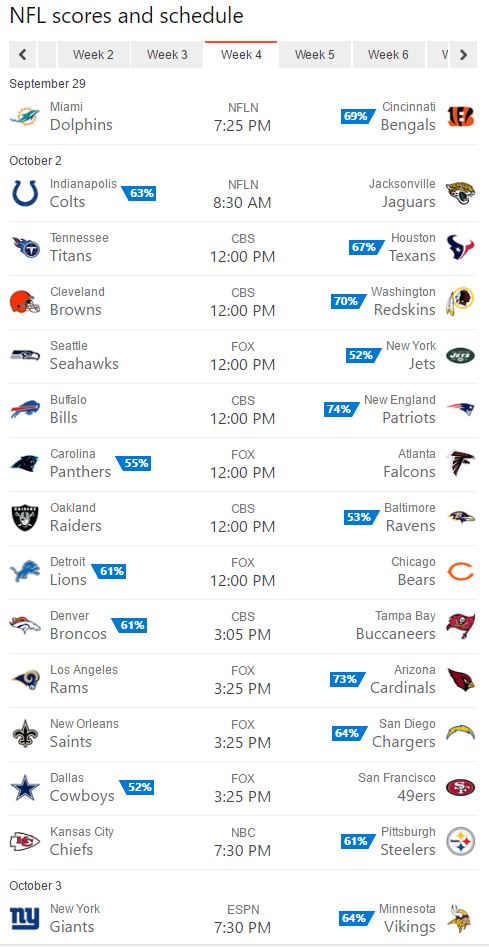 Bing is siding with the visiting team more than usual this week. After two consecutive weeks picking the home team to win 13 of 16 games, Bing has the visitors winning 5 of 15 games this week. While the search engine is still heavily leaning on the home team to win, this shift could be a sign of a change in Bing's algorithm. Or maybe it's just reflective of this week's games. 
Here's a breakdown of Bing's Week 4 predictions:
4 games with predicted chance under 60%

8 games with predicted chance between 60 and 69.9%

3 games with predicted chance between 70 and 79.9%

0 games with predicted chance over 80%
Bing looks a lot more confident this week. The search engine has excelled so far when predicted chances are 60% or higher, so we should expect a big week from Bing. 
If this week's predictions hold true, we'll still have five undefeated teams after Monday night's contest: Patriots, Ravens, Vikings, Eagles, and Broncos (the Eagles have a bye this week, so Bing can't get that one wrong). And, of course, the Browns will still be without a win (will Bing ever predict a Browns' victory?). 
I've given Bing too much credit every week so far this season, but this is going to be the week the prediction engine turns it around. Look for Bing to go 11-4 this week.