Busted Bracket: How Bing Predicts Performed in NCAA Opening Rounds
March 23, 2015
Note: This post is about the 2015 NCAA tournament. Click here to see how Bing is doing in the 2016 edition of the big dance. 
After the Round of 64, there was one perfect bracket left. It wasn't Bing's. In fact, Bing's hopes for a perfect bracket technically were dashed after the first game when Hampton toppled Manhattan during the play-in round.
Bing Predicts was only 1 for 4 in what it dubbed the First Four. Hardly a bracket buster, but not the best start for the prediction engine that was nearly perfect in the World Cup and the Super Bowl Playoffs.
So how is Bing looking after the first weekend of the tournament? Well, things could be better. A lot better, in fact.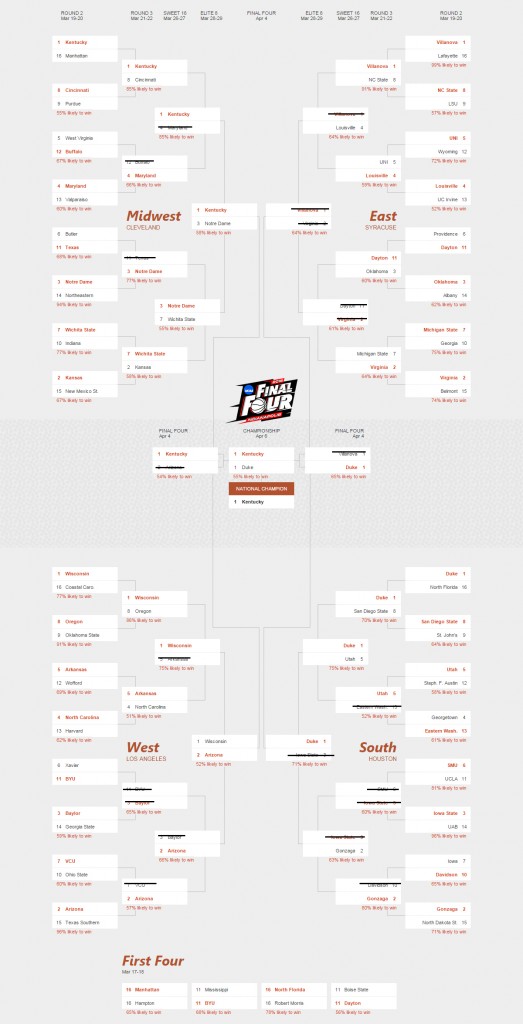 Bing actually looked pretty strong during the Round of 64, getting 23 of 32 games correct. Of course, Bing might argue it had 24 games correct, but the search engine originally picked BYU over Xavier, which obviously didn't pan out since BYU never made it to the game; after BYU's loss to Mississippi, Bing "correctly" picked Xavier to advance. Of course, that's not exactly how NCAA March Madness brackets work.
Still, 23 out of 32 isn't that bad for a supercomputer with 10 years of secret data previously unknown to the public. It's a solid 72%, which is better than most tournament teams are shooting from the free-throw line.
The bright spots for Bing so far include a perfect opening round in the East and picking No. 7 Wichita State to advance over Kansas. Funny enough, Bing followed that perfect East performance by missing all 4 games in the region during the Round of 32 (the search engine originally had Louisville advancing to the Sweet 16 but later changed its pick to UNI). And picking Wichita State doesn't matter much in the long run. Bing doesn't have Wichita State making it past the next round. (But at least they didn't have Kansas in the finals like the last perfect bracket.) Edit: Bing now has Wichita State advancing to the Elite 8 over Notre Dame. 
If Bing looked okay after the Round of 64, the prediction engine looks to be in trouble now. Of Bing's original Sweet 16 picks, only 9 actually advanced (Kentucky, Notre Dame, Wichita State, Wisconsin, Arizona, Duke, Utah, Louisville, and Gonzaga). That puts Bing at 63.5% so far for the 52 games played in the tournament. It also puts Bing well off the leaderboard on ESPN's bracket challenge (but the search engine is doing slightly better than President Obama).
Of course, Bing doesn't want you to know how its bracket is actually doing. The search engine updates its predictions after each round. Think of it as a second (or third) chance. Bing's second-chance picks went 11-5 in the Round of 32. In what's really unprecedented when it comes to March Madness, Bing switched its pick from Dayton to Oklahoma for a Sweet 16 spot. Can you really just change your bracket in the middle of the tournament, Bing?
Bing's mission was never to deliver the perfect bracket though. Instead, the prediction engine wants to use historical and real-time data to show the likelihood that each team has to win a given game. Bing must have seen something in the earlier games to prompt it to change its pick to Oklahoma.
Bing doesn't actually look that bad for the rest of the tournament though. Looking ahead at Bing's remaining teams, here's how the search engine stands:
5 Elite Eight teams left
3 Final Four teams left
2 Championship teams left
1 National Champion left
How is Bing coping with losing one of its Final Four teams? Well, it's changing its picks, of course. Here's a look at Bing's updated tourney predictions (just don't take Bing's checkmarks too seriously here):