Everything You Need to Know About Bing Predicts NFL 2015
August 31, 2015
A new NFL season brings joy and wonder to many people. Of course, what fans wonder about the most is whether or not their team will make the playoffs. Luckily, when it comes to football predictions, Bing Predicts has all the answers.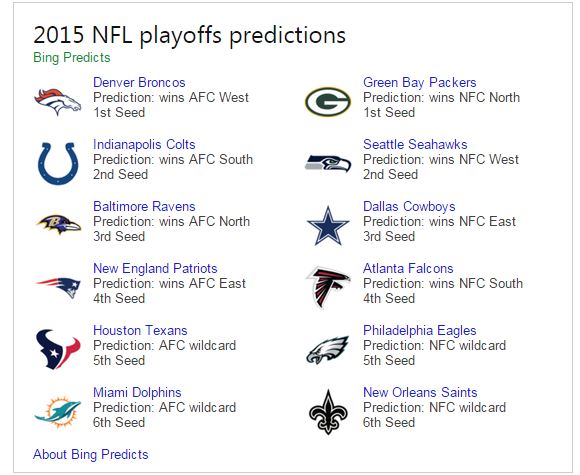 Last year, Bing unveiled a powerful prediction engine that correctly picked the winner in 67% of all NFL games.  And we covered all 17 weeks plus the playoffs right here.
Okay, so Bing may not be the world's favorite search engine, but it delivers sports predictions a lot better than its search rival. And Bing's going even deeper this year by giving full Fantasy Football coverage and explaining every single game pick. You'll not only know how likely a team is to win, but you'll know exactly why they are supposed to win. Sounds so awesome that we could almost skip the season and just follow Bing!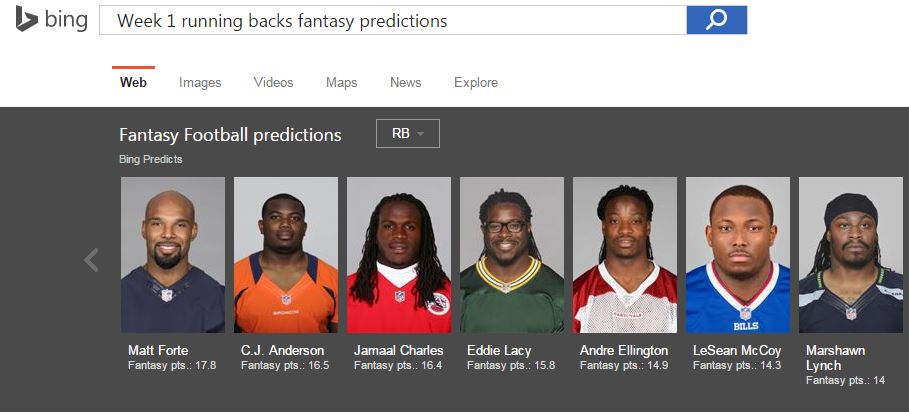 Here's everything you need to know heading into the new season.
Bing uses hundreds of data points
Bing knows more about football than you and has access to data you've never even seen. If you were making weekly predictions on every single game, you'd probably look at a handful of stats. But Bing is looking at literally hundreds of pieces of data that you never even knew mattered in the process of picking the team most likely to win a football game. This includes the playing surface, weather and temperature, and so much more.
Bing listens to the fans
Did you know your team will be more likely to lose if you don't talk about them on social media? Bing thinks it's true. Yes, Bing uses social media and other website mentions in its predictions. It may sound silly, but if there is a lot of buzz about a particular team in a given week, then maybe that team really is more likely to win. Think of it as a virtual extension of the 12th Man factor.  
Bing loves the home team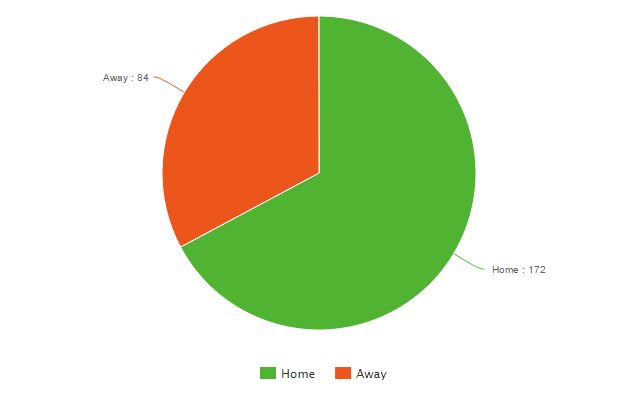 Bing puts a lot of stock in homefield advantage. For the 256 regular season games last year, Bing picked the home team to win 172 of them. Historically, the home team only wins 57% of the time, so Bing's strategy may have seemed either bold or stupid. Apparently Bing knows something that history doesn't. The search engine got 67% of those games right.
Bing (usually) agrees with Vegas
Most of Bing's picks align with the Vegas odds. During the 2014 season, it was pretty unusual for Bing to disagree with Vegas on more than a game or two each week. Although they didn't disagree on many games, Bing ended up outperforming Vegas in a head-to-head match-up.
Bing isn't just predicting winners and losers
Technically, Bing isn't telling you which team is going to win. The search engine is telling you which team is more likely to win. It may sound like the same thing, but it isn't. Saying "the Vikings will win" is much different than saying "the Vikings have a 57% chance to win." And don't think this is a cop-out. It's much easier to say which team will win then to use data science to make a real prediction. Even more exciting this year is Bing's decision to tell us why a team is going to win, and what needs to happen for an upset to occur. 
It's impossible to prove Bing wrong in any given game
Bing's "prediction" might be "wrong" in the sense that it listed the wrong team as the probable winner. But if the Vikings have a 57% chance to win, they also have a 43% chance to lose. When the Vikings inevitably lose, how could you possibly say that Bing was wrong in saying they had a 57% chance to win? You can't. Even if Bing says the Vikings have a 99% chance to win, you can't prove the search engine was wrong when they lose. Now, if Bing said the Vikings have a 100% chance to win, well, then they're just being crazy.
Bing can't predict major upsets
Remember last year when the 0-10 Raiders beat the Chiefs for their first win of the season? You might have said, "Yeah, I knew the Raiders were going to win." But Bing could not possibly have predicted that. No available data made it seem like the Raiders had a snowball's chance in hell of winning (okay, Bing gave them a 17% chance of winning, which might be slightly better than a snowball's chance in hell). Bing can only go off data. Predicting a major upset is almost always based on gut feelings. And dumb luck. Bing Predicts doesn't do dumb luck.
The final score doesn't matter, regardless of the chances
Bing Predicts doesn't care about the score. And the final score means nothing as far as one of Bing's predictions is concerned. Score has nothing to do with the chance a team has to win. Whether a team wins by 33 or 3 has no bearing on the chances they had to win the game before it started. It's not like Bing is calculating the chance a team has to pull off a 4th Quarter comeback.
The more confident Bing is, the more likely it'll get the outcome right
The final score may not matter in terms of Bing's predictions, but the predicted chances do. When Bing is confident, its team wins. During the 2014 season, Bing's predicted favorite was the winner over 75% of the time in games with predicted chances over 70%. On the flipside, when Bing wasn't so confident, things often didn't go the search engine's way. When the predicted chances were under 60%, Bing was only right a little over 50% of the time. You might as well flip a coin in these cases.
Bing occasionally changes its mind, but it isn't very good when it does
Bing typically releases its predictions on Monday night or Tuesday morning. But these predictions aren't set in stone. The search engine can change its mind all the way up until game time. However, it would be unwise to bet on Bing's team when this happens. During the 2014 season, Bing was only 7-12 when changing its picks.
Some final thoughts on Bing Predicts
Bing Predicts is a great experiment, and it will be interesting to see how the algorithm has changed with a full season under its belt. You may not want to place bets based on Bing's predictions, but you won't find an algorithmic prediction model that does a much better job.
So how will Bing Predicts do this season? I'll give Bing a 70% chance of doing better than it did last year.