Back
How Not to Respond to a Google Update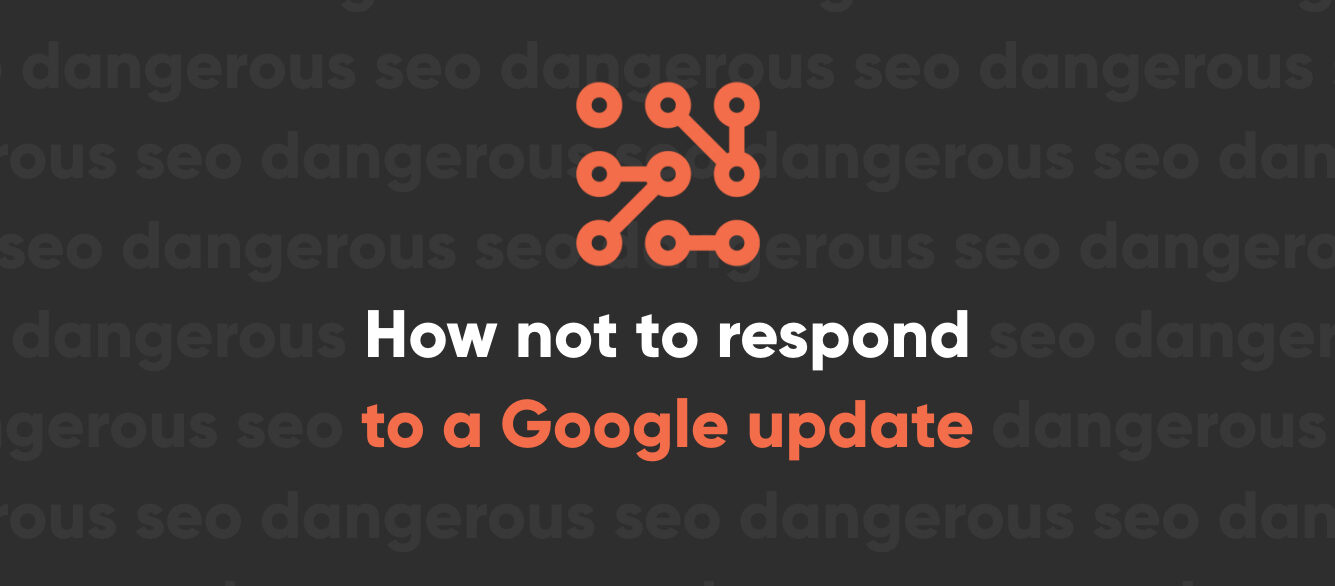 If your business lives and dies by Google, then you're probably on constant watch for the slightest change in your search results. This is no easy task. Google makes hundreds of updates to the search algorithm every year. Most of these are relatively minor adjustments that go unnoticed. However, when one of those major updates arrives, things can really hit the fan.
A big Google update—or any change in the search algorithm—can certainly have a huge impact on your business. Every big fluctuation in the Google results also tends to incite a fair amount of panic in marketers and business owners alike. The moment a big update is announced, all kinds of rumors start blowing around.
In the hours and days immediately following a Google update, there's more speculation and discussion than the morning after a new episode of Game of Thrones. While it's certainly a good idea to attempt to understand what happened and what steps to take next, much of this activity is unproductive. It's one thing to be proactive and on top of your game, but it's another thing altogether to make rash and irrational changes to your strategy.
Here's what you shouldn't do when a major Google update goes live.
Conduct tons of manual searches for your keywords
The first instinct that many businesses and marketers have when they hear of a Google update is to find out if they were affected. This curious individuals often sit at the keyboard and punch in keyword after keyword to see where their site is ranking. As we've discussed before, this is a pretty pointless task. Searching for yourself has a lot of drawbacks, from inaccurate data to self-sabotage.
If you really want to know where you're ranking in search, then you need to use rank tracking software. But even this should be used primarily to measure visibility rather than hard-and-fast rankings. You can also monitor your data in your analytics tool as well as Google Search Console. If your traffic isn't dropping, then you probably haven't been affected regardless of what someone else is seeing on page one of the search results.  
Jump to conclusions based on one day of data
If you manage to resist the urge to Google every variation of your top keywords, then you'll probably turn to your analytics account for answers. This is a great place to look, but you don't want to be too hasty here. On the day after a Google update, many marketers will make outlandish statements like, "My organic traffic tanked yesterday. I've been penalized by this new update. Our business is ruined!"
Before you jump to a conclusion, remember that data can't be looked at in isolation. One day of less organic search traffic doesn't mean your site has been blacklisted from Google. There are many other factors that can cause a decrease in traffic, including trends, site outages, and tracking issues. You should ramp up your data analysis following the announcement of a Google update, but you shouldn't be prepared to launch a completely new strategy because of what you see on one particular day.
Listen to the hysterical masses
Everyone's favorite thing to do during the midst of a Google update is declare what has been updated. It's a Panda refresh. No wait, it's Penguin. Or maybe it's HTTPS. Wait, no, I think it's related to Mobilegeddon. Maybe it's a new super algorithm that combines everything ever!
Speculation in itself isn't bad, but the problem is that people start adjusting their strategies based on these unproven theories. Before you can make any changes, you have to let the dust settle a bit. The day after a Google update, no one really knows what they are talking about. Rather than reacting to what someone is saying, you need to take into account the facts. And the facts can be found in the data. No matter what people are reporting about this or that, your data means more than anything else.
Dismantle your marketing strategy
No matter what a Google update seems to look like, you can't abandon your marketing strategy. You may have to adapt, but you don't want to rush out and hire someone claiming to be an expert in the latest Google update. A good marketing strategy relies on multiple channels—email, search, digital advertising, content, social, etc. Even if most of your sales and leads come from organic search, you don't want to drop everything else and focus on "recovering" from a Google update. Instead, you need to continue pushing all your channels while you evaluate actual impact of the new search algorithm. Of course, if your marketing strategy is just Google, then you should go ahead and dismantle your strategy before the next update.
When a Google update happens, you need to be prepared. A good marketing strategy is always ready for a Google update. In today's world, you can't be entirely dependent on Google or any other marketing channel. If you focus on multiple channels and create a great website with valuable content, then no Google update can knock you out of the game.   

Nate Tower has over 10 years of digital marketing experience and currently serves as the President of Perrill. He is a creative expert gifted in pinpointing our clients' realities, goals, and audiences and turning that information into a captivating and never-before-heard brand story. With roots in digital marketing, education, and creative fiction, Nate's an Old Faithful-caliber fountain of knowledge.