Back
Why Did Our Web Traffic Go Down?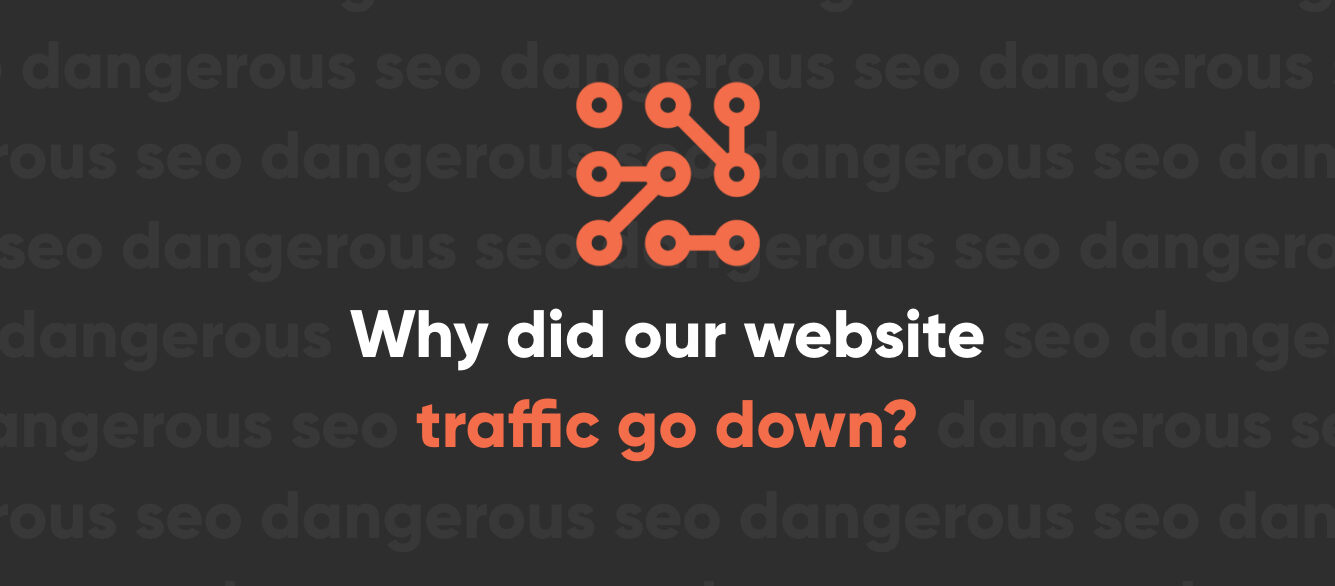 With all the metrics available to measure the success of your website, many site owners tend to focus on traffic more than anything else. Maybe it's an ego thing. Or maybe it's just the easiest metric to understand. More traffic means more people are coming to your website. If more people are coming to your site, then your marketing efforts must be working.
When traffic to your website drops, it definitely can be disconcerting. A decrease in traffic might indicate a problem with your site or your marketing efforts. It could be an ominous sign of the eventual downfall of your business. Or it could just be a brief hiccup or seasonal trend. Whatever the case, we don't want to write it off as something that will just correct itself. On the flipside, we don't need to treat every traffic dip as the end of the world.

How Important Is Web Traffic?
While web traffic—typically measured in the number of visits or sessions your site receives during a given period of time—certainly provides insight into the overall success of your marketing campaigns, it certainly isn't the be-all and end-all of your business. Unless the main purpose of your site is content delivery or brand awareness, there are much more important success metrics.
Still, some website owners will pay more attention to traffic than anything else. We've had a few clients say something along the lines of, "I'm glad that leads are way up, but I really want to see more people visit the site."
It wouldn't be fair to write off this wish as insignificant or misguided. There's something to having a lot of traffic. A lot of traffic to your site can indicate success on multiple levels. It might mean people know who you are. Or it could mean those dollars you're investing in online marketing are actually working towards something. On the other hand, it might just mean your site is seeing a lot of irrelevant visits. 
No matter how important traffic is to your site and business goals, every drop in traffic should be taken seriously. Before panicking though, it's important to look for logical explanations.
Seasonal Trends
One of the most common explanations for a drop in web traffic is seasonality. If you are a landscaper in Minnesota, you probably aren't going to see as much traffic in November as you do in April. But not all seasonal trends are this obvious. Many businesses have some variance in the amount of public interest over the course of the year. This is why comparing traffic from one month to another can be dangerous. A 10% drop in visits from May to June doesn't necessarily mean that your marketing is floundering or your search rankings tanked. If you're worried about a drop in traffic, look at what happened during that same time period in previous years. This will give you a much more accurate picture of where you stand. If your traffic dropped by 15% from last month but is up by 20% over last year, there's not much to worry about.

Changes in Your Marketing Efforts
Comparing month-over-month or year-over-year traffic is only valuable if you are aware of any changes in your marketing efforts. If you were running a digital advertising campaign last year but decided to stop this year, then you should expect to see a drop in traffic. If you sent out several email blasts or invested heavily in radio advertising last month, you may not see as much traffic this month.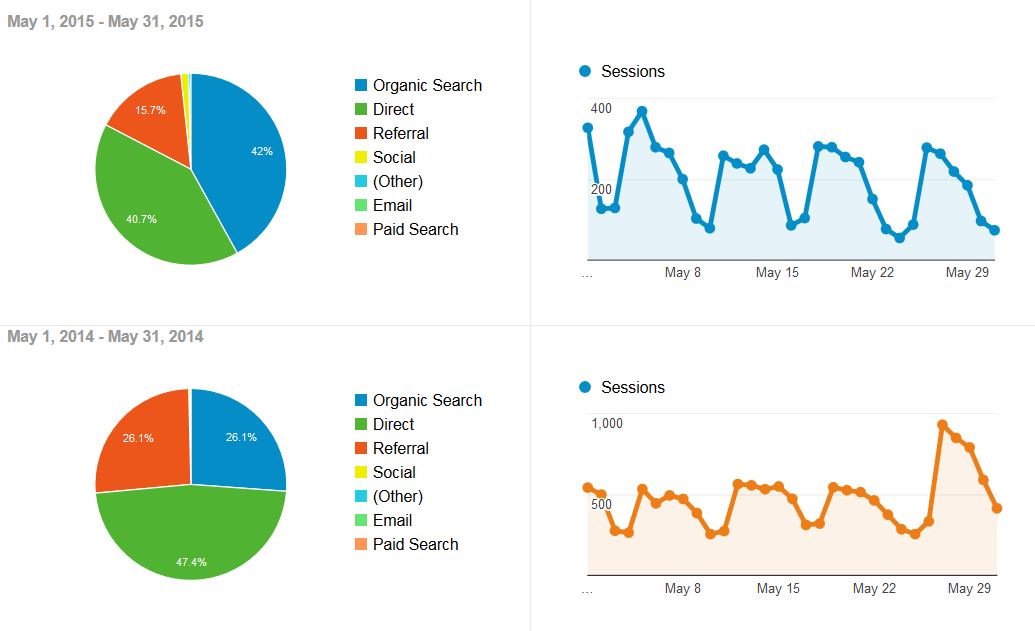 Rather than simply looking at overall traffic to your website, you need to break it down by channels. If your organic search traffic is way up but your referral traffic is down, then you don't have to worry about whether or not your SEO has failed. However, you can't always trust your traffic by sources. A lot of your direct traffic might be coming from other sources, and your referral traffic is probably filled with a lot of spam. This is still a valuable report, but be aware of the limitations. 
Changes in Google  
Google releases several hundred changes to its algorithm every year. Some of these are major—like Penguin, Panda, and Hummingbird. Others are just minor updates that you will probably never even notice—and will probably never affect you. When Google does release a larger update to its core algorithm though, it can result in major changes in the search rankings. Still, these updates might not have any impact on your traffic. Keeping a regular eye on your analytics and your impression data in Google Search Console (formerly Webmaster Tools) can help you determine if you've been impacted by any of these changes. Ranking reports can also help. Just don't rely on manual searches of your keywords to try and see how you're ranking. If you do notice a huge drop in your organic search traffic, then it might be time to adjust your SEO strategies. 
Other Possible Changes
There are plenty of other perfectly good explanations behind a drop in traffic. Here are just a few other possible causes:
Your anayltics code was deleted (or there was another tracking problem)
Your site was down for a few days
There was an internal change in the way your employees access your website
Changes in traffic don't mean you did something wrong, and they don't mean your business is going to crash and burn. 
Responding to Changes in Traffic
When your traffic does drop, you don't need to panic. This is especially true if the drop seems tied to one particular marketing channel. A good marketing strategy will depend on multiple channels, ensuring that you'll never go out of business if one of those areas doesn't pay off.
If you do notice a drop in traffic, you'll first want to figure out any potential causes. Once you pinpoint the problem, then you can start working on the solution. This might include focusing more on a particular channel—like email or social—or changing the strategy you've been using for SEO or digital advertising. Be careful about shifting your strategy based on one month of data though. You want to be proactive, but you don't want to make premature changes that might be detrimental to your success in the long run.  
Not all changes in traffic are equal. If your leads and sales stay consistent or go up, that traffic decline probably won't be much of a concern. If your leads and sales go down with your traffic, then you know you have to work extra hard to bring yourself back up.  
This post is part of Internet Marketing Mysteries, a weekly column addressing actual client questions related to SEO, analytics, website best practices, and any other topic connected to internet marketing. Have a question you'd like to see tackled in a future post? Let us know in the comments.

Written by
Nathaniel Tower
Nate Tower is a Director of Marketing at Perrill. He is a creative expert gifted in pinpointing our clients' realities, goals, and audiences and turning that information into a captivating and never-before-heard brand story. With roots in digital marketing, education, and creative fiction, Nate's an Old Faithful-caliber fountain of knowledge.