Back
How Perrill Turned Brand Ink's One-Time Visitors into Longtime Purchasers

Since 2010, Brand Ink has hung its hat on its formidable blend of superior service and quality products – a vision that has seen it rise to become one of the region's premier providers of vehicle wrapping services.
But as we've seen through our work time and time again, vision, reputation, and customer loyalty can only get you so far when your digital presence and lead generation are failing to deliver.
This was exactly the case for Brand Ink in the second half of 2021, which required an upstart strategy at the time to bolster its online presence and new business. Here's how Perrill crafted a custom strategy to rejuvenate Brand Ink's website performance and both the quantity and quality of its leads.
The Challenge: Turning Visitors into Purchasers
In the fall of 2021, Brand Ink was averaging a modest number of leads per month that needed to at least double in order to see a positive ROI on its marketing spend, in addition to helping meet several other goals within the organization.
The company approached Perrill to take a top-to-bottom look at the existing strategy and come up with a unified plan to right the ship.
Perrill started by analyzing the current website's performance and could clearly see traffic and brand awareness were not the issue, as sessions were steady and even gradually increasing throughout the summer and fall months.
But once most users got to the website, the journey ended there. At the time in question, the site had a conversion rate of just 1.47% – not nearly good enough to deliver on the client's objective of at least double its number of leads per month.
The challenge became clear: formulate a strategy to turn these non-converting users into prospects, qualified leads, and return customers. But how?
The Solution: A Targeted Landing Page That Seals the Deal
Because users were not having any issue knowing the brand or finding the site, Perrill's digital marketing team decided to take a more targeted approach that would draw these same visitors in but that would make it impossible for them to leave without contacting the client or requesting a quote.
This started with a digital ads campaign that directed users to a custom-designed and -developed landing page paired with engaging yet straightforward copy aimed largely at conversions. The goal at the project outset was to increase conversion rate from a measly 1.47% to 5% or greater.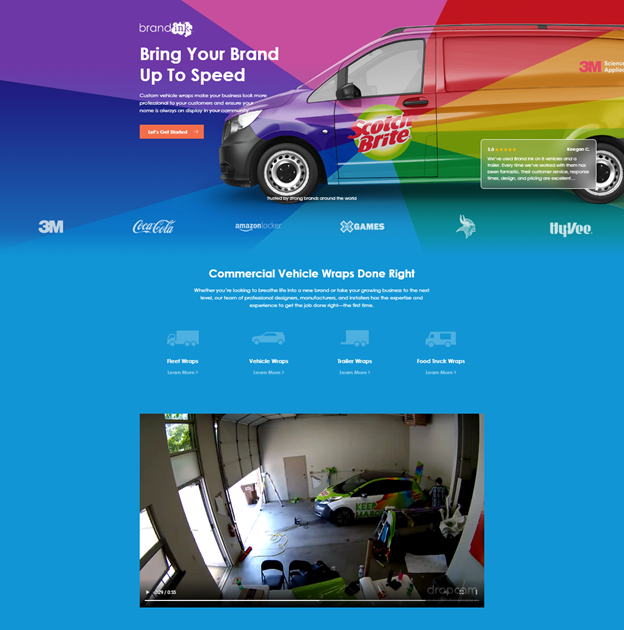 The landing page showcased the full breadth of Brand Ink's offering and the beauty of its work, opening the door to RFQs for commercial car wraps, fleet wraps, food truck wraps, and more. Captivating video, imagery, and copy with perfectly placed CTAs throughout allowed ample opportunity for conversion, culminating in a closing pitch and form at the bottom of the page.
The goal was to make it a foregone conclusion for users to work with Brand Ink – and to make it easier than ever for them to do so.
The Impact: Immediate and Sustained Conversions
The ad campaign and landing page launched on November 15, 2021, to immediate and lasting success.
Within the first month, the website's conversion rate increased to 6%.
To date, the website still experiences a 5.5% conversion rate – an increase of more than 4% since project conception.
Leads also saw a sustained increase on a monthly basis.
Conversions by Month (July 2021-June 2022)

Conversion Rate by Month (November 2021-June 2022 vs. April 2021-November 2021)

This is just one example of how Perrill leverages a Unified Digital approach to strategize, create, launch, and optimize data-driven campaigns designed to make an immediate and lasting impact for our clients. Across SEO, digital advertising, content marketing, and email, we collaborate entirely in-house to drive the right traffic and make sure it converts – and we're ready to do the same for you.
Tired of falling short of your marketing goals? Do you even know what your marketing goals are? Then it's time for us to talk. Contact us today, grab some time on the calendar, and start unlocking your online potential.

Dan Cole is the Manager of Content & Copywriting at Perrill. He has been professionally strategizing and creating original content since 2011 across agency settings, corporate positions, and journalistic beats, and now masterminds written materials of all kinds for Perrill's clients. He was named Acme Comedy Co.'s Funniest Person in the Twin Cities in 2014 and will never let any of us forget it.