Back
How to Create an Exceptional Marketing Plan

When was the last time you updated your marketing plan?
It's not uncommon for a company to develop a marketing plan and then either fail to follow it or fail to review and update it regularly. Oftentimes, the real root of the problem is that the marketing plan wasn't effective or actionable in the first place.
Creating a marketing plan may sound intimidating, but it doesn't have to be. Most issues with marketing plans are related to over-complicating what it really is.
To make your creation of a marketing plan easy and stress-free, try our free marketing plan generator to help you define your goals so you can begin to see growth in your business.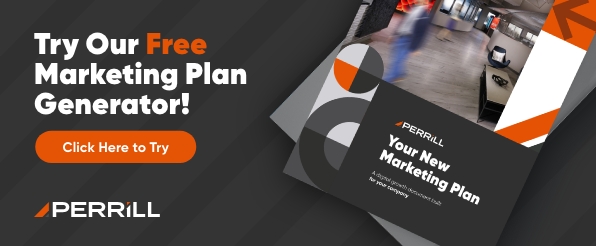 In this article, we will explore all the aspects that go into creating a marketing plan. Those include:
What a marketing plan is
What to include in a marketing plan
What Is a Marketing Plan?
To start, let's talk about what a marketing plan is and what purpose it serves.
A marketing plan is a roadmap companies use to organize, implement, and track their marketing activities over a certain period. At a minimum, a marketing plan should do three things:
Align your business goals with your objectives
Clearly state your target audience
Plan your strategies in an organized way
If your company does not have a clearly defined marketing plan, you likely will have difficulty achieving growth, executing effective tactics, or determining how much you should spend on marketing activities. In other words, you'll find yourself doing random acts of marketing with no real path for identifying what's working and what's not.  
Without a marketing plan, your organization won't have a clear understanding of your goals or the strategies and tactics needed to reach your goals. 
Goals, Strategies, and Tactics
At its very core, a marketing plan is an overview of your goals accompanied by the strategies and tactics you'll use to achieve your goals. 
Before jumping into creating your marketing plan, it's important to differentiate between goals, strategies, and tactics.

A goal is what you wish to achieve in your marketing efforts. Ideally, this will align with your overall business goals.
For example, if your business goal is to grow revenue by 20%, a marketing goal may be to increase your inbound leads by 25% by the end of Q2.
A strategy is what you will do to achieve that goal. The strategy is your overarching game plan and traditionally covers the five 'P's of marketing – product, price, place, promotion, and people.
A strategy does not have to be an overly complicated or elusive thing. Using our example of a lead goal from above, your strategy might be:
Sell more premium eCommerce web design projects to mid-size B2B companies by increasing awareness and driving more traffic through social media, paid ads, and SEO
A tactic is how you will achieve a goal. These are the specific activities you will do to get there. It should be more than just a list of the channels you will use. You should consider the timing, cadence, budget, delivery method, etc.
For example, a tactic to help achieve the above strategy could be to create five new pieces of content about eCommerce websites that are optimized for specific keywords and can also be distributed on social media to reach your specific audience both when they are searching for your solutions and when they are not.
What Does a Good Marketing Plan Include?
You may be asking yourself, what should I even include in a marketing plan? While there is no perfect template for a marketing plan, there are some specifics that should always be included regardless of your purpose or company size.
 Marketing plans can be adapted to your company based on your goals, how big your digital presence is, and many other factors. There are certain elements that every great marketing plan includes, such as:
1. Company Summary 
In a marketing plan, this should be the first section and it is exactly what it sounds like: a summary of your company. 
This summary should include:
An overview of the organization
Where you are located
Vision/mission statement
2. Ideal Customer Profile 
An ideal customer profile is a detailed description of your ideal customer. These are the customers you want more business from, the customers that don't churn. This is an essential part of your marketing plan and without one, you risk closed-lost deals, wasted time, and money spent on ineffective marketing activities. An ICP guides both your sales and marketing teams on which businesses or consumers to target. This is not an end-all-be-all when it comes to attracting new customers, but rather a guide of best-fit customers to attract.
An ICP does not need to be overly complex or you run the risk of having too targeted of a customer.
For a B2B company their ICP would contain the following:
Company industry/industries
Size of the company
Location/region
Revenue
Job title(s)
Pain points/business needs
A B2C company ICP typically contains the following:
Demographics

Age
Gender
Income
Occupation
Education

Psychographics (behavioral segmentation)

Likes
Interests
Hobbies
Values
While it's fun to create imaginary buyer personas like Suzie Shopper who has 3.72 kids, drives a Suburban, has one cat and two dogs, eats hummus and peppers for lunch every day, watches Stranger Things religiously, and loves her farmhouse kitchen even though it's going out of style, you should make sure to focus your ICP on useful elements that can improve your targeting and creative without limiting your reach or appeal.  
3. Define Your Marketing Goals
This is where you specify all you want to achieve in your marketing activities. Make sure to be specific here. Using the tried-and-true SMART template will take you far.  If your goal is to increase leads, don't say "we want to increase leads." Instead, make it "I want to increase leads by 25% by the end of Q2." This makes it measurable, and timely.
Just make sure your marketing goals tie back to your business goals. If your business goal is tied to revenue, your primary marketing goal shouldn't be to increase your likes on Facebook or increase your web traffic to your homepage. Those might be objectives that roll up to your marketing goal, but they won't directly help you achieve that revenue goal your business set.
4. Present the Marketing Strategy 
Here comes the fun stuff. This section is where you detail strategies for marketing. When presenting a strategy, make sure to include what the strategy is, how you will execute it, and what channels you will use.
It is important to focus on digital marketing strategies and channels in this section. Digital marketing is essential for business growth. Without it, your business will fall flat.
The key elements of digital marketing to consider in your plan are:
SEO
Social media marketing
PPC
Content marketing
SEM
Email marketing
Why is digital marketing so important to include in your marketing plan? Here are just a few of the reasons:
Digital marketing can help you reach more people than traditional marketing efforts. The way people browse, buy, and shop is changing daily. Marketing has always been about meeting your customer where they are. Nowadays that's online. 93% of Americans use the internet and 230.5 million people were online shopping in the United States alone.  
Compete with larger companies
Competition is one of the hardest parts of operating a business and can be one of the reasons your business struggles to stay in the market. Digital marketing gives you a fighting chance. SEO and PPC help to even the playing field with larger corporations. With SEO you can identify keywords that fit your product and service and you can create quality content to help you rank for those keywords. Search engines prioritize content based on what is most relevant to your target audience, not because that brand is bigger.
Digital marketing is the most measurable form of marketing. It provides a thorough and comprehensive view of each metric that your organization might use. Analytics lets you make data-driven decisions to make better use of your budget and make better-informed decisions. No guessing involved.
Better audience engagement
Digital marketing lets you engage with your audience at every stage of the customer life cycle. This will help your lead gen efforts tremendously. Engaging with your audience at the first touch will help to move them through the funnel. It's crucial to understand the process of your customer. With instant connectivity from digital channels, you can easily track that. You can track and measure that through different CRMs like HubSpot.
5. Competitive Advantage and Market Analysis
No matter how fantastic, practical, or original your product is, there is always competition. This is the time to do thorough research on who your competition is, what they do well, and what you do better. Learning about your competition, how they respond, and their advantages will help you compose new strategies to keep you at the top and combat any losses that may occur.
When looking at the competition there are a few important things to look at:
Who are your top 3 competitors?
What are their top products?
What are their strengths?
What is your value prop? (What you do and why you do it better)
This is an important step in the process because it allows you to differentiate and position your brand from your competitors. Visuals and graphs will be your friend here when figuring out how you are positioned against your competition.
After conducting a competitive analysis, it is important to do an analysis of the overall market and an internal company analysis. SWOT analysis is a great way to measure the strengths, and weaknesses of your company as well as any opportunities and threats associated with your company.
6. Set Your Budget
Lastly, detail your budget at the end of your plan. Before doing any implementation of your strategies, you must know your budget. To make this section as helpful as possible, it is important to create your budget as detailed as possible. Your budget should include how much you expect to spend on each tactic.
Marketing budgets are custom to your business and goals. Depending on your goals, it is important to allocate your budget accordingly. We recommend allocating a minimum of 25-88% of your marketing budget to digital marketing. Some businesses may go up to 100%. If your primary strategy to reach your goal is by driving more traffic to your website, your marketing budget will be almost all digital. If your strategy targets users both online and offline, you'll want a more balanced budget.   
Putting It All Together
The foundation of every good marketing activity comes down to a well-detailed and thorough plan. To avoid running in circles, make sure you know the difference between goals, strategies, and tactics. (Trust us, it will save you time and stress knowing the difference). From there, you can begin to craft your plan and include the elements listed in this post with a big focus on your digital strategy.
If you still find yourself running around in circles and confused about how to create a good marketing strategy, let us help you.  As Minneapolis' original digital agency, we power our clients' businesses online through a balanced approach of data and creativity, working with you and with each other to build a digital strategy that can catapult you toward lasting growth.