Back
The Metaverse: An Innovative Opportunity for Marketers

As digital marketers, we know technology is rapidly growing and shifting daily. Things we thought were unimaginable are now coming true right before our eyes. One of those things is the metaverse.
The metaverse has been all the talk recently and while it is still being discovered, it is rapidly gaining traction. First-tier media is all in; even Facebook completely re-branded in 2021 to Meta (don't worry, we aren't used to that name change either). CEO Mark Zuckerberg said he has made it his ambition to "bring the metaverse to life." Microsoft is also gaining major traction in it as well because it is set to acquire the gaming company Activision in a 69 billion dollar deal. 
Consumers are also catching on to the metaverse. In May and June of 2022, the keyword "metaverse" gathered a global search volume of 3.1M – a 300% growth in search volume from January 2022.
You may be wondering what opportunities there are for metaverse marketing. Let's explore this new reality.
Understanding the Metaverse
What the heck is the "metaverse?" Before diving into all the endless opportunities for marketing within the metaverse, let's find out what it is first.
When thinking of the metaverse, think of the convergence of VR, AR, and even cryptocurrency. These all existed separately before, but now they are combined to exist together, creating an innovative tool for consumers, businesses, and marketers.
Instead of another extension of the internet that people can look at, the metaverse is something we exist in and are immersed in (and you thought Google Analytics 4 was confusing).
Here are a few quick key characteristics of the metaverse:
Limitless and Collective: 3D content where users can

interact and

move as freely as possible.
User-Generated Content: Users create their own environments and content vs. consuming large entities and brands.
Always Available: The different metaverses don't simply end when you leave or take a pause. They operate continuously.
Platforms Are Blended: Platforms don't need to operate single-handedly. You can bring different games into another.
An Innovative Opportunity for Marketers
While the metaverse framework is still being set up and is changing frequently, there are already lessons learned and opportunities for marketers in the metaverse. Since it is still so new, this is a time for businesses and marketers to embrace a test-and-learn strategy and experiment with this new innovation to find new areas to capitalize on.
Similar to digital marketing in the physical world, many aspects will be shared when marketing in the metaverse. However, the application will be very different. How value is delivered and how your audience is engaged will evolve.
Here is what the framework should look like when marketing in the metaverse:
Define your goals in the metaverse
The first step in any marketing strategy is defining your goals. This does not change in the metaverse. It is probably even more important because you most likely have never done marketing in a virtual environment like the metaverse before. When defining your goals in the metaverse, ask yourself this question: Why do I want to be immersed in the metaverse?
Direct sales are not at the forefront of metaverse marketing. Many marketing goals in the metaverse today are top-of-funnel brand awareness since virtual sales are worth less than physical sales. With that being said, money-making strategies should still be something you experiment with. Direct-to-avatar sales are at a 54 billion dollar market, so don't neglect this aspect. 
Define your platforms
Just like traditional digital marketing, you need to determine what platforms you will use. The same goes for the metaverse. Some platforms will work for different purposes. For example, Zepeto is more fashion-oriented. There are many different platforms out there, but some of the most popular ones include:
Roblox
Ready Player 1
Zepeto
Decentraland
The Sandbox
There is lots of room to get creative with all of these different platforms and figure out which one works best for your goals and strategies.
Design Innovative and Creative Experiences
When consumers think of the metaverse, they typically think of innovation. So when brands advertise in the metaverse, they often have a high standard to deliver in terms of creativity and innovation. When marketing in the metaverse, it is important to think about how to immerse their brand on these different platforms.  
Gucci did a fantastic job with their Gucci Garden exhibit in Roblox. Gucci teamed up with Roblox to create an interactive exhibit. Users are no longer avatars and as they enter the garden, they become mannequins. Users were able to collect exclusive, limited-time avatar products.
The metaverse isn't just for fashion brands. Tech giant Samsung created an immersive interactive store in Decentraland. The store 837x is modeled after their physical store in New York. When it was first launched, users were able to look at collections and pursue different quests. Samsung decided to make this store more immersive. Users in Decentraland visiting this store are now able to craft their own adventures, connect with other in-game players, and complete missions.
These exhibits have one thing in common, they are both personalized. Metaverse is very experienced-based and personal so your "campaigns" cannot be generalized. Gucci's mannequins were all different and personalize their avatar with products from the Gucci exhibit. Samsung let users create their own adventures and finish missions and adventures.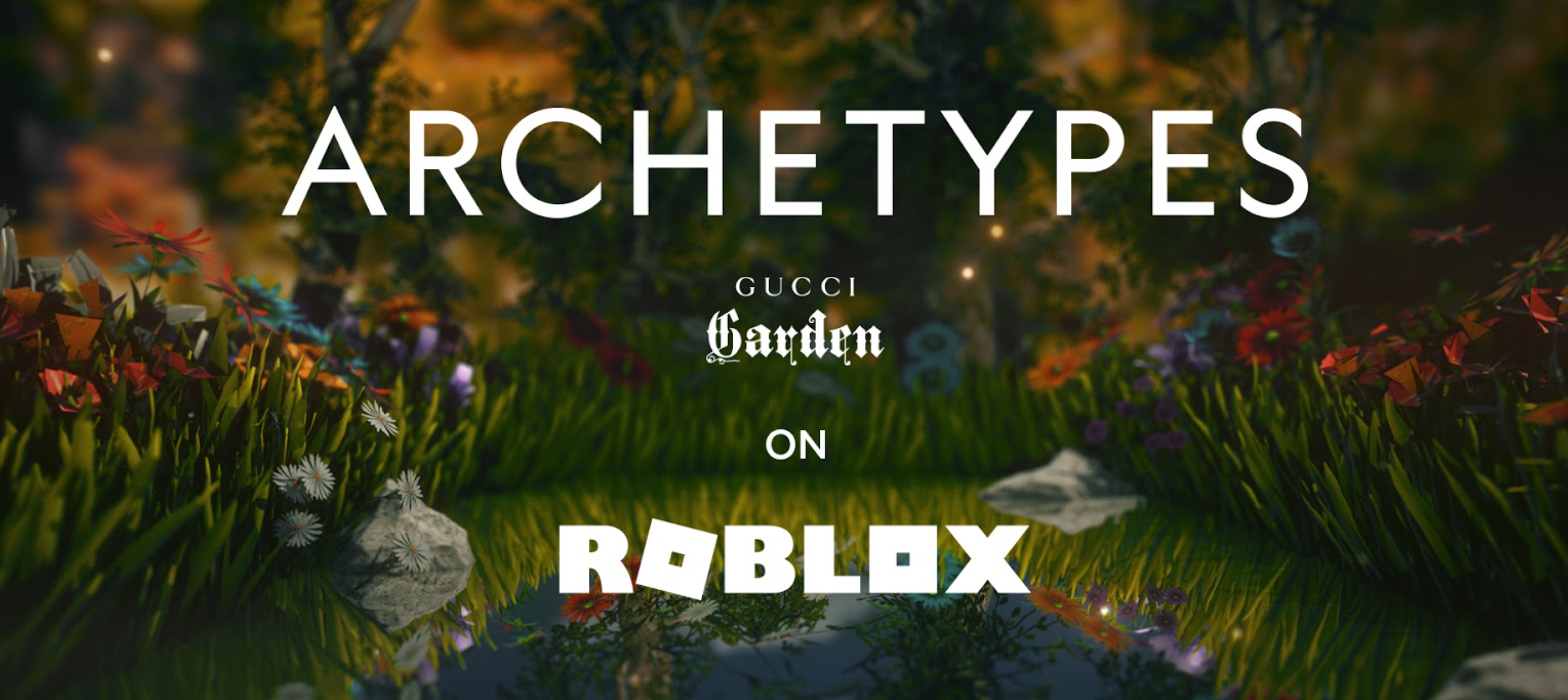 Source: blog.roblox.com
While many B2C companies like Gucci and Samsung have already leveraged the metaverse. You may be wondering how can B2B marketers dip their toes into this new space?
B2B marketers should use the metaverse as a new channel to reach their audience. There are lots of opportunities for B2B businesses in the metaverse settings that extend far beyond virtual workrooms and avatar employees. Think big, like product demos, training videos, and more using things like AR, 3D, and headsets.
For any B2B or B2C company, for brands that want to be successful in the metaverse, it is important to leverage how the metaverse can unify and engage audiences and build connections. Connecting with existing communities and events to interact with users are great examples of this.
Measurement of Metrics
As with any new strategy in marketing, you need to figure out how to measure your success. Measuring your marketing success and return on spend is critical to your future efforts. However, marketing metrics in a metaverse are not the same as your digital marketing metric from a Google ad. Most metaverse marketing metrics will be based on some sort of movement or user behavior tracking. It is expected that as the metaverse grows, more KPIs will be created. Some example metrics in the metaverse could be the following:
Likes: likes in regular digital marketing are pretty broad and may not mean a whole lot. In the metaverse, users are moving around continuously

,

so a "like" might be a drag to "consume" later or add to a saved list.
Conversions: since metaverse marketing is experience-based, conversions may be things like the number of destinations a user visits, or movements/steps/strides they took.
Metaverse Marketing Challenges
While the metaverse promises a new innovative and creative future for brands, it does have its challenges. After all, there isn't any precedent for this or similar channel from the past, and it is still in the developmental stages.
Accessibility is another challenge in the metaverse. While they are gaining popularity rapidly, not everyone has access to the devices and platforms. This hinders the chance of mass marketing and a brand's ability to reach many consumers.
Messaging and engagement are other challenges faced in the metaverse. New brands may have trouble finding their footing in the metaverse. It is important to make sure the integration into the metaverse is seamless. Experiment with your messaging, events, and ads to see where they best fit in, so it is not overly pushy and blunt. Natural, properly thought-out placements and events are key to avoiding losing customers. When you are seamless and precise in your messaging and events you will also be protecting your brand's image.
Stepping Into the Future
The metaverse might be the next big thing in marketing. It is new, exciting, and unknown. Users are immersed in a new virtual reality where they can explore and do so many new things. This brings tons of new opportunities available to businesses and marketers to explore within the metaverse.
However, it is important to proceed with a test-and-learn strategy to experiment with new creative and innovative campaigns to involve this audience. This is far different from traditional digital marketing, so it will take some time to learn. And it may not be the right channel for everyone.
Define Your Marketing Goals with Perrill
As Minneapolis' original digital agency, we power our clients' businesses online through a balanced approach of data and creativity, working with you and with each other to build a platform that can create lasting growth for your organization. Contact us today to find out how we can help you achieve your business goals through full-service digital solutions.