Back
How to Determine a Google Ads Budget

Digital advertising is a tool you can't afford to ignore. It allows you to maximize your return on investment and grow revenue for your business by showing up when your audience is looking for you.
But choosing the right budget for your campaigns is an important factor that many marketers get wrong in the advertising process. When it comes to selecting the right budget for your business, you'll need to consider a number of variables. The more informed you are about how to choose your budget, the sooner you'll start to see a growing ROAS.
Why advertise on Google?
Running Google Ads campaigns is a great way to get in front of your audience when they're searching for your products or services. By bidding on the search terms that closely align with your products and services, you can make sure you're showing up for the relevant searches that you probably wouldn't have ranked for organically.
This gives you an edge – you can meet your audience at a time when you know they're interested and are more likely to convert.
Google offers a variety of campaign types to fit your goals. It also allows you to conduct keyword research to learn which queries are getting higher search volume and discover search queries with a lower cost.
How to determine the right Google Ads budget
Google Ads is a great tool for budgets of all sizes because you can start as small as you want to and build up your budget as you start seeing success. But generally speaking, the more money you spend, the more you'll make, so be prepared to invest some money to learn what works for your business.
There isn't a magic number when it comes to creating a Google Ads budget – if only it were that simple! Instead, the right budget varies from business to business, campaign to campaign. Focus on finding the right budget for your situation, considering factors like:
The industry you're in
The competition you're facing
The amount of money you can allocate toward Google Ads
Your company's goals/KPIs
While forming your budget, you'll need to narrow in on the specific goals you want to achieve and conduct research to build a strategy fit for your business. You'll likely run multiple campaigns at a time, so you'll have to determine the proper budget for each.
Remember that Google Ads isn't the only marketing channel you're investing in, and if it is, it shouldn't be. Your marketing strategy should be omnichannel, bringing different strategies together to get an ideal combination of inputs. Relying heavily on one channel puts you at risk of losing out should your performance start to decline.
Research before you launch
Budgeting for Google Ads requires plenty of trial and error, but conducting a fair amount of research will set you up for success.
The Google Ads Keyword Planner is a great place to start your research. It assists you in strategically choosing keywords for your campaigns.

Aside from conducting research on the specific keywords and search terms you're going to use, you can also take a look at the search terms your competitors are bidding on.
Google's Ad Transparency Center acts as a searchable database of ads that are running on Google, making it easy to conduct competitive research. Besides learning the types of ads your competitors are running, you can also see the copy they're using and any assets they're implementing.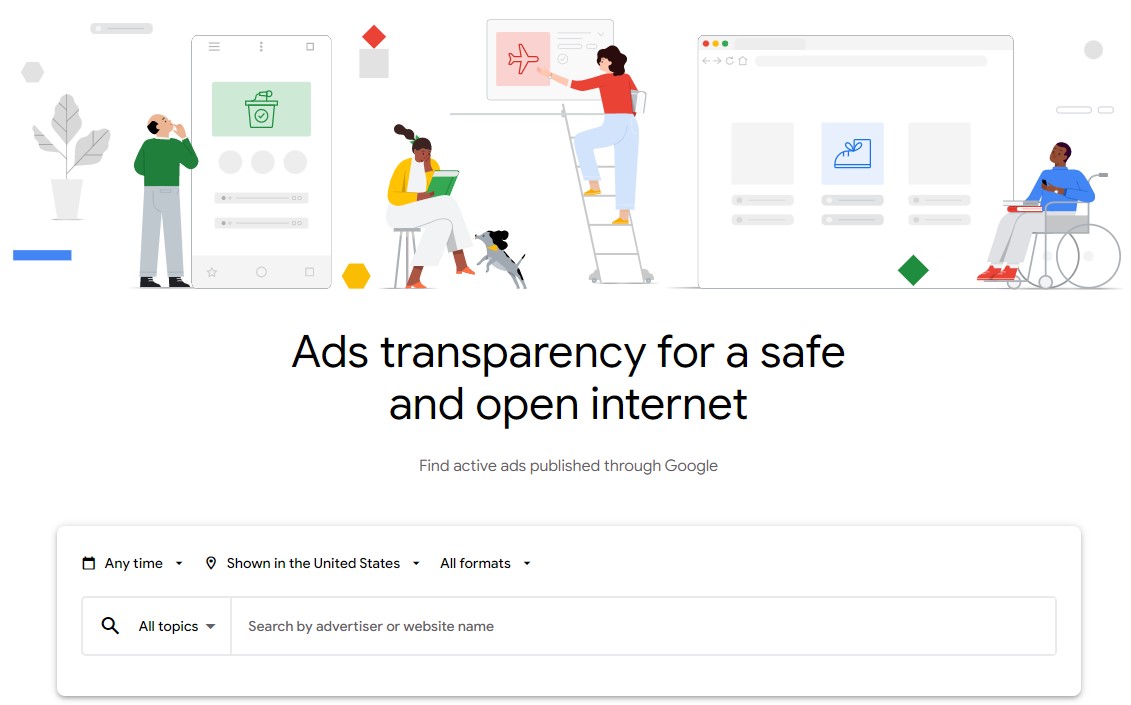 Running a competitive analysis like this will help you identify which of your competitors are running search ads, take note of search terms you might've otherwise neglected, and give you inspiration for other search terms you can bid on that your competitors are ignoring.
Make your budget go further
Determining the type of advertising campaign that works best with your goals will help ensure your budget is working for you. Google offers a variety of campaign types, including:
Search
Display
Smart
Performance Max
Shopping
Local
App
Video
These campaigns are designed for different strategies and goals, and they each bring something different to the table. Selecting the one that makes the most sense for your business and goals allows for better results.
No risk, no reward
Part of discovering an ideal budget is spending enough to see results. It might seem counterintuitive at first – spending without knowing if you'll see a positive return is risky, right? But investing in your campaigns is the best way to determine whether or not your ads are profitable and puts you a step closer to finding that sweet spot with a high ROAS.
Depending on your industry, you may have to spend quite a bit to reach your potential. This can seem intimidating or risky, but it's an investment that will pay for itself – and then some.
There's no easy answer to how much you should budget for Google Ads, but as a rule of thumb, spend as much as it takes to maximize your ROI. To do this, you'll need to know the value of each sale and customer. If you start your campaigns on a low budget, monitor them closely and increase spend as you see fit. If you're competing in a space that has many competitors, you'll probably need to increase spend to get your ads seen. It all depends, so keep a close eye on your campaigns to understand performance.
Utilize Google's recommendations
If you could use help determining the right budget or knowing if it makes sense to invest more, check out the recommendations Google offers.
You might be skeptical about relying on Google for budgeting advice – after all, Google is trying to make money off of you. But Google doesn't recommend that you spend all of your marketing money on Google Ads, and Google wants your campaigns to be profitable so that you keep advertising. Some recommendations won't work for your business, but it's worth checking the recommendations to see if there are any suggestions you haven't thought of yet.
Eventually, you'll hit a ceiling where you've maxed out your opportunities. If you're spending more and seeing your ROAS start to decrease, you'll know you've hit that point.
What happens when your campaigns are limited by budget?
This is a frequently asked question when it comes to Google Ads and is ultimately a mistake that you cannot afford to make.
A number of things occur when your campaigns are limited by budget, including:
Your ads don't show up as often
You get fewer clicks
You get fewer conversions
You get less business
Ultimately, your competitors win
This might seem dramatic, but it's not. If you run out of budget before the end of the month and your competitors are still running ads for the terms you were bidding on, they'll get that business and you won't. Plain and simple. You have to spend money to make money, and if you're seeing a positive return, it's in your best interest to keep the ads running.
If your campaign does run dry before the end of the month while you're continuing to hit your target ROAS, you have two options: increase your budget, or leave money on the table. It's your choice.
Google will also let you know when your campaigns are being limited by budget, which can help you determine the reason and adjust your budget per Google's recommendation.
The return should be your focus, not the spend
If you're seeing great results from your campaign and could increase profitability by spending more money, you're making a huge mistake by holding back on budget. Prioritize hitting your target ROAS because all of that money you're putting in will come back around. When it comes to Google Ads, profit requires spending.
Trial and error will be a huge part of learning what works for your brand. You won't know until you experiment with different budgets, keywords, and content.
Create a successful advertising strategy with Perrill
Google Ads isn't a set-it-and-forget-it platform. It takes time and effort to monitor, optimize, and grow ad campaigns. If poorly executed, your ads campaigns can become a monetary drain. But when done correctly, they can be an extremely profitable revenue stream.
At Perrill, our dedicated paid media specialists are skilled at putting together strategic ad campaigns designed to help you exceed your unique business goals. Reach out to start collaborating on a digital advertising strategy custom-fit to your business goals.

Grace Hallen is a Digital Marketing Specialist at Perrill. Her passion for communication and crafting engaging content led her to Perrill's marketing team. She loves flexing her creative muscles and finding clever ways to reach readers. In her free time, you can find Grace playing trivia at local breweries, exploring the Twin Cities or getting lost in a good book.