Search Engine Guide to Election Day
November 4, 2014
If you've ever skipped out on voting because you couldn't figure out where your polling place was or because you didn't know what issues were on the ballot, then you don't have any more excuses. Thanks to the search engines, Election Day is now easier than ever. Here is your quick Search Engine guide to Election Day.
Find Your Polling Place
If you're anything like me, you didn't bother to save the little postcard with your voter information. As of yesterday afternoon, I had no idea where I was supposed to vote. So I turned to Google. Thanks to today's advanced search algorithms, you can ask Google almost anything. After a quick search of "Where do I vote?" I had my answer.
Before the search engines, finding this information could be a challenge, especially if you were looking at the last minute. Now, all you have to do is enter your address, and Google will tell you where to vote and how to get there. The only way it could be easier is if Google actually took you there (or cast your ballot for you).
See What's on the Ballot
Knowing where to vote is great, but knowing the issues you have to vote for is even more important. You don't want to get to the polling place and freeze up because you don't recognize any of the names or issues on the ballot.
For finding out what's on the ballot, Bing is your best bet. The Microsoft search engine has created a powerful election center with all the information you need.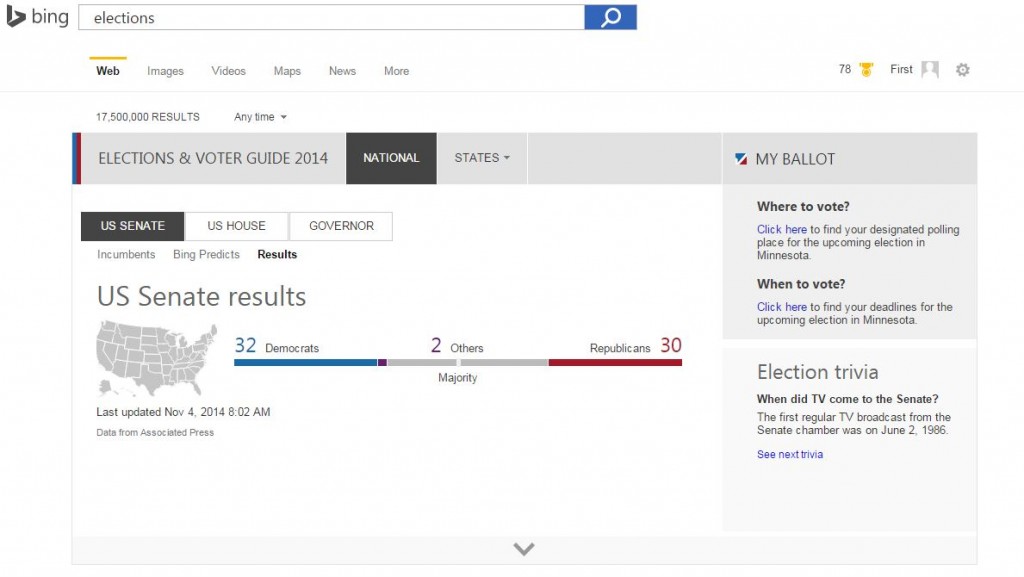 Just type "election" into Bing and you will immediately be taken to a page that gives you all the issues across the nation and in your state. With Bing's election center, you don't have any excuses for not knowing what's on the ballot. You'll also know exactly what's at stake with each issue/race.
Figure Out How You Should Vote
For indecisive people, the search engines can even help you figure out how to vote. A simple search of "who should I vote for" on Google will give you a full ballot summary: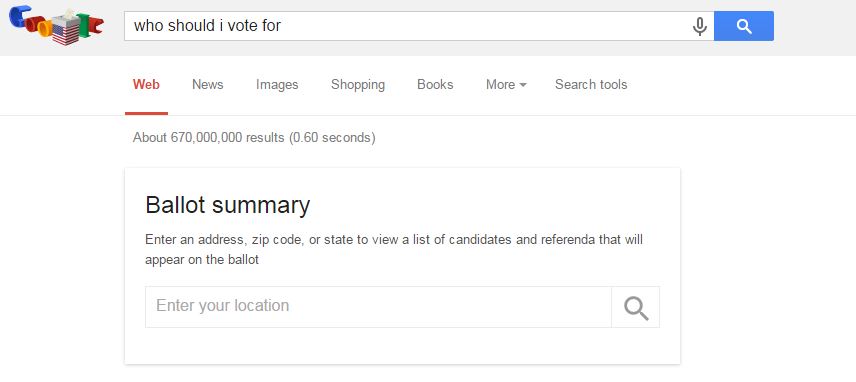 While Google won't actually make the decisions for you, the search engine will give you the information you need to make an informed decision, even if you don't have much time to think about it.
Get Election Predictions
Bing has been making waves with its innovative prediction methods. From the World Cup to NFL games to the Scottish Referendum vote, Bing has been getting most of its predictions right. With Bing's election center, you can get predictions for the majority of major issues around the country.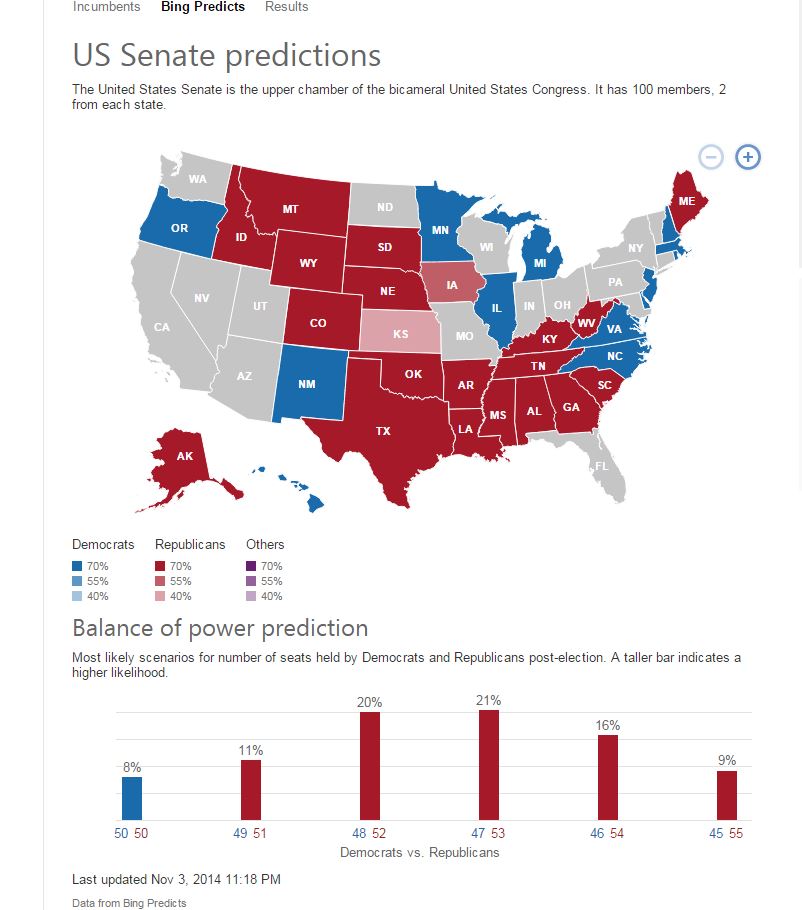 Bing provides data regarding each race, including the chances each candidate has of winning. Browsing through the data, I noticed that Bing lists many candidates with a 99% chance to win. This should not be confused with the percentage of votes a candidate is likely to get. Heading into an election, a candidate who is leading the polls by a margin of more than 5 percentage points is very unlikely to lose. Bing is definitely siding with the favorites here.
See Election Results
Again, Bing is the winner for getting your election results quickly. Just select the issue that interests you, and Bing presents nationwide results updated by the minute: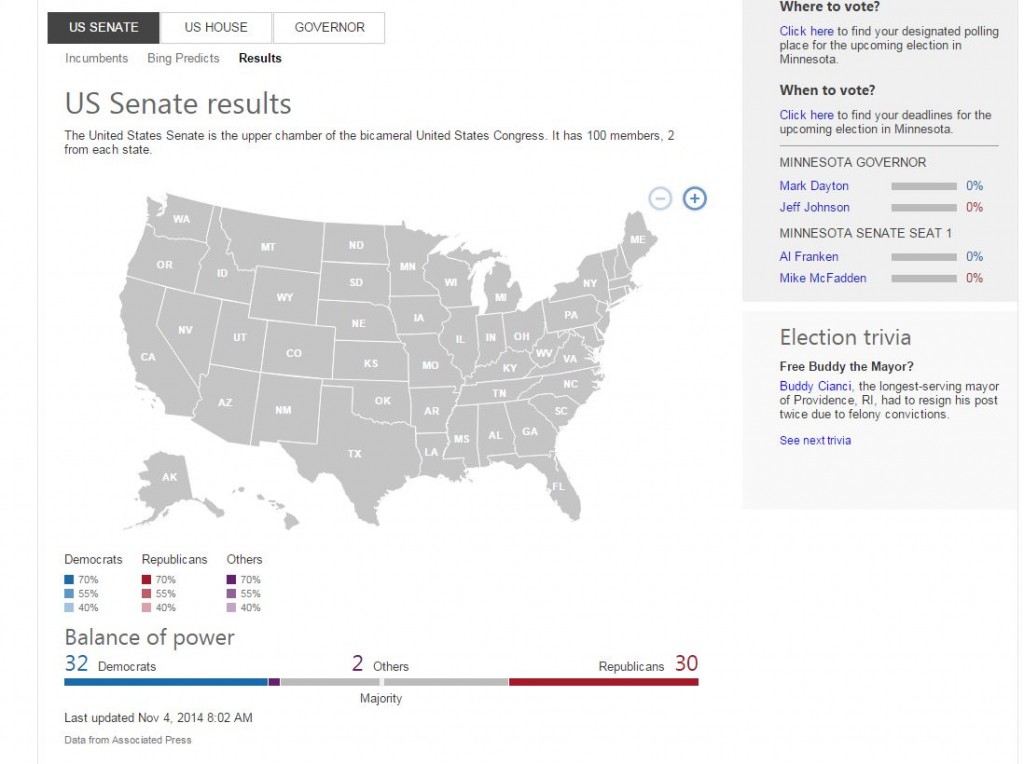 The search engines can't actually vote for you, but they can make the process much easier. Even if you are stuck in a voting line with no clue what's ahead, a quick search on Google or Bing will tell you everything you need to know. And you can get it all without listening to all those political ads.