Back
What Is Direct Traffic? Internet Marketing Mysteries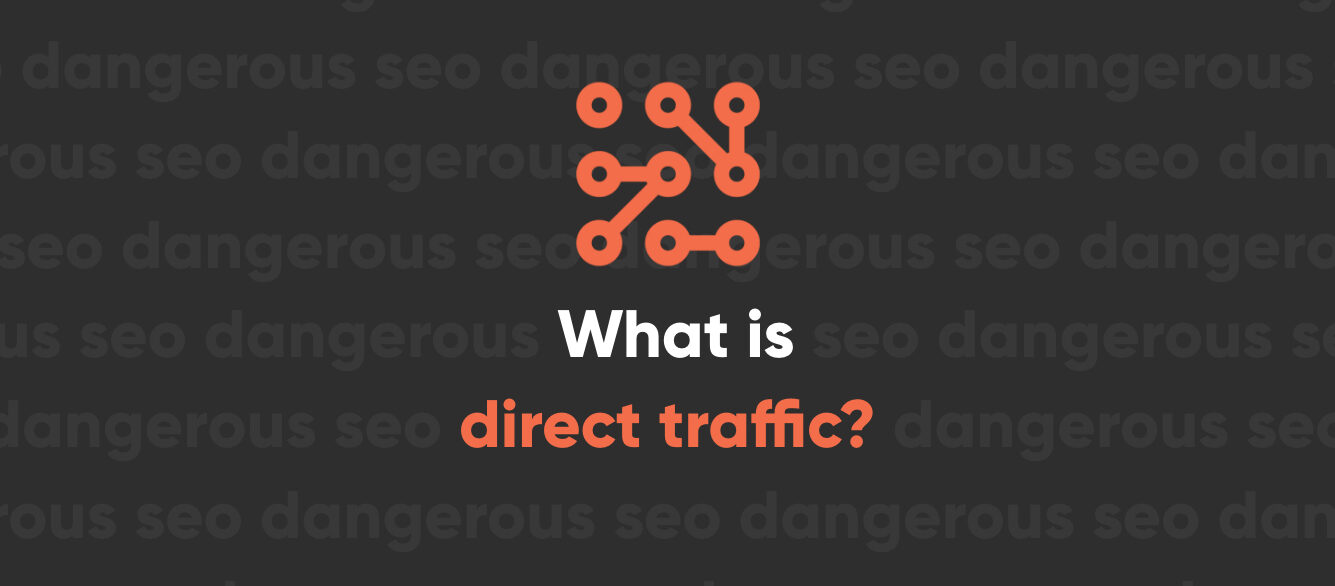 One of the most common questions I hear after a client sees a website analytics report for the first time is, "What is Direct Traffic?" It sounds like a simple question with a straightforward answer, but it's actually much more complicated than that.
In Google Analytics, you can find your Direct Traffic by going to Acquisition > All Traffic > Channels. This will give you a summary of traffic, behavior, and conversions from all available channels (organic, paid, referral, direct, social, email, etc.). Other analytics programs might call it something else. For example, Adobe Analytics refers to it as Typed/Bookmarked.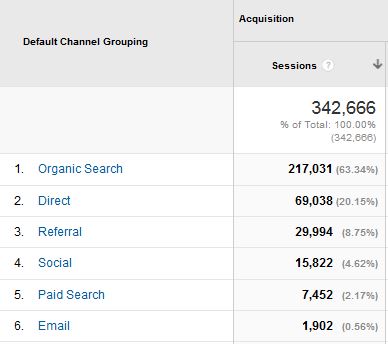 The other channels here are pretty self-explanatory. "Organic" refers to visits coming from organic search. "Social" refers to visits coming from social networks. "Referral" refers to visits coming from other websites, and so forth.
Direct Traffic Is...Complicated
Direct traffic isn't quite as cut-and-dried.
The most common explanation you'll hear is that direct traffic refers to any visitor that came directly to your site either by typing in the domain name or selecting a bookmark. The user did not click a link to get there, did not pass Go, did not collect $200.
While this isn't a wrong answer, it's not a very complete one. Yes, this straight-to-your-site traffic will count as direct, but that's not the only traffic that does. In fact, it probably only represents a small portion of your so-called "direct" traffic. Some SEO experts speculate that more than 50% of direct traffic is actually coming from other sources.
What Direct Traffic Really Is
A more accurate definition of direct traffic is any traffic that does not have a referral passed to your site. That doesn't mean the visitor didn't click a link or come from another site. It means this information—for one reason or another—did not get recorded.
Why wouldn't Analytics have this information? Doesn't it record everything?
Well, no, it doesn't. It records as much as it can, but there are some things it misses—and some things that just aren't there. Here are some examples:
HTTPS to HTTP: If someone comes to your site by clicking a link from an HTTPS site, that referral will not pass to your non-HTTPS site.
Links included in email marketing campaigns that aren't properly tagged
Session refreshes
QR Codes
"Dark Social" links (such as links in chat or email)
Search and social referrers that fail to pass the proper referral string (some studies suggest that up to 60% of direct traffic might actually be organic search traffic).
Anytime your Analytics program doesn't understand the referral string—or if there isn't one—then it will lump your traffic in with direct. With mobile (search, device, apps) playing a bigger and bigger role, this could get even more complicated in the near future (see #6 on Rand Fishkin's list of predictions for 2015).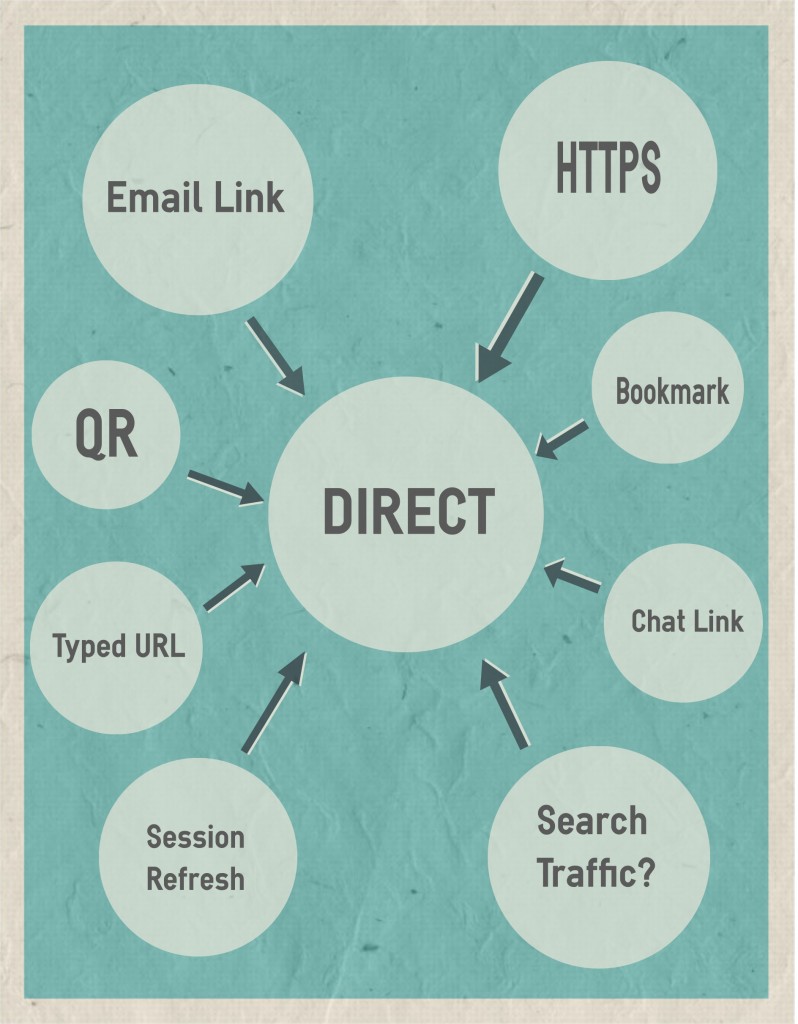 Solving the Direct Traffic Mystery
So how can you determine which visits are actually direct and which aren't? Well, there's no foolproof way to do it, but you can gain some insight. One solution is to look at the landing pages for your direct traffic. If new visitors are landing on pages other than your home page, then it's pretty unlikely they came there directly. How often do you type www.sitename.com/products/widgets/cool-widgets/cool-blue-widgets.html to get to a page you've never visited before? You've probably never done it. And neither has anyone else. So how did they get there? This is a question you may never be able to figure out, and the amount of work it would take to gain even some insight may not be worth it.
As the push for all things secure continues, you may find less and less information passing through to your site. Since HTTPS is now a ranking signal in Google, more sites are starting to use it. This could mean more direct traffic for your HTTP site, depending on which sites are linking to you. A backlink audit can show you how many HTTPS sites are linking to your page—but it can't tell you how much traffic you are getting from those links.
Fluctuations in your direct traffic often aren't necessarily related to the number of visitors coming directly to your site. Rather, these variations are often the result of other marketing efforts or even larger changes to the web.
Direct traffic might be impossible to track down, but it's still valuable. Spikes in your direct traffic can indicate your marketing efforts are working effectively. At the same time, drops in direct traffic don't necessarily mean your brand is fizzling out. It could just mean people are finding you using other means—means your analytics program is capable of detecting.
It's important to remember that analytics reports give us data, not answers. Use this data to make informed decisions about your marketing and website strategy. Whether the traffic is direct, referral, search, or other, use the data to help you move closer to your goals. After all, your website goal probably isn't "Get X amount of direct visits to the site each month." If it is, you may want to rethink more than just your marketing strategy.
This post is part of Internet Marketing Mysteries, a weekly column addressing actual client questions related to SEO, analytics, website best practices, and any other topic connected to internet marketing. Have a question you'd like to see tackled in a future post? Let us know.

Written by
Nathaniel Tower
Nate Tower is a Director of Marketing at Perrill. He is a creative expert gifted in pinpointing our clients' realities, goals, and audiences and turning that information into a captivating and never-before-heard brand story. With roots in digital marketing, education, and creative fiction, Nate's an Old Faithful-caliber fountain of knowledge.