Back
Why you need effortless digital management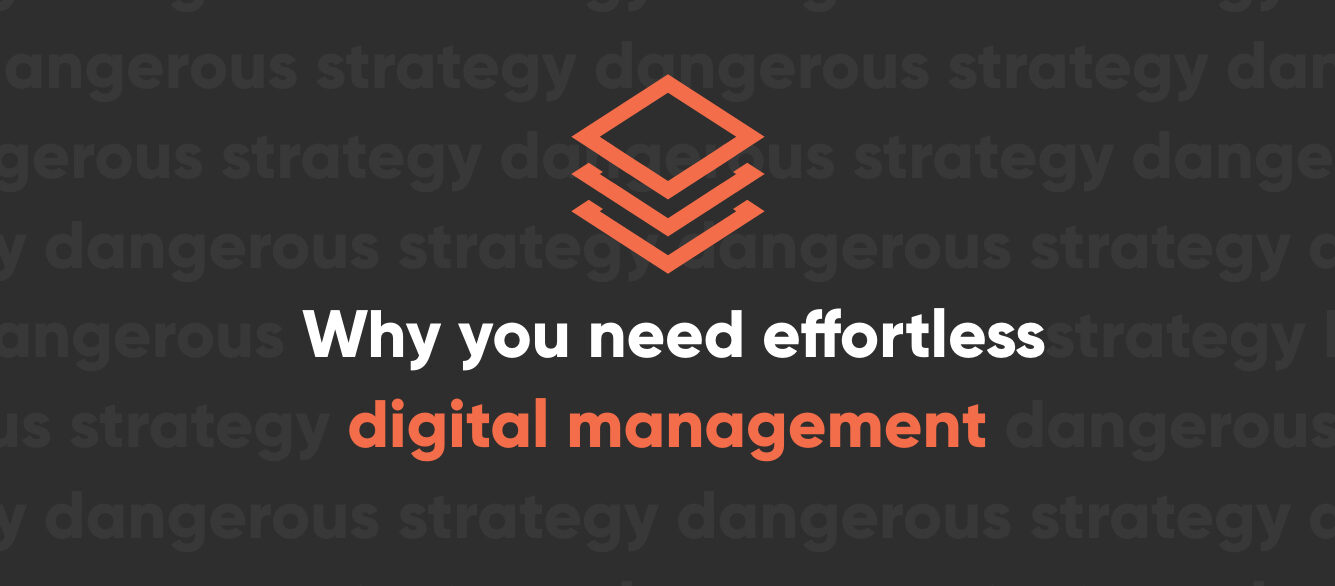 Digital marketing is a lot of work. If you tried to run a full-scale digital marketing campaign by yourself, you would fail. It doesn't matter if you're the best marketer in the world. You need a team of experts with a variety of skill sets to execute a successful marketing strategy.
And that barely scratches the surface of what we mean by effortless digital management as a service. 
What is effortless digital management?
Effortless digital management is not a catchphrase or a sales pitch. It's a service that incorporates an intelligent approach to digital marketing to ensure your needs are met without putting a strain on your already-stretched resources. When you have effortless digital management, you have a de facto business partner who understands your business. As a result, the digital marketing endeavors are effortless. 
Here are the main characteristics of effortless digital management:
Full-service digital marketing that develops and manages all aspects of your digital strategy

Clear deliverables and timelines

Accountability by all involved parties

Minimal effort and time required on your part

Results that are clearly communicated with total transparency

Proactive management that doesn't require you to take on additional roles or tasks

Full availability and quick turnaround whenever a question or new need arises 
Effortless digital management does not mean everything will always be perfect. When an account issue does arise, you'll be the first to know, and your digital team will work to resolve the issue and deliver maximum results without hiding behind any soft metrics or bogus "wins." 
TL;DR: Effortless digital management = Professional implementation of informed digital strategies to drive clearly demonstrable results without burdening you to do more.
Why you need effortless digital management
Effortless digital management is not a buzzword. It's a service that provides the short- and long-term answer to your business needs and your marketing struggles.
Consider how busy you are. You don't have free time at work. And you certainly don't have time to learn digital marketing best practices. But you must have a robust digital marketing strategy to move your business forward. That's where effortless digital management comes into play. 
Here are the main reasons every business needs effortless management of their digital marketing:
Prioritize your time

- Don't mistake the minimal time requirements to mean you won't be involved. You will play a key role in the marketing direction, but your time will be prioritized so you can focus on doing what's most important for your internal business role. 

Return on investment

- Effortless digital management produces a much higher return on investment than other marketing services for several reasons. First, the digital marketing strategies are better aligned with your business goals. Second, the execution can occur in a much more timely fashion. Finally, you have more time to drive the business forward in other areas that complement your digital strategies. 

Scalability

- As your business grows, your digital marketing efforts can grow at the right pace. You don't have to worry about internal resources required to increase digital management to run parallel with your business growth. It's ready to happen in real time with no additional resources on your part.
In simple terms, effortless digital management drives more revenue, gives you more time, and provides more future growth opportunities. 
How to achieve effortless digital management
Effortless digital management is not something you can achieve on your own. Nor is it a tool you can buy. It's a service that requires a partner with the right capabilities. This might include SEO, paid media, content marketing, social media management, conversion rate optimization, web development, and much more. Fortunately, you don't have to know exactly what you need prior to finding the right partner. You'll know you've found them because they will tell you exactly what you need.  
When selecting a digital marketing partner, effortless digital management should be one of your key considerations. Unfortunately, most agencies cannot provide this service because they don't have the right technology, skills, people, experience, processes, knowledge, or confidence. If you take any of these away from the equation, you'll end up with a lower quality of service and less desirable outcomes. 
Effortless digital management will not be your cheapest option, but it will be the one that produces the best returns and allows you to exceed your business goals. 
Are you ready for effortless digital management? Contact Perrill today to find out how EDM will accelerate your business growth.

Written by
Nathaniel Tower
Nate Tower is a Director of Marketing at Perrill. He is a creative expert gifted in pinpointing our clients' realities, goals, and audiences and turning that information into a captivating and never-before-heard brand story. With roots in digital marketing, education, and creative fiction, Nate's an Old Faithful-caliber fountain of knowledge.