Back
Why you need professional hosting services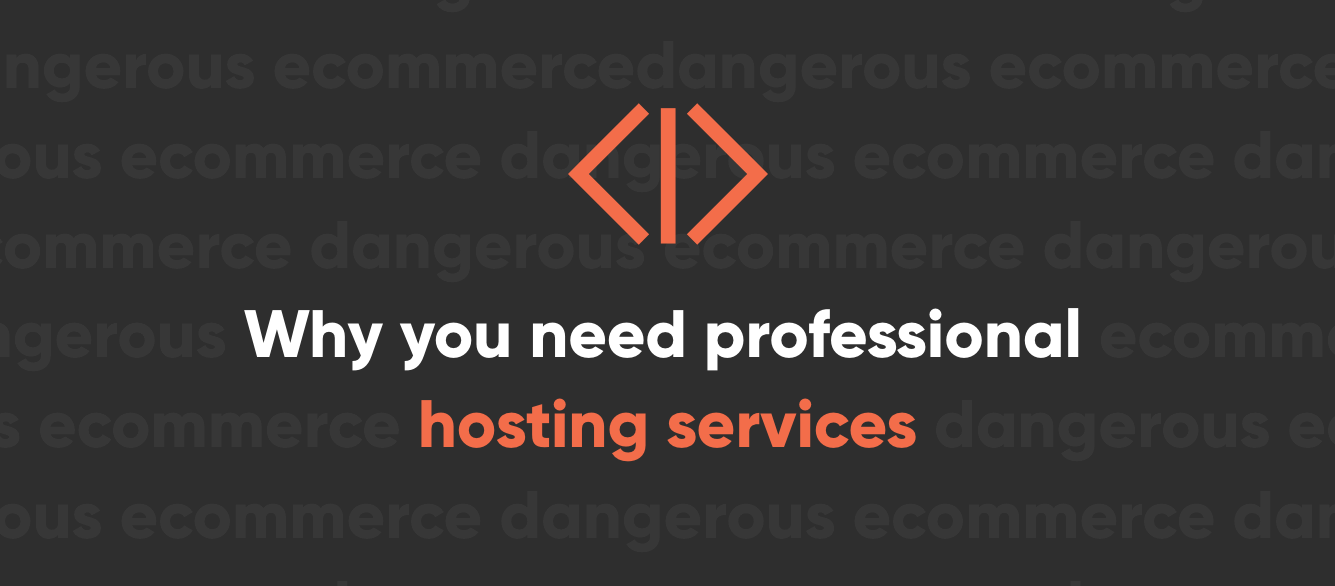 Many people use publicly traded web hosting companies to run their website. While these services are cheap and effective, they only provide the basic services to run the website–you're on your own when it comes to maintaining the website and handling any issues that come up.
There is a time and a place for using these services instead of a professional hosting agency. Say you're an individual running your own personal site or a company that hasn't quite gotten off the ground yet. But for the most part, if your website is worth maintaining, it's best to go with a professional hosting agency.
Imagine if you purchased a car, and keeping that car working was critical to the continuation of your business. If you are using a publicly-traded web hosting company, that is the equivalent of buying the car, driving it yourself, and handling all the maintenance. You are now responsible for monitoring and fixing everything within the car, from brakes to spark plugs. If you're not an expert in all things vehicle maintenance, you won't want to leave the continuation of your business up to chance.
For something as mission-critical as a business website, it is better to hire someone that knows websites inside and out and will handle all the maintenance for you. This is where professional website hosting comes in.
What is Professional Website Hosting?
When a hosting provider devotes space on a web server for a site to store its files, they are hosting that website. Web hosting is what makes the files that comprise a website (images, code, etc.) available for online viewing. If you've visited a website, it was hosted on a server.
The amount of space allocated to a website depends on the hosting type. The main types of website hosting are dedicated, shared, VPS, and reseller. The different types of website hosting are defined by the kind of technology being used for the server, the caliber of management provided, and the additional services offered. Some things to consider when selecting a website hosting company:
Does the web hosting provider handle backups and restores of data?
Do they tune your site so it runs as efficiently as possible?
Do they actively manage and mitigate new security threats?
Do they handle updates for your site?
Managed hosting from Perrill handles all of that.
Choosing a reliable hosting and support package is an essential piece of your overall digital strategy. Here are a few of the many advantages of upgrading your hosting package with Perrill:
1. You Can Always Get a Hold of Us
No 1-800 numbers, 25 minute holds with robots, or giant chat queues. You'd like to think you can plan for anything, but things come up. If you need an immediate change to your website, you need to be able to talk to a person–not a computer. As smart as computers are, only people truly understand people.
We answer our phones during business hours, respond to emails the same day, and if it's an after-hours emergency, we're just a phone call away. Our clients are our top priority so if it's important to you, it is equally important to us.
2. We Fix Issues Before They Become an Issue
The Internet provides an unprecedented platform for an organization of any size to promote, inform, and sell its capabilities–whether focused on services, products, or educational content. However, once your website is up and running there may be a fall-off in terms of regular maintenance of all the content and components that make visiting the site worthwhile. And ensuring that a visit to your website is worthwhile needs to be an ongoing mission.
Unfortunately, we are often forced into learning about maintenance the hard way. For instance, if you put off car repairs for too long, then instead of a simple oil change, you could be facing complete engine failure and potentially the loss of your vehicle.
We can't always avoid the little blips in life, but you can mindfully plan how to keep your website as up-to-date as possible by partnering with a company that is always on top of it. All of our new hosting packages include a proactive maintenance plan for security, server, CMS, and plugin updates.
3. If there is an Issue, We'll Notice it Before You
We monitor your site, and if there is an issue, a member of our team is notified within 5 minutes. 99% of the time, we will have a fix in place before you even notice any issues. We also notice it before your customers do. In the rare event your site goes down, we catch it right away and get it back up. If a contact form stops submitting or your checkout process stops working, we can detect those issues too.
4. We are Part of Your Team
When you have to commit to X years of hosting just to get a decent rate, comb through sketchy Terms of Service, or wait around on a support line every time a question comes up, it's pretty clear that a company is not prioritizing a great customer experience.
We work closely with the rest of the digital experts at Perrill to know the implications of updates and requests, and we ensure that your website is functioning properly to convert your goals.
5. 99.99% Uptime Guarantee
Your website will (almost) always be up. If it does go down for any reason, we'll have it back up faster than any other hosting provider possibly could.
6. Access to Digestible Analytics
With a professional hosting company, you will have detailed analytics about bandwidth usage, website traffic, performance metrics, caching, and more. These insights will help you understand where you may need to improve. Perrill will make informed recommendations on how to get you there. You will have the ability to track visitors, resource usage, requests, and monitor all aspects of your website's performance with these user-friendly reports.
Partner with Perrill, Eliminate the Stress
Partnering with Perrill for your web hosting needs is like having an always-on retainer chauffeur and mechanic for your car. We are always monitoring and maintaining the behind-the-scenes details for your site, and you have the confidence that you always have a professional on hand to ask questions about or make changes to your site.
Beyond the web hosting and maintenance itself, we have a full-service team of people to handle every aspect of your online presence, removing the barriers to getting things done that a more ad-hoc environment would have. Eliminate the stress of managing your website and get started with Perrill today.