EcoConsilium
EcoConsilium is making a difference for both businesses and the environment through its role as a one-stop shop for sustainable waste diversion programs. By viewing waste as a resource, it is creating new opportunities for its clients in a wide variety of markets.
EcoConsilium turned to the web design and development experts at Perrill to create a new lead generation website that more effectively displays its brand and mission. The design process served to highlight everything EcoConsilium sets out to accomplish through captivating imagery, an intuitive and responsive layout, and a color scheme that is both pleasing and on-brand. The website makes clear all the ways and places EcoConsilium is making an impact and also shows how they can do the same for your business. Through a fluid navigation, functional search feature, and filterable projects page, Perrill's development team also made it easy for users to find what they need via the most direct route.
 EcoConsilium relies largely on science, economics, research, and art to provide resources for its clients to create a more sustainable future. With its brand new website, that future becomes much more achievable. Take a look around the site to learn more about how EcoConsilium can help your business and the environment today.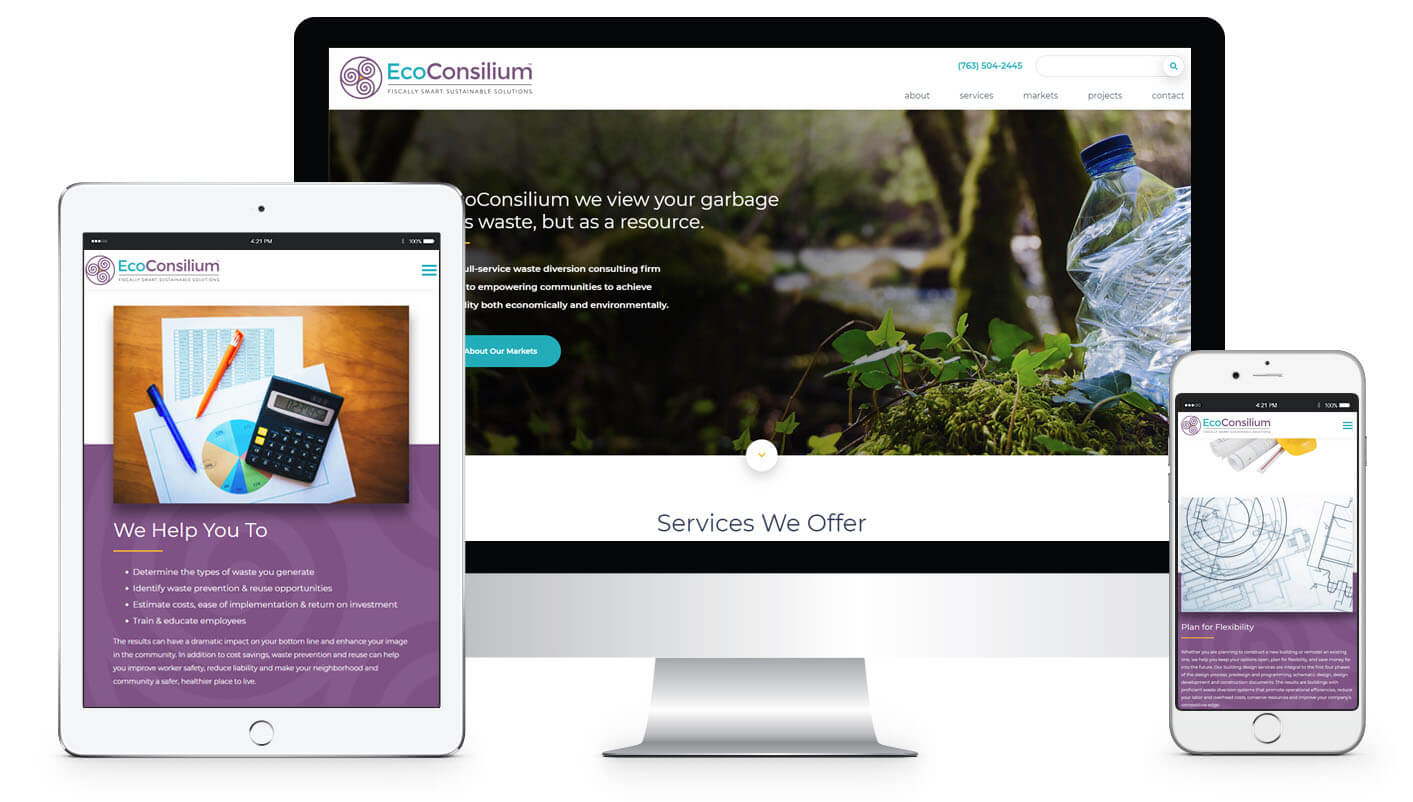 "
I just wanted you to know that the EcoConsilium website has captured the essence and the heart of my business, and it has changed how I do business.  The feedback that I've received since it was launched, only a few months ago, from colleagues, clients, family, friends and strangers – has been amazing.  Everyone loves it! I am so grateful to you for your patience.  You could have given up on me a long time ago but you didn't.  With honor, you held true to our original agreement, and I now have a website that I couldn't have begun to imagine years ago.  For that, you will always be a part of the work that we do – bringing our communities back into alignment with the environment for future generations. Hunter is a precious jewel.  Under his rough and tough football coach exterior, he glitters and shines so bright you need to wear sunglasses.  His guidance, tough love, encouragement and support was invaluable.  Whenever I started heading out of town on a concept or design tangent, he promptly reeled me back into reality.  There were many times that he saved me from myself.  And he did it with class. Autumn is brilliant.  She immediately connected with my vision, philosophy, brand standards and graphic look.  She took it all in and came up with a layout that made sense and resonated with me the very first time she presented it to me.  She tolerated my obsession with color, balance and asymmetry.  She gave me the space to micromanage as she quietly came up with the design solutions that she knew would work.  She helped me turn the story of garbage into a narrative framed in beauty.  And for the folks behind the scenes, please let them know how happy I am with their work.  I'm sure glad they were there working on my project. I wish you continued success in building great websites.  In a heartbeat, I will recommend Perrill to any business or organization.  They would be smart to have you on their team.
"
Founder | EcoConsilium, Inc.