Back
9 website updates you must make in 2019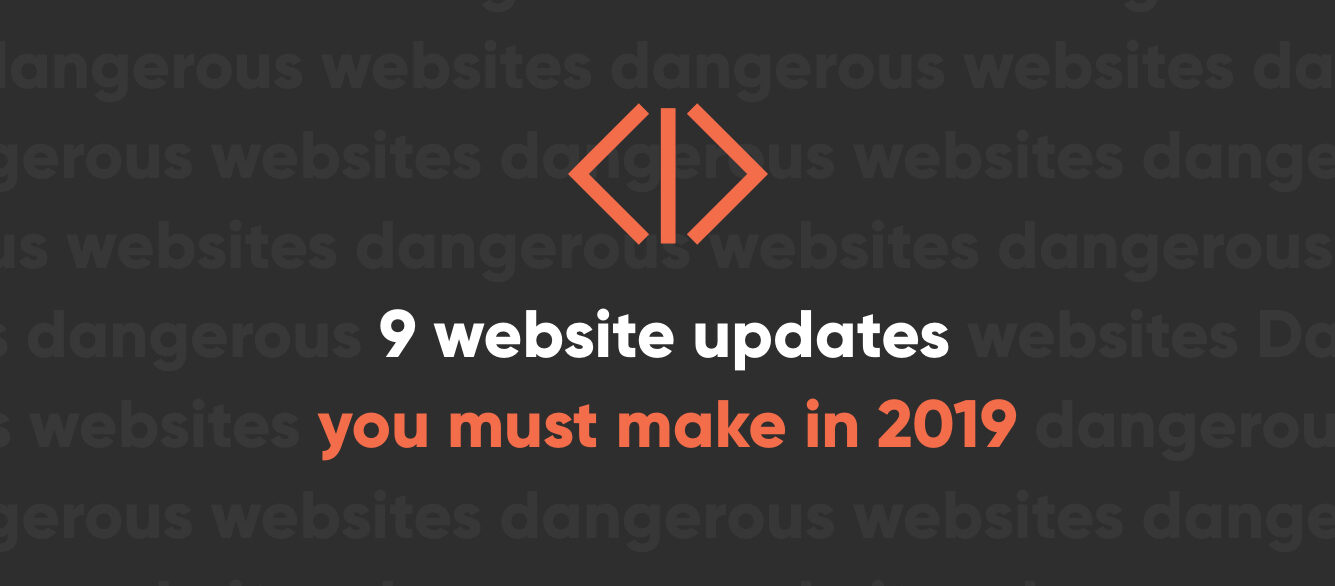 With a new year comes new budgets and new business goals. Make 2019 the year you finally give your website and your business the attention it needs.
Here are the 9 website updates you absolutely must make in 2019:
1. HTTPS
Having a secure website is no longer a nice-to-have. It's an absolute requirement. Your customers want security. Google demands security. By getting an SSL certificate and switching to HTTPS, you'll enjoy a boost in search rankings. You'll also improve consumer confidence in your website and brand. Chrome, the world's most popular browser with over 65% market share, actively warns visitors that your site isn't secure. Other browsers are doing the same. Unless you want the majority of your customers to see this warning when they visit your website, you need HTTPS: 

2. Web Application Firewall (WAF)
Having a secure website is all the rage (feeling a little déjà vu yet?). A web application firewall (WAF) gives you the extra protection you need to prevent hacks and stop brute force attacks. It keeps your customer data safe and allows you to restrict who can access your website. Over 4% of all web traffic is malicious and over 37,000 websites are hacked every day. Your website needs a WAF to make sure it doesn't happen to you.
3. Mobile Friendly
Is your website still not mobile friendly (test it here)? Seriously, what are you waiting for? This is not negotiable. Mobile is the not the future of the internet. Mobile is the present, and you need to be mobile friendly right now. Google is rapidly rolling out its mobile-first algorithm. Mobile-friendly websites rank better. More importantly, they convert better. With over 50% of Google searches coming from mobile devices, you have to be mobile friendly. The best solution? A responsive website.

In case you're tempted to say, "But my website just doesn't get much mobile traffic," there's a good reason for that. In 2018, many non-mobile friendly websites did see a decline in mobile traffic. But it's not because mobile usage is going down in their vertical. It's because their website became eligible for the mobile-first index and lost its search visibility. It's time to get your mobile users back. 
4. Website Accessibility
There are over 57 million disabled Americans with over $544 billion in annual disposable income. If your website isn't accessible according to WCAG guidelines, then you can't reach these customers. Not only is that a big loss in potential revenue, it also leave you open to potential lawsuits. Website accessibility litigation is increasing rapidly. The only way to protect your business from a lawsuit is to make your website accessible. This is especially true if you have an e-commerce website. 
5. Digital Advertising
Are you using Google Ads? What about Facebook or LinkedIn ads? If you're not, you should be. You might think Google Ads costs too much (why pay for clicks when I can get them for free?) or that your customers don't use social media. But a properly optimized Ads campaign makes you a lot more money than it costs, and all of your customers are using social media on a daily basis. No matter what you may have heard, social media ads do work. If you're already advertising through Ads and social media channels, then think about how you can optimize your ad spend or expand your reach. Maybe you haven't invested in display ads or remarketing yet. If that's the case, you're missing out on some highly effective ways to drive more business. Be sure you select a Google Premier Partner when launching your Google Ads campaign.

6. Marketing Automation
Marketing automation isn't meant to replace your marketing team, and it's not some magical way of creating new leads. But it is a highly effective way of nurturing leads and driving more business. And it does all that while saving you time and improving the efficiency of your sales team. You've probably heard of workflows and drip campaigns. It's time to put one in place so you can turn leads into customers and customers into repeat customers. Not sure where to start with marketing automation? As a HubSpot partner, we can help you. 
7. A/B Testing
What on your website isn't working? There's a good chance you can make some changes right now to improve your conversion rate. Of course, conversion rate optimization isn't guesswork. You need to test before implementing changes that are based on your gut feeling. A/B testing can dramatically increase your revenue, and it doesn't have to cost a lot. Sometimes it's the simplest changes that make the biggest difference. Use a different image, different text, different colors, minor layout changes. These small things can increase your conversion rate and make your business more money.
8. Visitor Tracking
Do you know who's visiting your website? We're not talking about checking the limited demographic information available in Google Analytics. We're talking about finding out which potential customers are actually on your site right now. With visitor tracking, you can see which companies are on your website, what they are doing, how often they visit, and a lot more. You can use this information to take a proactive sales approach rather than waiting for them to call you. 
9. A New Website
If it's been more than a couple years since your current website launched, then it's time to start planning the new one. Yes, it is a big expense. But it's a necessary one. Technology changes rapidly, as do design trends, so even a site that's only two or three years old can look outdated and miles behind the competition. Customers are less likely to buy from an outdated site. That means they'll be more likely to buy from your competitor who recently updated their site. 
Some of these are quick and relatively inexpensive fixes. Some of them are urgent. All of them are investments that will pay off quickly. Make 2019 the year of the new and improved website—the website your business deserves. Contact us today to find out which of these are right for you.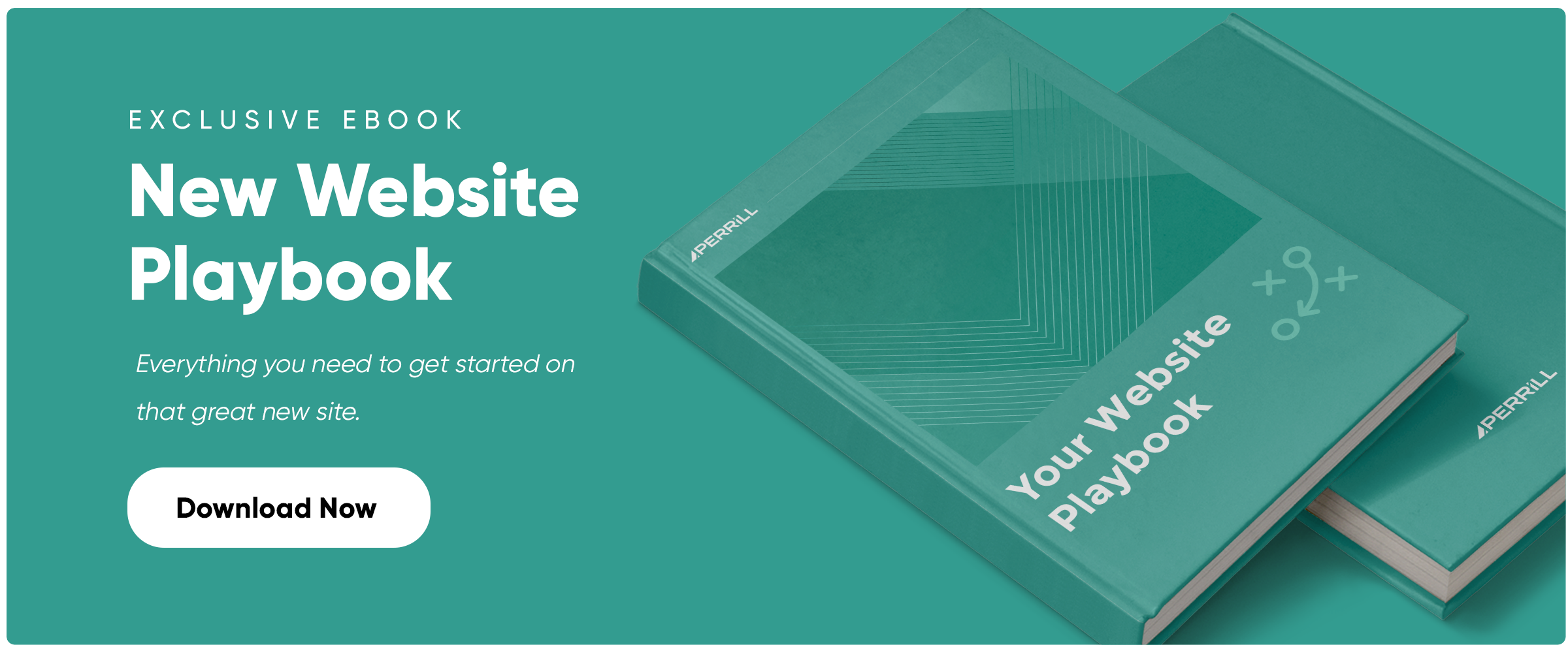 Nate Tower has over 10 years of digital marketing experience and currently serves as the President of Perrill. He is a creative expert gifted in pinpointing our clients' realities, goals, and audiences and turning that information into a captivating and never-before-heard brand story. With roots in digital marketing, education, and creative fiction, Nate's an Old Faithful-caliber fountain of knowledge.