Back
Where's my business? How to rank higher on Google Maps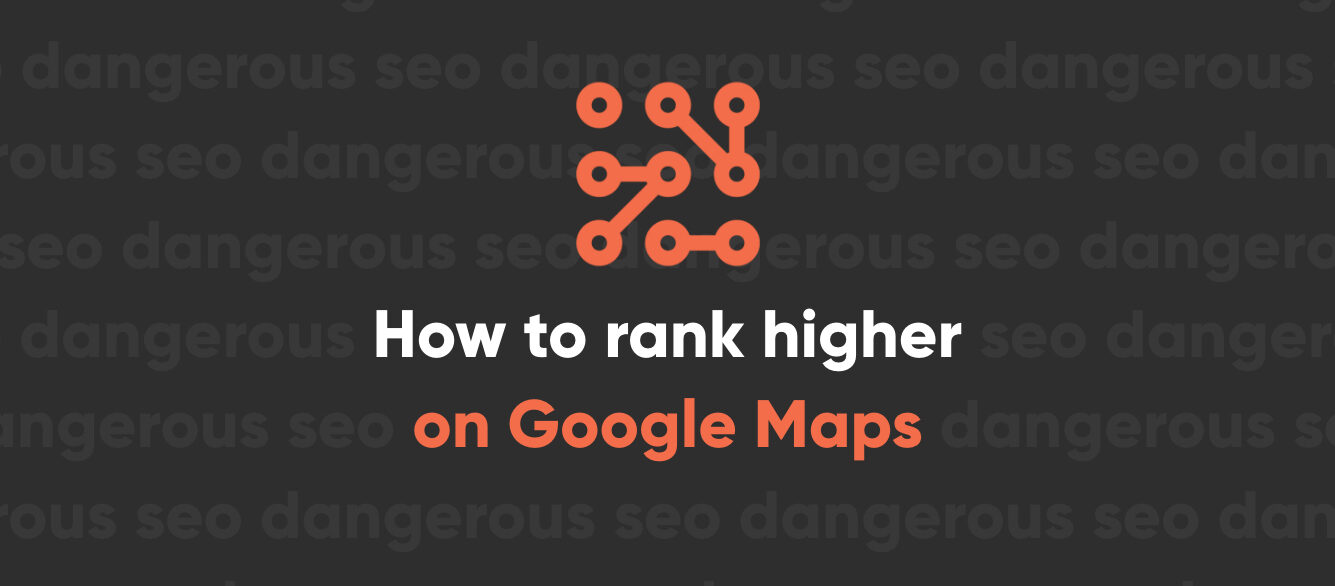 In today's competitive market, it's no longer good enough to simply be on Google Maps—you need to rank near the top if you want to significantly increase your traffic.
First, we'll discuss the importance of rankings and how Google actually determines them. Next, we'll show you how to add your business to Google Maps and maximize your listing. Finally, we'll walk you through what you need to do to optimize the rest of your online content so that everything is working in harmony.
Let's begin.
How does Google determine local ranking?
When determining local results, Google takes into consideration the following three factors:
Relevance:

 

This refers to how closely a listing matches up to the keywords a user is searching.
Distance:

 

This takes into account how far away the listing is from where the user is looking.
Prominence:

 

Google factors in how well-known a business is, both online and off.
Additionally, Google looks for consistent NAP citations throughout the web for any given business. NAP stands for Name, Address, Phone Number - Google, rightfully so, considers these elements key indicators of a business' identity. To use an SEO analogy: NAP is to Local Businesses as a title tag is to a web page. 
Exclusive Webinar
How to Steal Traffic Away from Your Competitors
Send high-value users to your website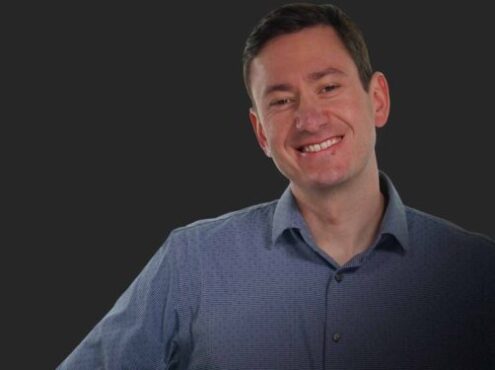 Why is it so important to rank high on Google Maps?
Open up an Incognito browser window and do a Google search for your business. Since you're well aware of your company's name, chances are it's the first thing that popped up. Now try to put yourself in your customer's shoes and pretend you don't know the name—how do you go about finding it?
You're more than likely typing in something along the lines of "Minneapolis marketing agency" or "web designer near me." Does your business come up now? If it does, that's great! (You probably don't have a lot of direct competition in your area.) Unfortunately, most businesses aren't going to be so lucky.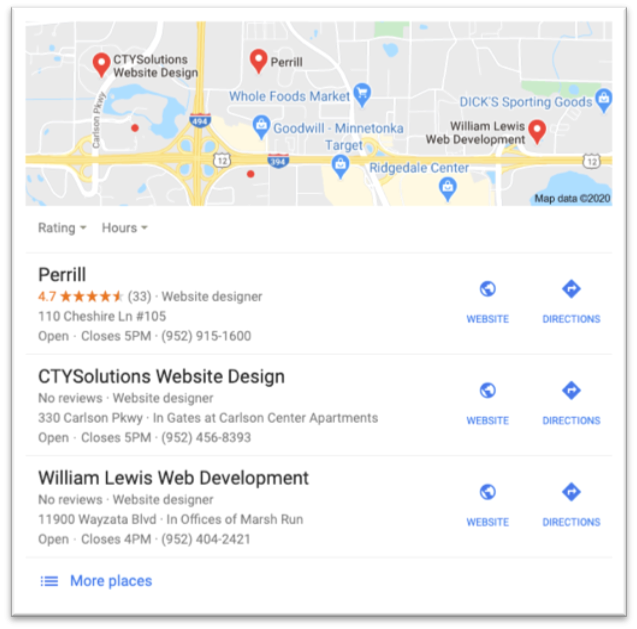 If you had to click on "More places" beneath the map and scroll down to find your listing, then you've already done more than the vast majority of visitors. In fact, 92% of searchers will end up picking a business that's listed on the first page of local search results.
Don't be the 8% that are hoping searchers don't find what they need right away and keep looking. You need to get your business to show up in the top 3 search results, known in the industry as the Google Maps 3-pack. Here are some tips to help you do just that.


Exclusive Webinar
How to Steal Traffic Away from Your Competitors
Send high-value users to your website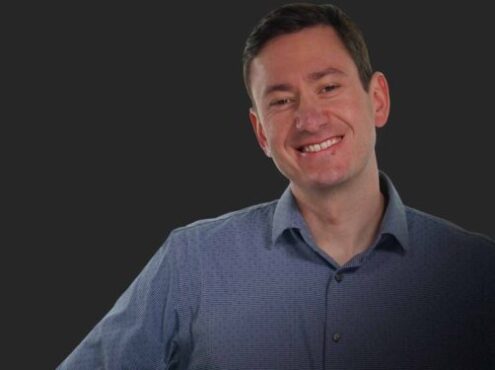 Claim and verify your Google My Business listing
It's going to be much more difficult for you to increase your Google Maps ranking when you don't actually own your business (at least according to Google's records anyway). That's why the first thing you need to do is add and verify your company on Google My Business (GMB). If you've already done this and you're in control of your company listing, you can skip ahead to the next section.
Go to Maps and search for your business name. If it appears, follow these instructions to claim it. Even if nobody at your organization has done this yet, any user can add a business, so if you've been operating for a while now, don't be too surprised to see it show up. If you don't see it, you'll need to manually add it.
Next you'll want to verify your business with Google. Essentially this is their way of confirming that you are the best person to be managing the account. There are several ways this is done, but the most common method is to send a postcard with a unique code to the physical address listed for your business. Just be warned that this often takes at least 3-5 business days, so you'll have to be patient.
Watch the video below to learn about this and other alternative verification methods.
Thoroughly complete your GMB profile
Now that you're verified and have access to your account, the next step is to fill out all the required (and optional) information. The more info you supply to Google, the more it will provide to its users, and the higher you will rank in search results.
Log into your GMB account, then click on 'Info' to the left. Go through and fill out as many of the following areas as you can.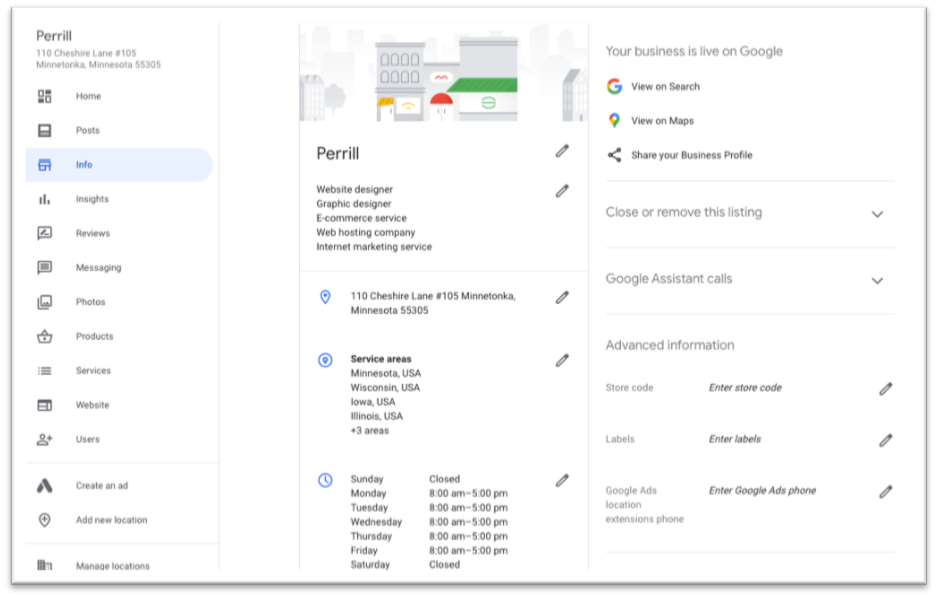 Business name
You already have your business name picked out, so there's not much you need to do here. If you have a shorter nickname for your business that is popular among your customers, you can enter that in the "Profile Short Name" section further below. This is helpful because now your customers will be able to type in your short name URL and go directly to your Business Profile.
Category
Select a primary category that best describes the product or service you provide, and/or the keyword(s) you're trying to rank for most. You should also add as many other additional categories as you can, so long as they make sense for your brand. These will help increase your impressions for other keywords your customers are searching for.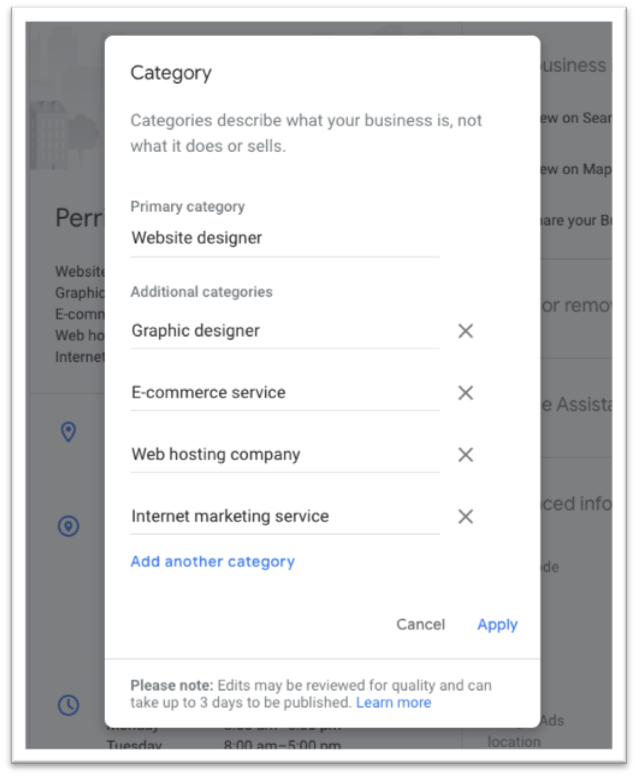 Business location & service areas
Double check that your address is correct and identical to how you have it on your website, social media accounts, and everywhere else on the internet.
As for service areas, you'll typically want to start with where you are physically located, and then add more areas in order of how much business you already do (or want to do) there. If you're national or global, your service areas should be much broader. If you're a local business, stick with the neighboring towns and states where your customers can typically be found.
Hours & holidays
Be as accurate as you can with your business hours. If you don't have a consistent schedule, try to get as close as you can (although you should really consider adopting one). If you have any special hours planned for the year, enter them in the next section so those searching for you won't be caught off guard by a "Closed" sign.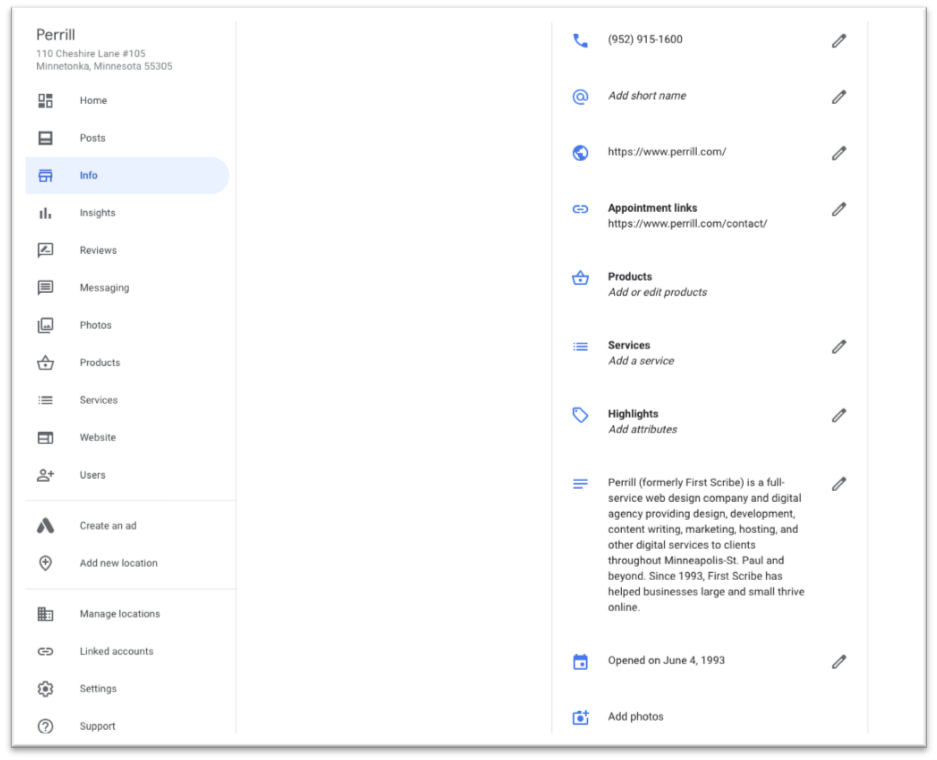 Phone number
If at all possible, use a local phone number with an area code that matches your location. Google doesn't like toll-free 800 or 877 numbers because they are so often used by telemarketers and other spam callers. This will go a long way toward building trust with your local customers as well.
If you'd like analytics on which of your ads, keywords, and campaigns are converting, you could use a tracking number from a service such as Call Rail. Just know that this could negatively impact your NAP consistency.
Website & appointment links
Unless you have a specific reason not to, you should always provide a link to your website's homepage. As for appointment links, not all business categories will have this as an option. If it's there though, you should put a URL down, even if you don't actually take appointments. For instance, we link directly to our Contact page where our clients can find ways to reach out to us.
Products & services
This is the section where you can add more details to the categories you selected above, in the form of products and services you provide. For each category, add as many as are relevant without going too overboard. This will further help Google users determine if your business is really what they are looking for.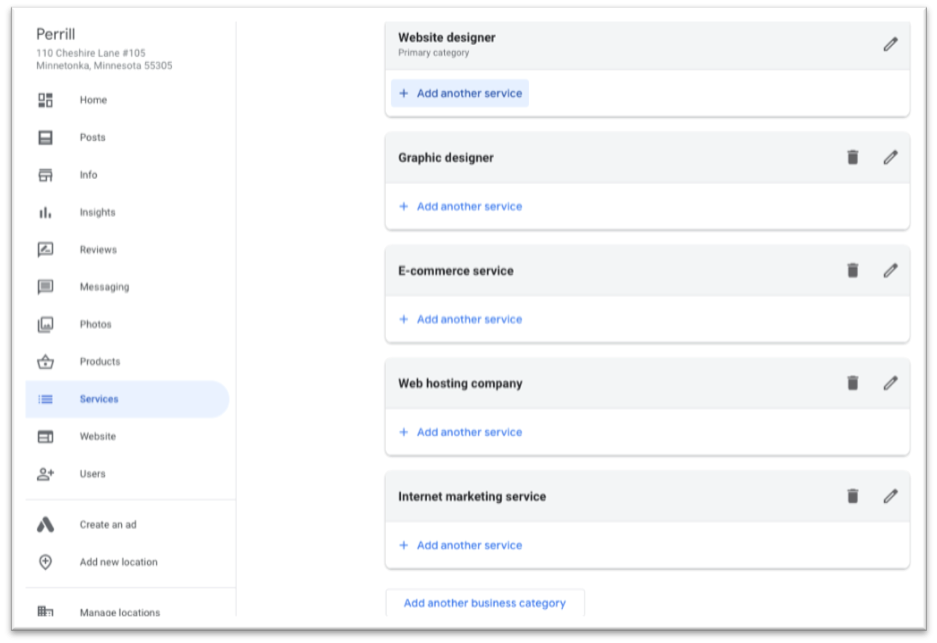 Highlights & opening date
Your highlights are attributes you think will be important to your customers, such as "Handicap Accessible," "Free Wi-Fi," and "Women-Led." While not mandatory, choosing the right attributes will help you stand out to potential shoppers. You are only able to select from a list of factual attributes, however. Subjective ones, such as "Popular with locals," rely solely on the reviews of customers who have actually visited your business.
As for your opening date, adding this will help your customers notice you and get an idea of how long you've been in business. This is especially useful if you haven't officially opened your doors yet.
Business description
Your business description will help your customers get a better feel for your brand and why they should choose you over the competition. It should be professional and align with your brand voice and standards, all while staying within Google's 750-character limit. Here are a few best practices for writing your description.
DO include:
1-3 high-value keywords (SEMrush

 

is a great resource for this)
A brief overview of what your business provides
What sets you apart from the competition
An interesting or relevant brand history tidbit
DO NOT include (these will most likely result in Google denying your description):
Any outside links
Special offers and other sales pitches
Misleading or false information
Prohibitive and offense content
Add photos
One of the simplest and most effective ways to stand out on Google Maps is to add pictures to your GMB listing. Businesses without any photos will display a generic map image and look far less appealing to potential customers.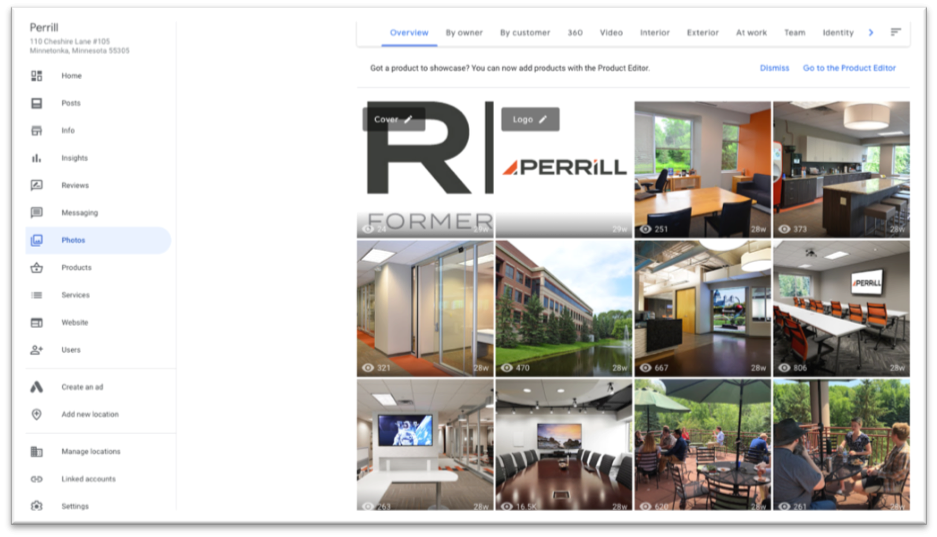 Be sure to choose only high-quality photos that give an accurate representation of what it's like to be at your business, preferably during normal operating hours. Google helps by breaking them into several different image categories, such as a logo, interior shot, exterior shot, team photo, and products/menu items. Try to find images for as many of these categories as you can, even if they're not an exact fit.
It also helps to rename your images first, as Google includes these descriptions in its SEO formula. Be sure each one includes the name of your business, your industry/category, and a very brief description of what's in the image.
Double-check your information
Once you've confirmed that all of your info is correct, your account should be ready to go!
Resolve any duplicate listings on Google
Unfortunately, it's entirely possible for multiple listings of a business to exist in Google. If this is the case for your organization, you'll want to get it figured out as soon as possible. Otherwise, it will make your business look less credible, it may confuse your customers with incorrect or outdated information, and it can negatively impact your ranking as people leave reviews on the wrong listing.
This occurs most often as a result of a brand name or location change, or if an organization didn't check to see if their business was already listed before adding themselves. Follow these instructions to properly remove or report any duplicate listings directly to Google.
Get more reviews
While many businesses will ask their most trusted and loyal customers to leave reviews, you definitely shouldn't solicit them in bulk or incentivize them in any way. That would be in violation of Google's policies, and while you probably won't get busted for it, dozens of reviews in a short period of time will look rather suspicious.
A better method is to simply make it easier for your customers to leave a review, such as linking to the review form in your email newsletters, business cards, invoices, and on physical signs near your checkout area. Having a high star rating will boost your click through rate and make your business look much more appealing in general. Just know that you can't control what people ultimately say about you, so be prepared for negative reviews.
That said, the occasional negative review probably won't hurt you too much, and can actually make you look more authentic. Just make sure you respond to as many positive and negative reviews as you can. Even if the comments are harsh, this shows other readers that you care enough to try and make it right.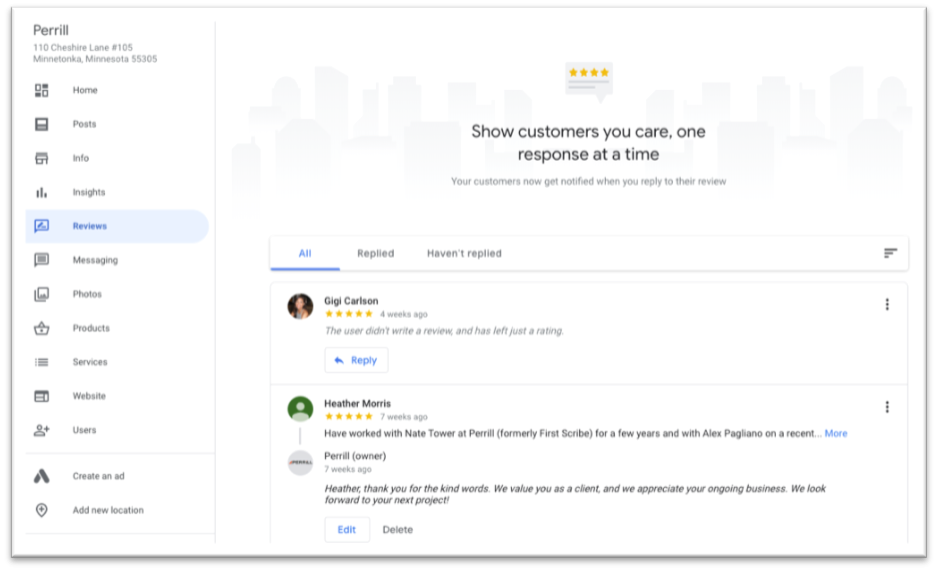 Increase the quantity and quality of your citations
You might be asking yourself, "What exactly is a citation?" No, this isn't a research paper requiring an MLA-style bibliography. A citation is essentially a record of your NAP (Name, Address, Phone number), which Google uses to further prove your location.
Citations can typically be found all across the web, from external websites to local directories. They typically consist of the following seven things:
Business name
Street address
City
State
Zip code
Phone number
Website URL
When it comes to the number of citations in your portfolio, the more the better. There are several online tools available (such as Moz Local) that can automatically increase your volume of citations on major directory sites like Yelp and Yellow Pages. Just know that they won't be able to help you with hyper local listings, so you'll either need to research those on your own or hire a local SEO company to do it for you.
While the quantity of your citations is important, it shouldn't come at the expense of quality. The best way to do that is to make sure your citation sources are both relevant and authoritative.
Relevant Sources:

 

These are going to be specific to your location and/or industry. For example, Perrill is a digital marketing agency in the Twin Cities, so we would want to be included in any directories that list these types of businesses in the area.
Authoritative Sources:

 

The more well-known and trusted a source is, the better. Having your citation published on your local chamber of commerce website is far better than on a directory nobody has ever heard of before, run by some guy in his basement.
Guest post on other sites
If you're an expert in your field, show it! There are few things more beneficial to good SEO than writing content for popular local or niche industry websites. This is a great way to get your name out there, while also linking back to your website and Google Maps landing page.
If this kind of thing isn't your speed, another option is to get a press release written about your business. There are plenty of services and news outlets that can do this for you. Not only will it provide beneficial backlinks, but it's a good way to build credibility and trust in your industry.
Optimize the content on your website
A lot of businesses make the mistake of updating the info on their GMB listing and then linking to a site that hasn't been touched in nearly a decade. Your website plays a very important part in supporting a higher Google Maps ranking, so here are a few things you can do to quickly improve it.
Check your NAP information
We've already mentioned the importance of being consistent with your NAP info, and your company website should be no exception. Double check that all your info (don't forget the footer) matches up exactly with what you have in your GMB listing.
Embed a Google Map
If you have a Contact page on your site (and you probably should), a good idea is to embed a Google Map of your location. This confirms to Google that your business is located where you say it is in your listing. Just make sure you're using an interactive map that your site's visitors can interact with. If you don't know how to do this, here's a great tutorial.
Update your landing page content
Make sure the content on your landing page and other main pages are all optimized for location-based searches. This means there is at least 1,000 words, your images are all geotagged, and you've dispersed your local keywords into the headers, sub headers, body, and image alt tags multiple times for best results. Alternatively, you could hire a professional content writer to do it all for you.
Build a more responsive and secure website
In today's world, the vast majority of traffic comes from mobile users. If your site isn't mobile friendly, doesn't have an SSL certificate, or fails to load fast, it's time for an upgrade. Not only will this help boost your rankings, but it will also lower your bounce rates and increase conversions. That is what's known in the industry as a "win-win."
At the end of the day, be patient
Ranking in the Google Maps 3-Pack is not going to happen overnight, especially if you have a new website or are in a highly competitive market. Not to mention that doing this all too fast is going to raise plenty of red flags over at Google.
Just take your time and keep plugging away at getting more reviews, increasing your citation numbers, and optimizing your website. Before you know it, your business will be sitting in a well-deserved spot atop the pack.
If this all seems like a lot for you, then perhaps it's time to turn to the experts for help. Perrill is a full-service digital agency that delivers responsive web design and strategic SEO to clients in Minneapolis and all across the U.S. Contact us today to find out what great SEO can do for your business.

Nate Tower has over 10 years of digital marketing experience and currently serves as the President of Perrill. He is a creative expert gifted in pinpointing our clients' realities, goals, and audiences and turning that information into a captivating and never-before-heard brand story. With roots in digital marketing, education, and creative fiction, Nate's an Old Faithful-caliber fountain of knowledge.