Back
6 ways to get quick and easy backlinks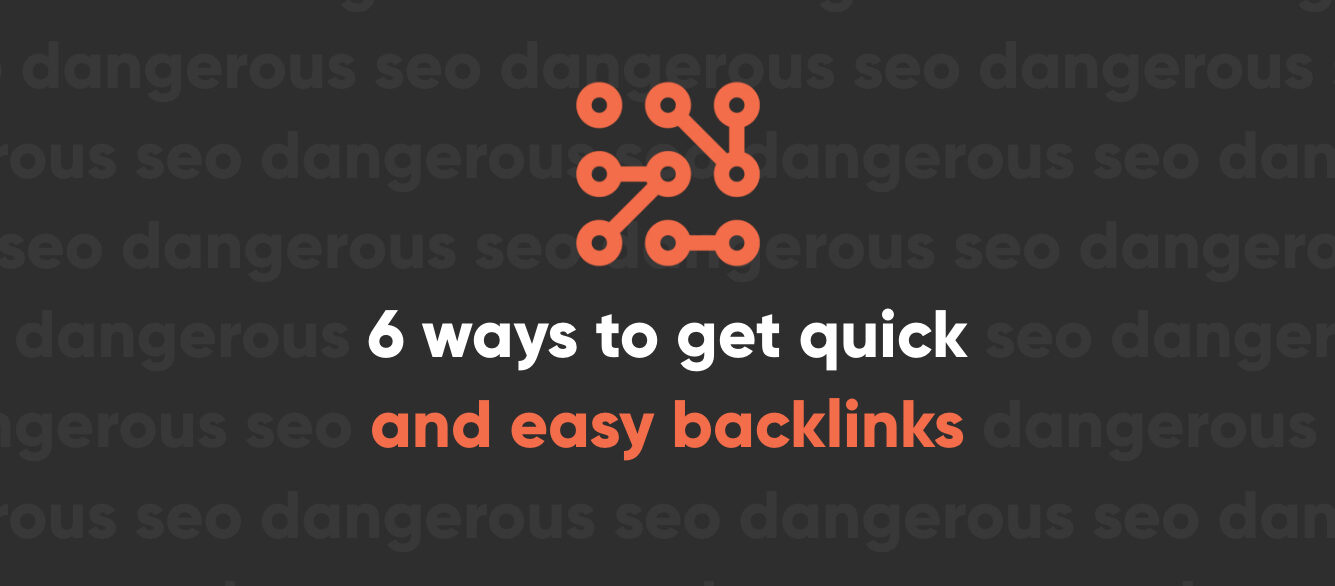 At first glance, "easy backlinks" seems like as much of an oxymoron as "small sumo wrestlers." Sure, there might be a few of them, but where do you even start looking for one?
Backlink outreach like cold-emailing and guest posting can be disheartening, time-consuming, and downright difficult. Unfortunately, that doesn't change the fact that earning link equity is still vital to your SEO strategy in 2020. Sometimes, you just have to get creative. Let's get into some time-saving and surprisingly simple backlink tactics.
1. Fix Your Broken Backlinks
It's not as sexy as earning shiny new backlinks, but fixing broken backlinks is a simple way to increase your link juice. Broken backlinks are inevitable for any website, especially if you've removed content or moved it to another location.
All you'll need is:
A backlink audit tool like Ahrefs
A website crawler like Sitebulb
The ability to create 301 redirects.
With these useful tools, you can identify broken links and redirect them to the correct page on your site, recovering your backlinks without reaching out to anyone. It's almost as good as finding a twenty in that jacket you haven't worn for awhile.
2. Find Broken Links on Other Sites
Your site isn't the only one with broken backlinks. There are all kinds of sites with broken links they're not aware of or haven't bothered to fix. These are prime opportunities.
It's easy enough to find broken links on your own site, but how do you find them on other sites? If you have access to a site explorer like Ahrefs or Moz, you can easily search individual domains, then look through outgoing links of sites in your industry or incoming links of your competitors and filter by 404 links. Then, determine if it's relevant to replace the broken link with a link to your site and reach out to the site to do so.
If you don't have access to a fancy tool, don't panic. You can perform a similar search manually. Start by generating a list of broad target keywords for your business and industry. Then, Google these keywords along with a common "list phrase." These may come before your keyword, like "best" or "top," or after your keyword, like "to follow" or "to visit."
For example, if your keyword is "ice cream shop," you can search "best ice cream shops."
You can look at each domain and use a free plugin like Check My Links to spot broken links, then decide if a link to your site would be a good fit. A great place to look is the "recommend links" or "resources list" that many sites have at the bottom of articles. These link lists are likely to have a broken link or two that fits your site.
3. Spy on Competitor Mentions
Your competitors probably have some valuable backlinks that you don't. Naturally, you'll want in on that sweet, sweet link juice.
Thankfully, there's a simple method to find websites that mention and potentially link to your competitors but leave you out: a Google search. Just type this into your search bar and fill in your competitors and your brand.
("COMPETITOR1" AND COMPETITOR2) -intext:"YOUR BRAND" -site:competitor1.com -site:competitor2.com -intitle:competitor1 -intitle:competitor2
Let's say you're Ben & Jerry's and you want to spy on Dairy Queen and Cold Stone Creamery's mentions. You'd search this:
("dairy queen" AND cold stone creamery) -intext:"ben & jerry's" -site:dairyqueen.com -site:coldstonecreamery.com -intitle:dairy queen -intitle:cold stone creamery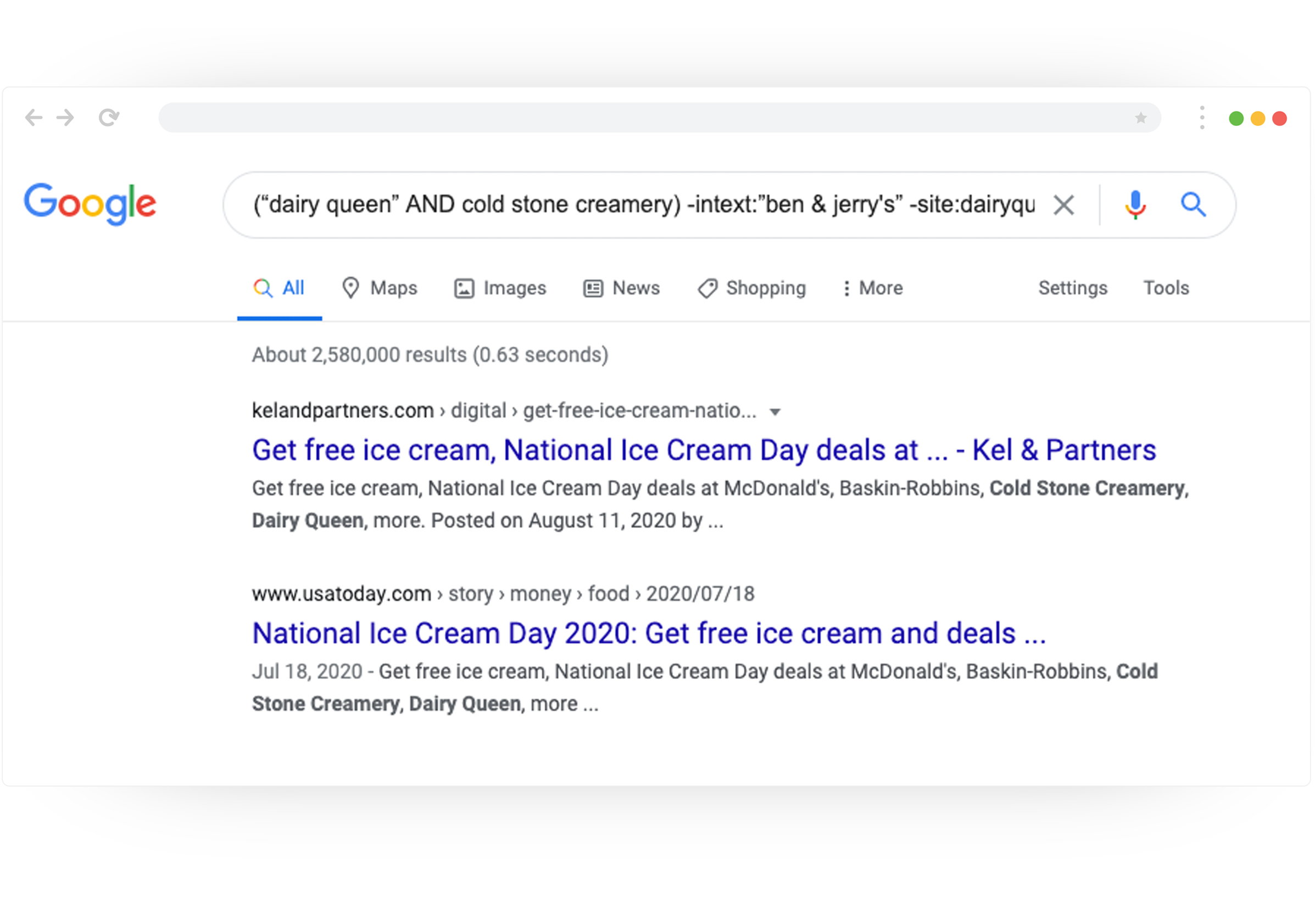 Looks like there are several ice cream-related articles where Ben & Jerry's is left out.
You'll likely come across results like industry list posts or news articles where your competitors are linked and you aren't included on the list. You can run searches with multiple combinations of competitors to find more opportunities, then reach out to the site and make a case for your inclusion on their list.
4. Maintain Your Digital and Business Relationships
Credibility is essential to successful link building, and who better to cultivate your credibility than companies with whom you already have relationships? Maintaining and growing both your digital relationships (sites that already link to you) and your business relationships (sites that you do business with and should link to you) can be a great way to snag backlinks.
If a site already links to you, spend some time familiarizing yourself with their content. Do they have additional articles or posts with a relevant linking opportunity? If so, reach out! They've already linked to you, so there's a much higher probability they'll want to again. If there's a relevant post on your own site, you can return the favor and maintain the relationship by linking back to them.
Companies you do business with (clients, brands you stock, suppliers, services you use, partners) also represent an excellent opportunity for earning backlinks. Make a list of these businesses and search their websites for link opportunities. Look for lists like "Our Clients," "Our Customers," or "Where to Buy," anywhere the site is listing companies they have a relationship with.
You can do this with a Google search:
site: company.com intitle: "our customers" OR intitle: "our partners"
Ben & Jerry's knows they have a partnership with 350. But do they have a linking relationship? They can find out with this search:
site:350.org intitle:"our partners" OR intitle:"our community"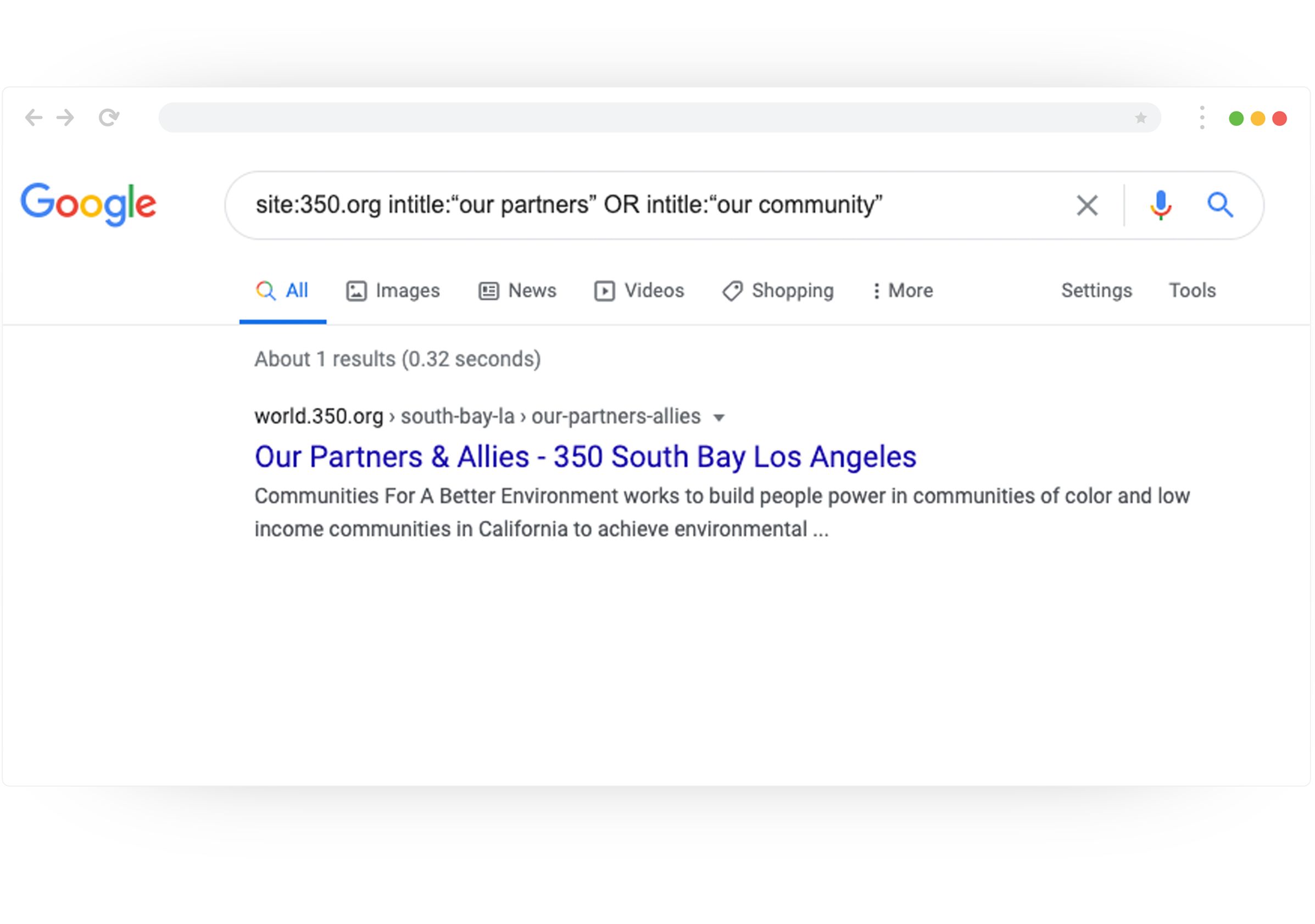 Ben & Jerry's can then click into this result's source code and CTRL + F for their site and brand name. If neither is included, they aren't getting mentioned or linked to.
It may take some trial and error, but eventually, you'll find lists on your supplier or client's site that your brand belongs on. Since your site is relevant and you have an existing relationship with the business, reaching out to them for a backlink will have a much higher chance of converting than cold-emailing.
5. Convert Brand Mentions into Links
Sometimes, a site will mention your brand name without linking to it. While this is certainly disappointing, it's also the perfect backlink opportunity. After all, they clearly like your brand and the anchor text is already in place. You just need to politely ask them to make it clickable.
A simple way to find these brand mentions is (you guessed it) another Google site: search:
intext:[your brand] -yoursite.com -twitter.com -facebook.com -pinterest.com -youtube.com
This will show sites that mention your brand, excluding social media sites. Then, you scan the results for sites that are relevant to your brand, open the site's source code, and CTRL + F for 'yoursite.com.' If there aren't any results, they mentioned your brand without linking to it.
A Ben & Jerry's brand mention search looks like this:
intext:ben & jerry's -benjerry.com -twitter.com -facebook.com -pinterest.com -youtube.com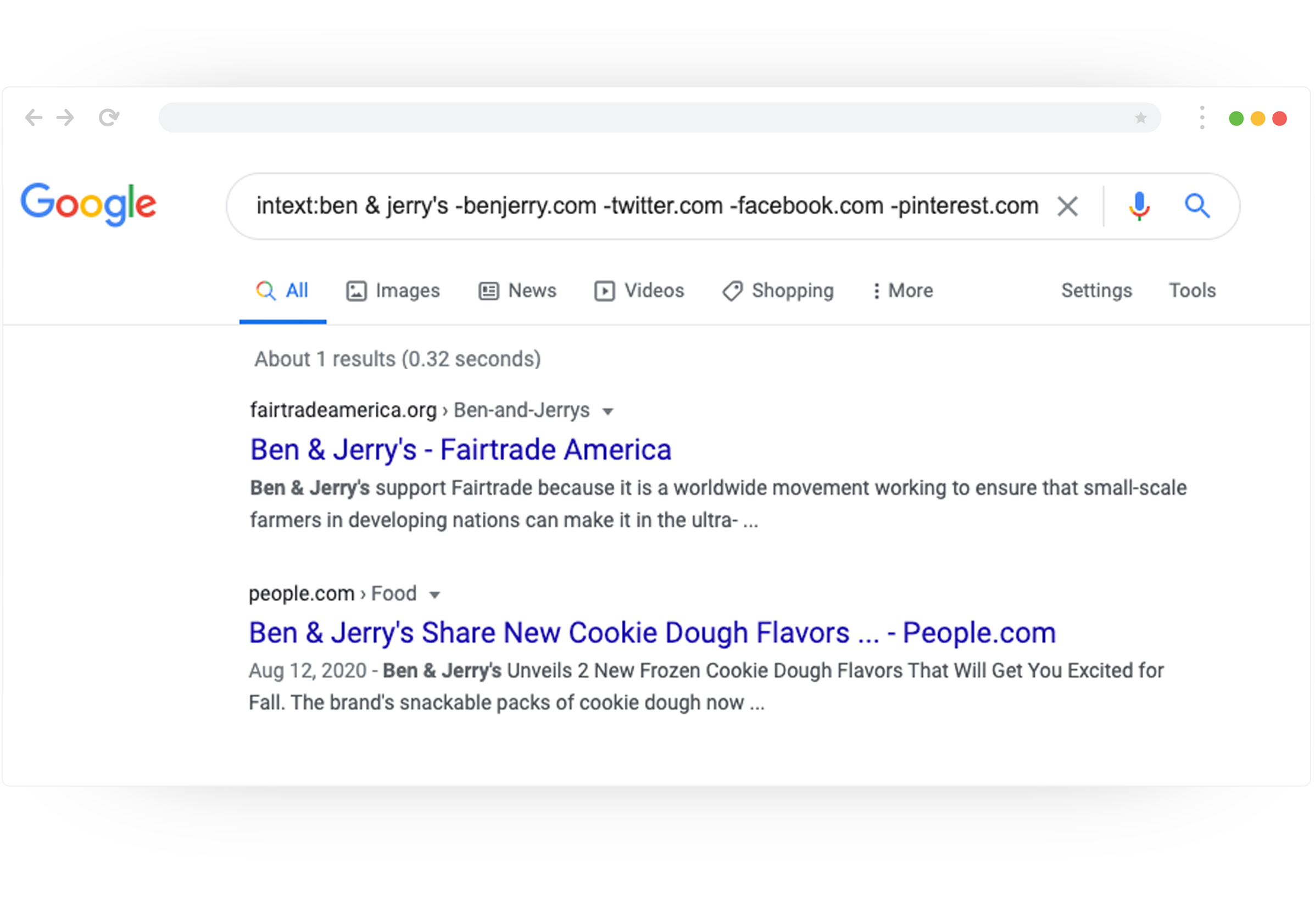 As it happens, neither of these articles link to Ben & Jerry's site, despite mentioning the brand name in the title! It's a perfect backlink opportunity.
Make sure you're selective, otherwise this process can become time-consuming. As you parse through the SERP, look for pages that mention your brand clearly and prominently like:
Industry directories
News stories
Ranked lists ("Best ___," "Top ___ Companies," etc.)
If you have access to the Ahrefs Content Explorer (essentially a mini search engine) you can filter the results more effectively and save even more time.
6. Have Links in Mind When You Create Content
While creating content isn't quick and easy on its own, you can easily shift the format of your content to make it something people want to link to. According to a recent link study of over 1 million articles, 75% percent of online content earns ZERO backlinks. That's a lot of work with no backlinks to show for it.
Thankfully, the type of content you create can have a big impact on the links you earn. These types of content had the most referring domain links:
The format of your content makes a real difference. The most successful format, list posts, earned an average of 6.19 links. That's a lot more than zero.
So, the next time you sit down to write a blog post for your site, don't spit out a few long paragraphs and call it a day. Break down your content into a digestible list or frame it as a "How to" post. You won't spend much longer writing your post, and you'll have a piece of content that's more backlink-friendly.
Bonus: identify existing content that can be turned into a list, "how to", or "why" post. Some posts may already be prime candidates for this and take very little time to optimize for links.
Build Links with a Partner
Even though acquiring backlinks is quicker and easier than you thought, you may still be hesitant to implement these tactics yourself, or you may simply not have any time in your schedule.
Never fear, there's an experienced SEO partner that would be happy to start earning you backlinks. Perrill is a full-service digital marketing and web design agency that's passionate about partnering with you to exceed your goals. Let's start getting results today
Dan Cole is the Manager of Content & Copywriting at Perrill. He has been professionally strategizing and creating original content since 2011 across agency settings, corporate positions, and journalistic beats, and now masterminds written materials of all kinds for Perrill's clients. He was named Acme Comedy Co.'s Funniest Person in the Twin Cities in 2014 and will never let any of us forget it.