Back
How to choose the right CMS for your website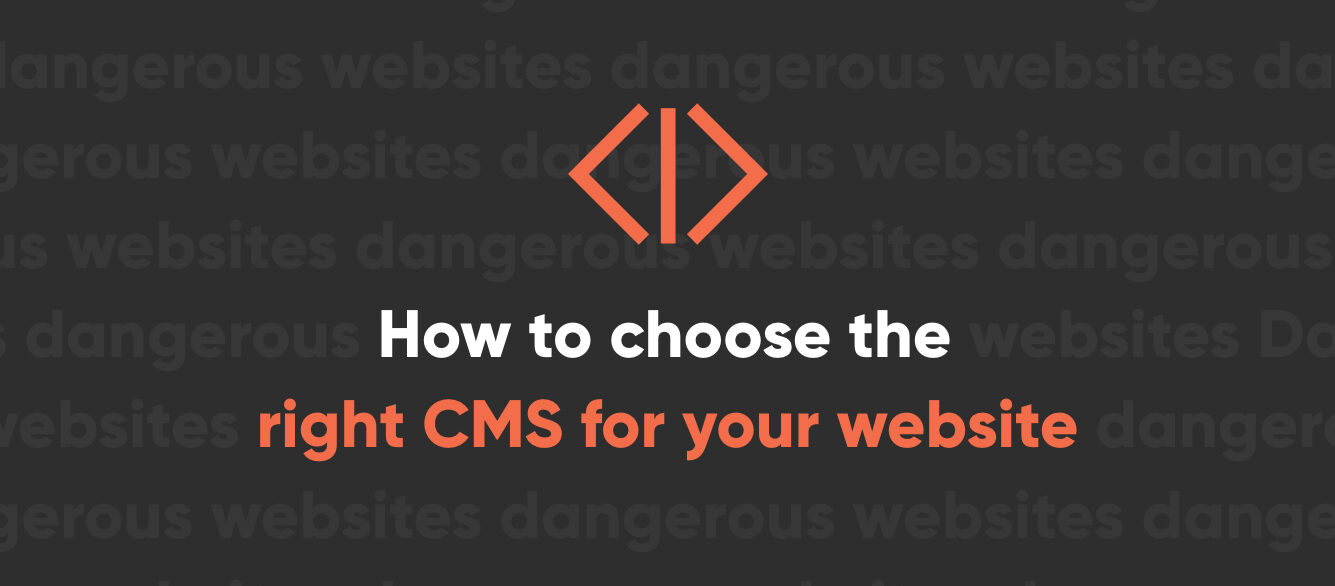 So, you need a new website—that's great. The fact that you're even willing to accept that means you're well past the stages of denial, anger, bargaining, and depression.
Feelings aside, there are many reasons why you may need a new site.
Whether you're starting from scratch to support a new business, jealous of the shiny new website of your top competitor, or suddenly aware that your site looks like it escaped from the Wayback Machine, you probably don't need any more convincing.
The time has come to finally make it happen. But where on Earth do you start?
If you want the right CMS, you need to **spoiler alert** ask the right questions
A CMS is a content management system—essentially the framework software that allows one to build a website—and it should come as no surprise that there are dozens of them to choose from.
Some are quite popular, while others are called Moodle and Duda for reasons that will never be known.
How can you possibly know which one is right for you?
If you didn't skip past the spoiler warning above, then you know the answer lies in asking the right questions.
It doesn't matter who you consult—a highly qualified web design firm or that guy at Best Buy who "looks smart"—if they didn't ask a single question about your business or the goal of your site, they're probably going to steer you wrong.
So, what are the right questions?
Fortunately, we anticipated this query (probably because we asked on your behalf) and put together this handy flowchart for you to navigate.
Still not sure what all of that means?
That's okay. We'll explore each question in detail so you can confidently maneuver the flowchart with ease.
Do you have the budget to hire professionals to build your website?
Like with many things, what you ultimately get out of your website will depend entirely on what you put into it.
Are you a student in need of a portfolio site or a visionary with the dream of starting an ugly renaissance baby blog? If so, you'll be just fine creating the site yourself with a low-cost monthly plan from Wix or Squarespace.
If you're running a legitimate business, on the other hand, you're going to want to invest in a proper website. A website redesign is not a cheap and easy process—but it is worth it.
For a basic lead gen site, you're going to need to invest a sizeable amount of money if you want it done right. Of course, a more complex eCommerce site will easily set you back 4x that amount.
If spending that kind of money scares you, then you're probably still comparing your website to that faded old billboard above the local Denny's parking lot. Great websites are more aptly compared to a company's most valuable employee—because that's what they should be.
Pay them accordingly.
Is eCommerce the main goal of your site?
This is arguably the most important question when it comes to choosing the right CMS. Many platforms offer eCommerce tools, but very few excel at it.
Now, when we say eCommerce, we don't mean linking to your products on Amazon. While you can do that if you want, be aware that Amazon (and oftentimes an additional independent seller) will be taking a cut of the profit off the top.
A true eCommerce site has everything built in to sell your products directly, from an "Add to cart" button to an automated order confirmation email.
If this is what you want, then the number of quality CMS options can be significantly whittled down.
The same applies to the number of quality eCommerce developers.
Do you want custom content management, a truly unique design, and/or full control of development?
While using a standard template is great for saving you money and getting your website up and running quicker, you do run the risk of it looking eerily similar to many other sites on the internet.
If you want your website to be truly one-of-a-kind, you'll need to choose a CMS that allows full control over development, 100% custom designs, and a content management system that allows you to bend your site to your every whim.
Keep in mind that you will need to hire a website development/design company to create (and often host) your new site, which will be quite a bit more costly. However, if you're a mid-sized or larger company, this is almost always a must.
Do you have 1,000+ products and want custom integration and highly configurable settings?
Okay, so you have an eCommerce site. We can continue to narrow down the field from there.
There are plenty of content management systems out there that are well suited for smaller stores. If you sell anywhere from a handful of t-shirts to a few hundred auto parts and can get by with a limited number of features, then Shopify or WordPress (with a WooCommerce plugin) will be perfect for you.
Is your product catalog a bit more extensive? Or perhaps you want custom ERP, CRM, or API integration? Whether you're a local brand or a global enterprise, Magento 2 is probably going to be the most manageable and profitable system for you.
If you use HubSpot, Salesforce, Klaviyo, or any number of other integrations to make your business life easier, they can all be seamlessly integrated with the right CMS. And when that CMS is in the hands of a skilled developer, you can have a site that looks and performs exactly how you want it to, unusual coding and all.
Which popular CMS is right for you?
By now, you should have been able to successfully navigate the flowchart above and arrived at your CMS destination. Congratulations—it's time to start building your site.
Now, some of you may be thinking, "Hold on, you said there were dozens of CMS platforms to choose from. Why do you only have five options listed?"
The answer to that question lies—of all places—in a Cheesecake Factory menu.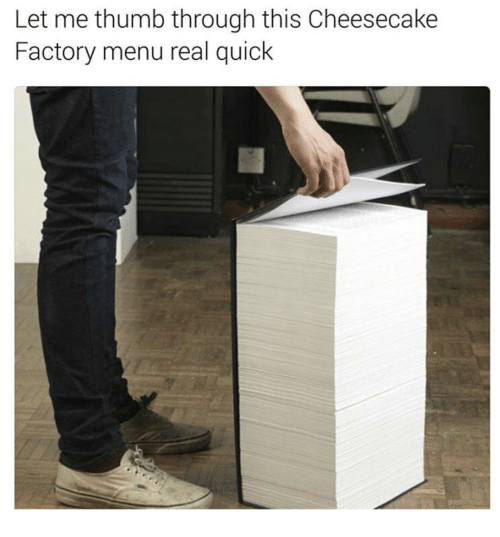 The last time you were dining at a Cheesecake Factory and scrolling past page 64 of the menu, did you think to yourself, "Boy, I do wish there were a few more options to choose from"?
Probably not, right?
Having options is great. Having too many options is overwhelming.
Unless you bought stock in Ticimax or NetCat, or your developers have a really strong preference for whatever reason, you're probably going to want one of the most popular and well-supported platforms on the market.
Just like at the Cheesecake Factory, unless you already know what you like, chances are you'll ask your waiter what they think is good. In this case, think of us as your waiter.

These are the CMS meals we recommend. It's time to order.
Build your custom website with Perrill
We develop websites to meet your goals—all of them.
Whether that means capturing leads and sales or creating a back end that lets your team seamlessly manage content, our certified developers will create a site that looks and performs exactly how you need it.
From initial strategy through development, we work collaboratively to ensure the look, feel, and functionality of your new website will provide an exceptional customer experience that results in maximum ROI.
Still unsure which CMS is right for you?
Contact us today for a free platform consultation.

Greg Johnson is a Copywriter at Perrill. He takes great pride in crafting creative, strategic content for his clients that their audiences find value in and actually enjoy reading. When he's not typing away at his work computer, you can usually find Greg typing away at his home computer, writing superfluous stories and embarrassing poetry.