Back
9 ways to maximize your eCommerce SEO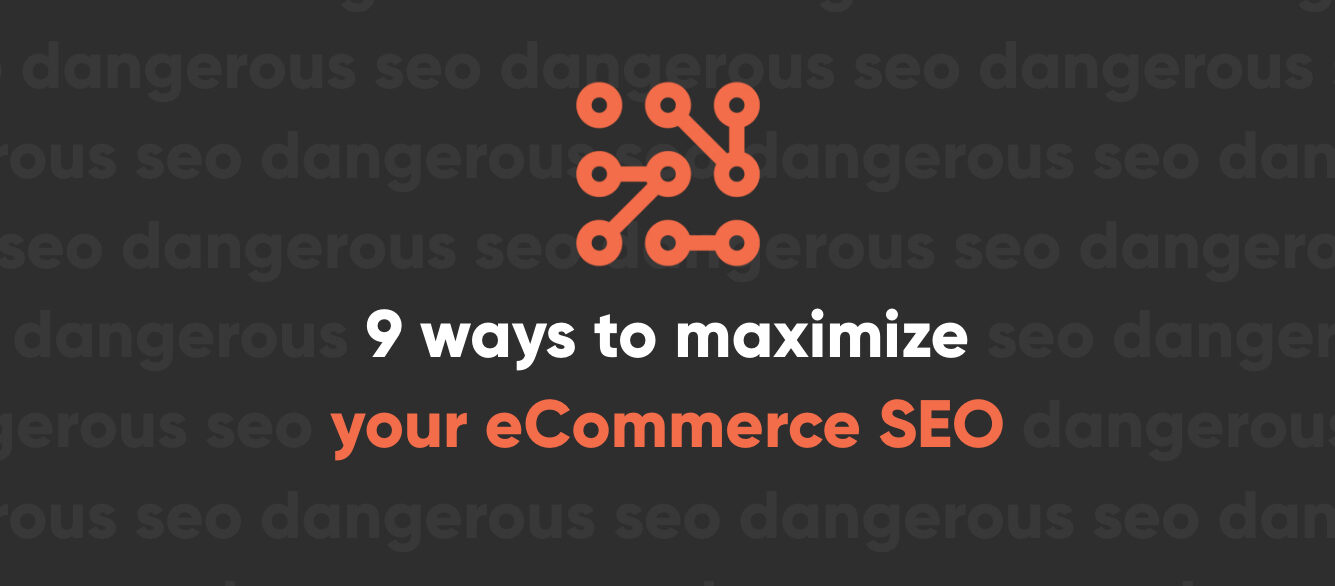 Measuring the success of an eCommerce website essentially comes down to one thing: how much money it generates for your business. And while your products, brand positioning, and website design can all be top-of-the-line, it ultimately won't matter unless customers interested in finding you are easily able to do so.
This is what SEO aims to accomplish, and it has a special importance for eCommerce businesses whether your sights are set on a local, national, or global scale.
Here's a closer look at why SEO matters for online businesses and 9 tips to ensure the right customers are finding your website.
Why SEO matters for eCommerce websites
The days of brick and mortar are fading – and have been for some time. No successful business can expect to remain successful in 2020 and beyond without a strong digital presence. This is especially true for eCommerce websites, whose revenue is largely dependent on sales driven directly through the site.
Taking steps to boost your website's SEO helps:
Your website rank more highly for search terms related to your products and services
New customers find your website, even if they've never heard of you before
Google recognizes the authority and usability of your website (which also leads to higher rankings)
Cultivate a better user experience once customers arrive at your website
Establish your brand as a leader in your industry
Let's dig into the 9 ways to improve your eCommerce website's SEO.
1. Prioritize your keywords
For every website, there are thousands of potential keywords you could rank for. It's up to you to prioritize which ones you want to target. You don't have time to focus on all of them, and trying to do so will most certainly be ineffective.
To help prioritize, you can think about keywords in three levels: brand, product, and category.
Brand (e.g. ABC Outdoors) – It is absolutely imperative you rank first for searches related to your brand. If you don't, you're missing out on easy (and almost guaranteed) revenue.
Product (e.g. Kimook Jacket) – Searches for these keywords have high purchase intent, as users are already zeroed in on what they're looking for and are often ready to buy. If you rank first or near the top for terms related to your products, you're one step closer to securing a customer.
Category (e.g. Hunting Gear) – These keywords are higher-volume but are also less likely to convert, as customers are still in the research phase and are thus less certain of what exactly they want to buy. Still, ranking for these terms is a great way to build exposure and gain new contacts.
2. Find longtail categories
Once you're ranking well for your brand- and product-related keywords, it's time to focus on longtail keyword opportunities within your product categories. These are essentially subcategories within the greater category umbrella.
For example, if Hunting Gear is the category, "cold weather hunting gear" is a longtail keyword that while producing less traffic will deliver higher purchase intent to your website. Category keywords are good for generating traffic, while these subcategory keywords are good for driving purchases.
3. Know how your customers search for products
In order to make the most of your product pages' SEO, you need to know how your audience searches for your products. Do they type in the exact product name? Do they use the SKU or part number? Do they refer to your product by a common nickname?
To get a glimpse of this, take a look at your site's internal search history. Having an understanding of what your users are searching for will influence your SEO efforts and will help you more effectively set up your product pages.
4. Write unique product descriptions
It's important that each of your product descriptions are unique and conversion-friendly, speaking to the benefits of each specific product. This is especially important for high-cost items, where the benefits need to be more clearly outlined in order to inspire a purchase.
Avoiding duplicate content across product and category pages keeps Google and your users from getting confused, facilitating more effective UX and SEO.
5. Watch your crawl budget
This is one of the more technical aspects of eCommerce SEO, but it is critical, and there are tools to help you get it done. First things first – what is a crawl budget?
A crawl budget refers to the number of pages Google will crawl from your site on a given day. This is not a preset or neatly defined number, as Google crawls based on the size of your website, your site's authority, the age of your site, and more.
Crawling applications often think eCommerce sites have more pages than they do. This is due to there being multiple paths to different pages and filters that can confuse crawlers like Google. Though the page being crawled multiple times is technically the same, Google equates a different path to a different page and crawls it multiple times. This is not an effective use of your crawl budget, as you only get so many pages afforded to you.
To work on correcting this, take a look at your log files to see which pages are being incorrectly crawled and then set up blocks so Google only crawls pages you want it to.
6. Use all structured data types
Structured data types are schema markups that communicate with Google to show more info on SERPs. This is beneficial because it delivers more info to users more quickly which increases the likelihood of them clicking into your site.
In fact, one case study of a Perrill client showed the use of structured data increased click-through rate from 4.8% to 10.1%. If a user sees a snippet on Google that only shows a product's name and price while another shows name, price, size, review rating, and shipping period, which do you think they're going to click on?
7. Create buying guides and comparisons
Original content is one of the key drivers of SEO performance. For eCommerce, this primarily includes buying guides and comparisons that can either take the form of downloadable resources, blog posts, or other media like videos and infographics.
These content pieces are designed for the research phase, answering questions users may have early on in the purchasing process. Not only do they improve your site's rankings, but they also drive more conversions by speaking directly to your products' benefits. Comparison pieces in particular offer the ability to directly target your competitors and to steal competitor traffic.
8. Align your SEO with your paid search
Organic SEO and paid search are two effective ways to target your audience, both of which should live together side by side. To decide where to focus on SEO and where to focus on paid search, ask three questions of your highest-priority keywords:
Does it have high volume? High-volume keywords can be more effectively targeted with SEO. Low-volume keywords can also be beneficial, as long as they're high-intent and low-difficulty.
Is it relevant? All the volume in the world won't matter if the keyword isn't highly relevant to your business.
Is it realistic? Ranking highly for a certain keyword may not be realistic, if it's a competitor's branded term, if it's too difficult, or if you don't have the resources required to do so.
If you answer yes to all three of these questions for a keyword, it is a great target for organic SEO efforts. If you answer yes to the first two but no to the third, it's likely a better paid candidate, which can provide support for keywords you lack the resources to pursue.
9. Post-purchase SEO
This is an often-forgotten area of eCommerce SEO – the need to drive customers back to your site after they've completed a purchase. This is a great way to create brand loyalty among repeat customers and most often takes the form of supporting resources (manuals, brochures), shipping and returns information, and customer reviews.
Dial in your digital strategy with the experts at Perrill 
The Perrill team is comprised of collaborative experts in the latest and most proven trends in digital advertising, SEO, content marketing, and much more. In more than 25 years as the original Minneapolis digital agency, we have helped countless local and national businesses establish themselves as online industry leaders.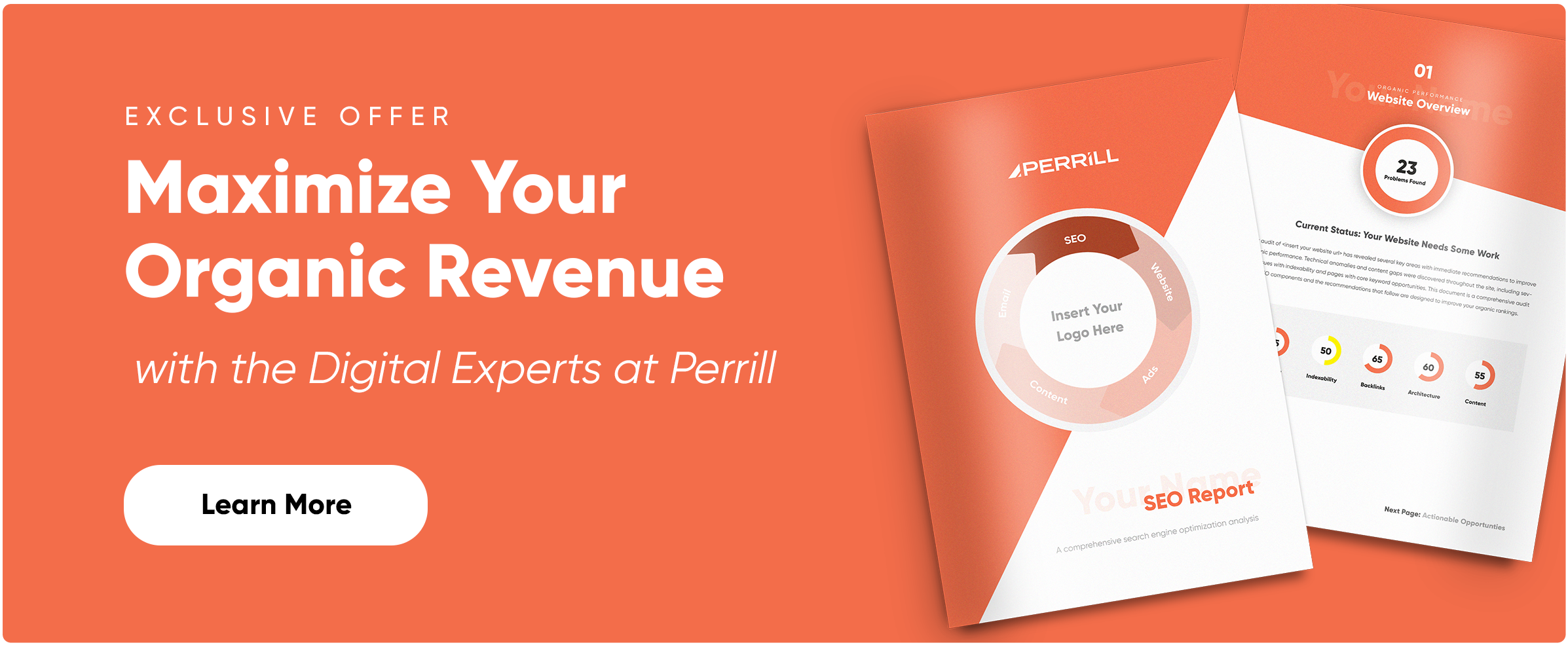 Contact us today to learn more about how to craft and execute a strategy designed to get the most out of your ad spend. 

Dan Cole is the Manager of Content & Copywriting at Perrill. He has been professionally strategizing and creating original content since 2011 across agency settings, corporate positions, and journalistic beats, and now masterminds written materials of all kinds for Perrill's clients. He was named Acme Comedy Co.'s Funniest Person in the Twin Cities in 2014 and will never let any of us forget it.