Back
Google May 2022 Core Update: The Impact and How To Recover From It.

If the phrase "Broad Core Update" had you sweating back in May, then you might be able to breathe a sigh of relief. 
On May 25, 2022, Google implemented a "broad core update" to their algorithm. This core update, which took 15 days to fully roll out, was the first of its kind in over six months. Google's last broad core update was in November 2021. The world's most dominant search engine typically releases two of these updates each year (along with hundreds of smaller updates). 
In this post, we'll talk about what a core update is, what you should do during a core update, and what the ultimate impact of this particular core update was. 
What is a core update?
In a statement made by Google, the company explained that core updates are "changes we make to improve Search overall and keep pace with the changing nature of the web." Core updates are broad, meaning they do not affect a specific industry, content, or site. 
If you noticed a decline in your search rankings, don't worry. Google added that those sites did nothing wrong, and they are not being penalized. It is simply a change in how the search engine assesses the quality of content.  
Analysis and impact of the May 2022 core update
The best two words to describe the impact of Google's May core update would be, hard and fast. 
The update hit hard (where it hit, that is), and the impact was fast. 
Data collected from SEMrush shows the intense speed of the update. The SERP Volatility hit its highest on May 26, just one day after it started rolling out, as seen on the graph below.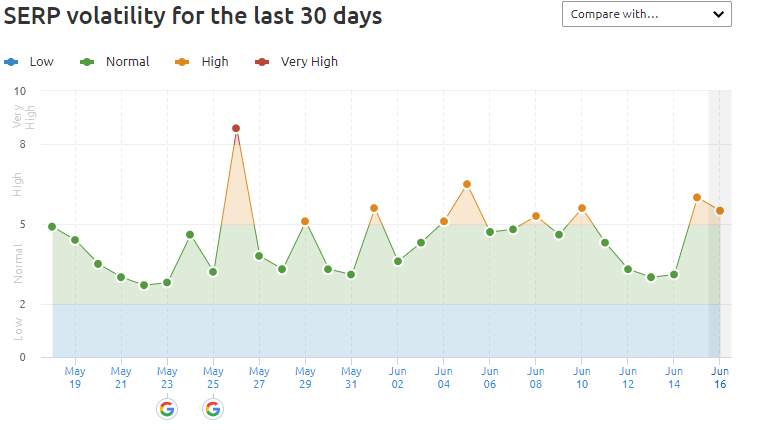 This was a hard hit across many SERPs (search engine result pages), but the impact declined pretty quickly after the initial spike. However, there were a few interesting peaks in the middle of the update that had a broader but softer impact on search results. 
This is the third update in a row from Google where the results showed a short and quick burst of volatility. Could this be a new pattern from Google's updates? 
The graph below also from SEMrush shows the comparison of the November 2021 update and the May 2022 update. This graph shows the lasting impact and change from both updates. While both updates had a short burst of volatility before leveling out, the permanent impact of the May 2022 update is noticeably less except for those in the Real Estate industry.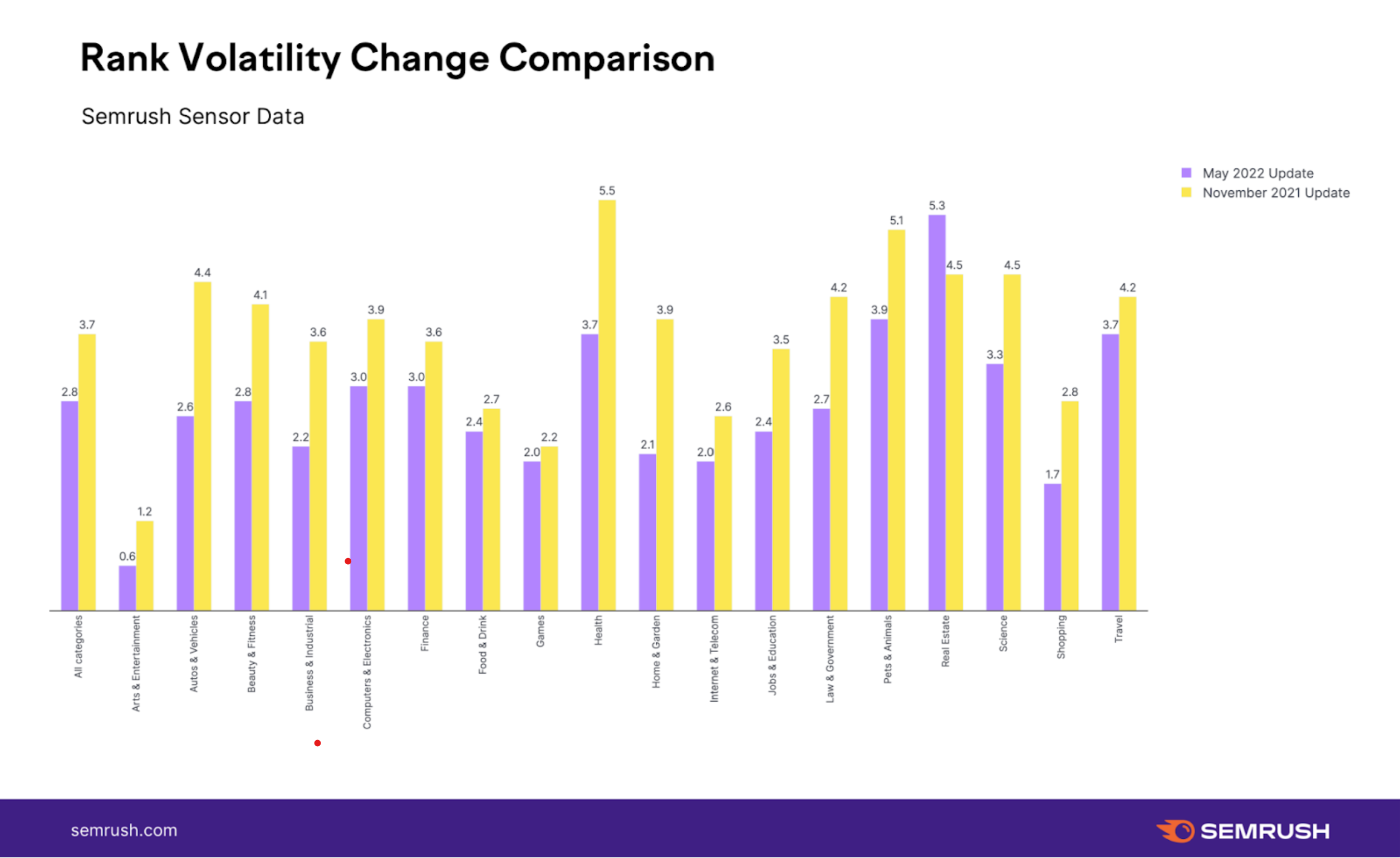 While core updates are typically not industry-specific, they do sometimes have a larger impact on certain industries simply because of the nature of how some industries build and optimize their websites and online presences. Real estate may have had a larger impact because of the industry's tendency to create thin and duplicative content, but that doesn't mean the update was specifically targeting real estate websites. 
Core update impact mostly felt outside of page 1
So what was the biggest impact of the core update?
Chances are pretty good that you didn't notice much in terms of traffic changes unless you have a pretty spammy website.  
We analyzed the search rankings and traffic of dozens of business websites to assess the overall impact the core update had on a wide range of websites. While our data sets are typically not large enough to show industry-specific trends, we were able to piece together the biggest impacts the update had on the search landscape as a whole. 
Sweeping generalization: If you were ranking on page 1 before the update, you are probably still there after the update. 
After conducting our analysis, we observed a sharp burst shortly after the update. It seemed to level out about 5-6 days later. From our analysis, we noticed this update affected second-page rankings and long-tail keywords the most. 
The update had little-to-no impact on first-page rankings. The following chart shows that sharp burst then leveling out a few days later. 
On June 1, 5 days after the update was implemented, we observed a large drop for page 2 and deeper ranked pages across many industries.  As you can see, #11-20 and #21-100 dropped significantly and then leveled back out again a week later, just one day before the rollout was complete.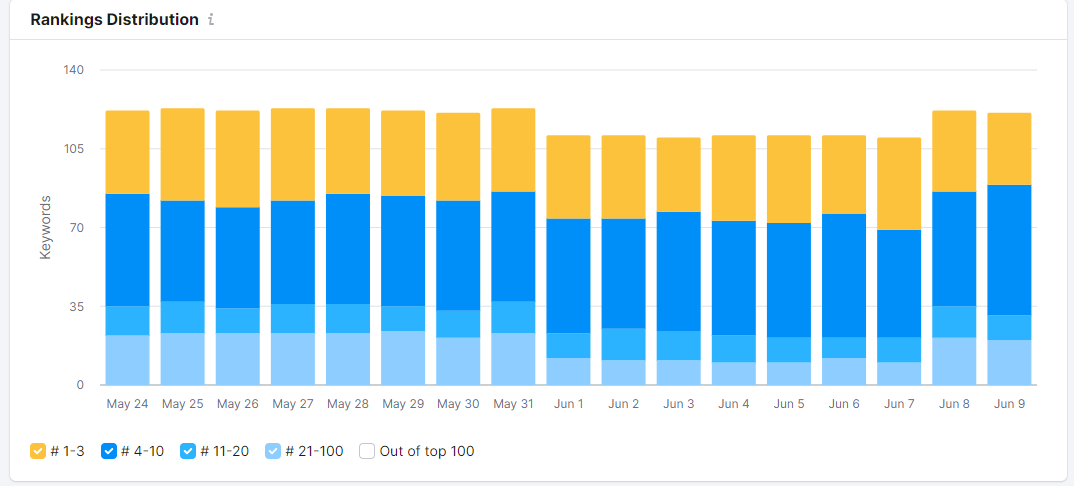 We saw this trend across over a dozen different websites in different industries. However, there were zero instances of sites we monitor losing a significant number of page one keyword rankings. 
How can my site recover from a core update?
If you weren't as lucky as the websites we analyzed and found your site's rankings scathed by this core update, there's no need to panic. However, it might not be a quick road back to the top. 
Google provides nothing specific on what to do when your site is impacted by a core update, but the search engine assures website owners that it doesn't necessarily mean their sites are bad. The general advice they provide is to continue building strong content and provide a good user experience. 
That doesn't mean you should dive in and make a bunch of quick changes. It can be counterproductive to make a variety of changes without fully thinking through each option. Making fast decisions could have further negative implications on your site.
Another important thing to consider here is that a lot of these changes may not be permanent. As noted in our analysis above, the sites that noticed a decrease leveled out after about five days. Wait until the updates are fully rolled out and then assess your position. 
Then, if you still need to make some changes to optimize your SEO we suggest:
Prioritize content

: Google focuses on relevant and authoritative content. When assessing your content

Google recommends asking yourself these questions:

 

Does your content have original information or unique angles?

Does the content draw from other authoritative sources? 

Does it have a descriptive headline?

Does this content draw on insightful analysis or interesting information?
Next, let's explore your analytics data. Were there specific patterns and trends of content that noticed significant declines? If you have Google Analytics, now is the perfect time to look at your new Google Analytics 4 property. To do this In Universal Analytics: go to Behavior > Site Content > All Pages. In your Google Analytics 4: go to Engagement > Pages and Screens. Then, adjust the time from the day the update launched to the day it finished rolling out. In this case, May 25th – June 9th and compare it to the week prior. You will be able to gather whether the update affected specific pages/posts vs your entire site.  
Look at competitors' sites

: Remember, a site that noticed declines in a broad core update does not mean you were penalized. It is just google reassessing its algorithm and some sites that were previously under-rewarded are now getting recognized. If you have an Ahrefs or SEMrush account, you can do a competitive analysis to see who made gains. Alternatively, you can do a manual SERP search and see what results come up. This can help refresh your content to make it more relevant. 

Produce new content:

publishing new content can help your site recover. Now with that said, do not start producing content just to produce content. Remember, quality over quantity if you want to rank higher in the SERPs. Conducting thorough keyword research will come in handy during this stage.
Key takeaways 
The May 2022 broad core update hit fast and hard from a volatility standpoint. In comparison to the November 2021 core update, volatility was rather similar. We noticed it affected 2nd-page rankings the most, but the impact seemed to level out after a few days.
Remember, if you noticed a dip in your rankings, you don't need to panic. It does not mean you were penalized.
When recovering from a core update it is important to keep the following in mind: 
Stay calm: wait for the update to fully roll out before making changes.

Assess your content: use data to make decisions and assess how your content is performing, then refresh your content in terms of relevancy.

Look at competitors: use tools like SEMrush or Ahrefs to see how your competitors are performing. 

Produce new content: produce new and quality content to help offset the effects.

Rely on experts: rather than trying to do this all on your own, make sure you enlist the help of a qualified SEO professional who can diagnose these issues quickly and implement the right changes for steady and sustainable growth. 
Improve your SEO
Improving SEO takes time and does not happen overnight. It can also be difficult to figure out the best place to start. To make it easier, you need a full-service SEO agency like Perrill. We are a full-service digital agency that has been helping clients rank at the top of search results and stay there. Contact us today to find out how we can help you win online.