Back
9 e-commerce strategies that will dominate the COVID-19 age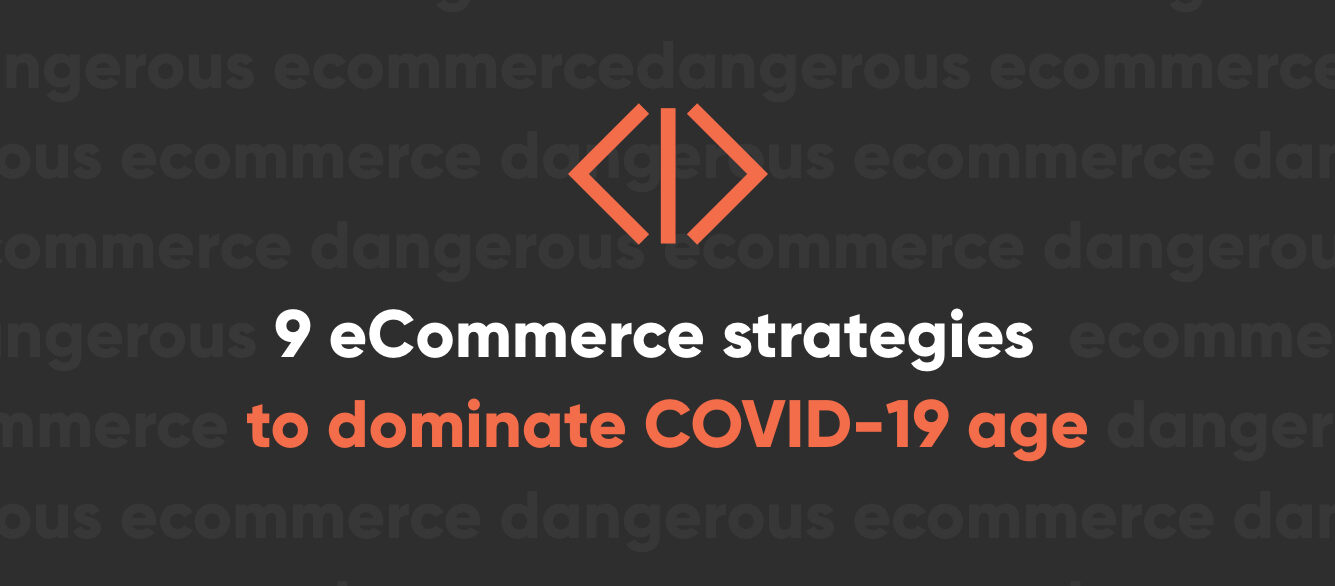 This post is adapted from a similarly titled webinar co-presented by Nate Tower and Alex Pagliano on 4/15/20. 
Many people believe there is a silver lining to every bad situation, and if that's the case, then certainly life in the age of COVID-19 is no exception. As business owners and marketers, we have an important choice to make. We could be fearful, pull back, and attempt to wait this whole thing out. Or, we could try to be optimistic and look for never-before-seen opportunities.
Brands have the potential for huge growth right now, but also the ability to destroy themselves if they do it in a tone-deaf way. Don't be in the minority that tries to short sell themselves and potentially wreck their long-term future for two months of sales.
With that in mind, here are nine strategies that will help place your e-commerce business in a position of growth and success in the wake of COVID-19.
1. Perform pricing research for profit maximization
As you conduct your pricing research, think about what the market will bear, both with and without COVID-19. Consider a variety of discount strategies to see if you can move inventory that way, so long as your margins will allow for it. Then thoroughly test at those different price points, especially if your products have some level of seasonality or have seen a decrease in demand due to the pandemic.
We have one client with a seasonal product that's generally sold only four months out of the year. We initially offered a 10% discount, but conversion rates only increased by 1.2x. After further tinkering and testing, we found that by upping the discount to 20%, the conversion rates doubled, which drastically increased profits for our client.
That being said, now is not the time to get aggressive with discounting and overdo your promotions. Not every product needs a discount, as some are selling astronomically at max price right now. By artificially lowering prices in spaces that are already selling well, you'll only cut into your margins.
If you do choose to discount, be mindful not to condition your audience. If you cut prices on everything, it could be difficult to break them out of this expectation when the pandemic finally does pass.
2. Show discipline in your keyword focus
Across the board, costs for keywords are down dramatically. At Perrill, we manage quite a bit of monthly spend, and right now our average cost per click has decreased by 11.6%.
Take this opportunity to go through and refine your keywords. Look at your negative keywords and segments within Google Analytics to determine whether some of those keywords that aren't converting are still worth bidding on. If they're not, get rid of them and tighten up your focus to the ones that are converting well.
If you're bidding on your own branded terms, try lowering or stopping those bids altogether. When no one else is bidding on your brand, it should cost you next to nothing. We've experimented with a few of our clients, and across the board saw paid traffic funnel over to organic with the same amount of conversions, only at a much-reduced cost.
3. Use Google trends to provide relevant recommendations
Google Trends gives us as close to real-time information as we can get in terms of how popular a particular search term is at any given moment. Unlike other analytics software that gives you historical average monthly searches of a particular query – such as SEMrush or Mangools ­– Google Trends provides insight for what to do right now.
We have a client in the industrial paint sprayer industry. Using Google Trends, we noticed their regular search terms were down a bit. However there was a huge spike in searches for "disinfectant sprayers," "cleaning sprayers," and "coronavirus sprayers."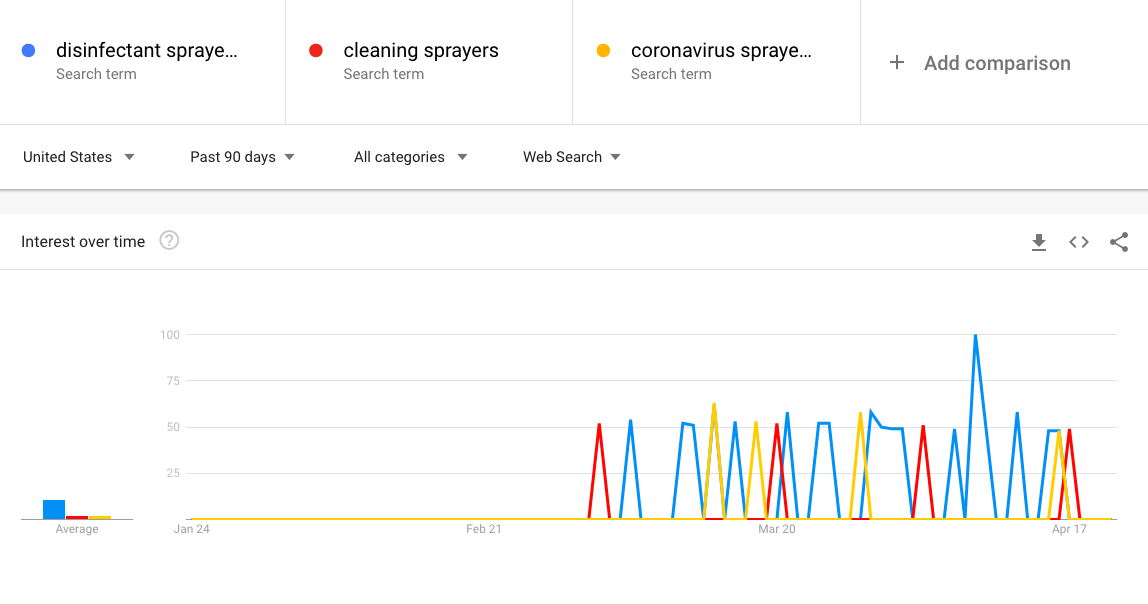 This client's paint sprayers are equipped to spray certain disinfectants approved by the EPA. Naturally, we jumped on this opportunity right away and created new content specific to the disinfectant sprayer market – which at the time no one else was capitalizing on. This trend that didn't exist two months ago was now being searched in such high volumes that our client experienced incredible ranking improvements almost overnight.
The big takeaway here is that you need to always keep an eye out for these opportunities. They certainly won't last forever.
4. Introduce your B2C products to the B2B market
Businesses of all sizes are taking advantage of the Paycheck Protection Program set forth by the government, which essentially offers tax credits for forgivable expenses such as rent, employee benefits, and payroll. Plenty of companies who don't necessarily need it have applied too, and are using this influx of capital to grow their businesses and make big investments right now.
If you have a B2C product that has a potential B2B application or can be bought in bulk, this is a great time to start going harder after the right B2B play if that exists for your business.
One of our more "high ticket" B2C clients, with an average order value of $626, recently transitioned to include B2B sales and received three $40k+ orders in the past two months. 
5. Make the most of each purchase by bundling your products
Speaking of government assistance programs, one of the most talked-about topics right now is the economic impact payments, or "stimulus checks" as they're more commonly known. With at least $1,200 more spending money in their pockets, many Americans who have been down on themselves lately may want to temporarily remedy that by buying themselves a non-essential item or two.
We want to make sure we're taking advantage of this fleeting opportunity by maximizing our revenue within each individual purchase. One of the ways we can do this is by bundling products.

Let's use dinosaur toys as an example. While the consumer could buy them separately, we know from our analytics that our average user wants at least two. If we bundle them together and give a slight reduction in price, we now have a $15 purchase instead of a mere $6 one. The buyer is happy because they got a perceived value and the seller is also happy because they increased their profits.
Look at all your SKUs and evaluate the things people are commonly buying together and then bundle them on your site to make that transaction easier. Bundling your products can also be a great way to get rid of inventory that isn't selling well. Simply package it with a top seller and watch it sell through at a nice profit.
6. Drive engagement and sales through email marketing
How do you get your brand out there and let your customers know your product should be the one thing they buy? The answer is nothing new to the e-commerce world: Email marketing.
But wait a minute . . . isn't email dead?
I thought Millennials & Gen Z killed email!
Nobody is checking email anymore.
The thing about these common misconceptions is that they couldn't be further from the truth. Email conversions are currently at an all-time high across most of our industries. The greatest thing about email is that it's so cheap to use. On average, our best performing emails drive thousands of dollars per day in revenue, and they only cost a few cents to deliver. Talk about ROI! 
The first thing you need to do right now is grow your email list, whether that's through a pop-up on your website, another type of campaign, or engagement with your social channels. If you want people to sign up, you're going to need to offer something first, whether that's free shipping on the first order or a simple 25% off coupon. Keep in mind, by giving away something little now, you are potentially buying yourself a long-term customer.
If you don't have the financial wherewithal to advertise at the moment, or don't have a product that's in demand, the smartest thing you can do right now is increase your customer intimacy and build quality relationships. A lot of people have extra free time and may be more willing to fill out a survey, so use this time for research and personalization. Figure out your customer base and segment them accordingly, so that you have a proper plan in place for when things return to normal.
No matter what you do, make sure you are using email marketing right now.
7. Develop your wish list functionality
Admittedly, wish lists are a bit of a sore subject right now because abandoned carts are on the rise. That said, if your site has wish list functionality built in, this is an excellent opportunity to develop an extra level of personalization.
Add your wish list data directly into your automated marketing strategy so you can remain in contact with those shoppers. You know your customers might not have the resources to purchase now, but you can – and should – come back to them in 3-6 months when the market has snapped back and people have discretionary income again.
How will you reach these people in 3-6 months? With email marketing, of course. 
8. Offer a subscription option
It should come as no surprise that it's much cheaper to keep a customer than to acquire a new one. If you have a product that sees regular recurring sales (food items, health and beauty products, household goods, etc.), then a subscription model may be a good option for you.

Subscriptions are an easy way to boost monthly revenue because it's guaranteed money that doesn't require any additional touchpoints. You have a lot of control when it comes to setting up your subscription plans as well, as you can determine your margins, fulfillment, distribution, and regularity of deliveries (monthly, quarterly, yearly, etc.).
In the age of COVID-19, consumers are shifting from subscriptions of convenience to subscriptions of necessity, as many brick-and-mortar stores are closed, access to transportation is limited, and physical shopping brings added risk of infection. If you don't have a subscription option already set up, build one. If you do, now's the time to market it even harder.
9. Leverage your out of stock products appropriately
The grisly truth right now is that with staff shortages, hoarding, and supply chain disruptions, it's not uncommon to see far more out of stock products than we're typically used to. When that inevitably happens, we want to make sure we don't lose any potential customers as a result.

There are three things you should absolutely do with any out of stock items:
Create wish list/email marketing functionality that will alert buyers when a product is back in stock.
Have a system in place that will suggest or direct them to another similar product that is readily available for purchase (see image above).
Consistently manage your inventory by temporarily removing items when they become unavailable.
Regarding that last point, we have a client in the CPG food industry with a particular product that comes in either a small or large quantity. When the large quantity went out of stock recently, we immediately noticed a decrease in their conversion rate. When we removed the larger option from the store, we were rewarded with a 3x revenue increase.
People wanted that larger quantity because they knew it was a better deal and were willing to wait until it was back in stock. But when the smaller option was the only one available, the customers didn't know what they were missing out on and bought it happily. What's better, they bought even more of them, effectively creating their own larger product – and larger profits for the client.
Right now, people are used to having fewer choices available to them and are more willing to choose alternatives, provided you offer them the option. If you don't think that's true, answer this question: When was the last time you bought your preferred brand of toilet paper or cleaning products?
Dominate this time of uncertainty with Perrill
So, there you have it, nine expert strategies you can begin to apply right now. We're implementing these for many of our clients and are already seeing significant returns ­– and we can do the same for you. Contact us today and we'll show you how to take your e-commerce business from surviving to thriving in the age of COVID-19.

Greg Johnson is a Copywriter at Perrill. He takes great pride in crafting creative, strategic content for his clients that their audiences find value in and actually enjoy reading. When he's not typing away at his work computer, you can usually find Greg typing away at his home computer, writing superfluous stories and embarrassing poetry.