Back
8 WordPress Plugins Every Marketer Needs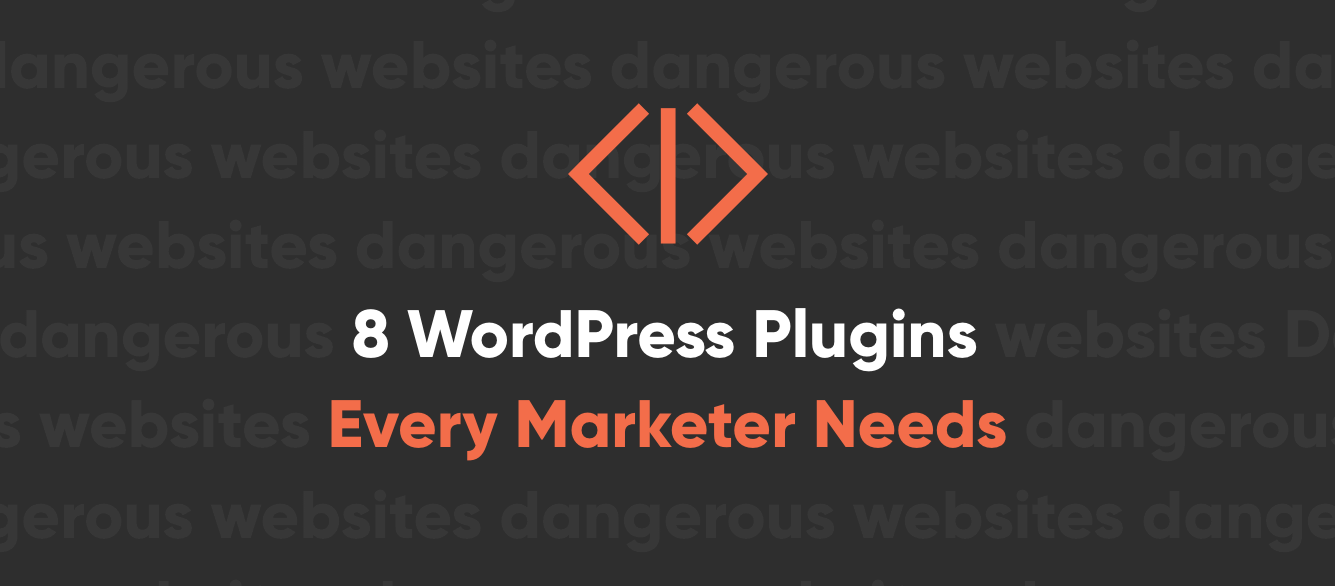 As a digital marketer, you tend to wear many goofy-lookin' hats. Content writer fedora. SEO wizard cap. Client wrangler 10-gallon hat. The list goes on.
So it's no surprise that you're always on the lookout for things to make your life a little easier. Of course, managing your WordPress website(s) is just one of those areas.
Fortunately, we live in the glorious future where literally thousands of tools exist—many of which are 100% free—that can help you with everything from increasing your page speed to writing an effective title tag.
They're called WordPress Plugins, and just like their physical namesake, they'll help you keep the lights on.
What are WordPress plugins?
Plugins are downloadable software extensions that either add new functionality to your WordPress site or make existing functions easier to use. Typically written in PHP, plugins integrate seamlessly with WordPress and allow the user—a.k.a. you—to add new features to your site without having to learn a single line of code. Neat, huh?
Now that you know what plugins are, it's time to take a look at which ones are actually worth your time.
The 8 Wordpress plugins that will make your marketing life easier
Okay so—full disclosure—that title is a bit misleading. It's more like 23 plugins. But the good news is, you really only need 8 or 9 of them.
You're a grown marketer. You probably even have preferences. I'll give you some recommendations for each category of plugins, and you can try them out to see which ones you like best. How does that sound?
Good? Okay, then let's begin.
1. All-in-One SEO
It used to be that if you wanted good SEO functionality, you needed at least 3-4 different plugins. Now, a single SEO extension can help you with everything from XML sitemaps and structured data to content analysis and linking.
You might be asking yourself, But wait a minute, doesn't WordPress come with built-in SEO tools? Well, yes, it does, and it's actually not too shabby. However, all three of our recommendations below are quite a bit better and make optimization so easy, even an SEO caveman could use them.
The best SEO WordPress plugins:
Need to know what to do with these SEO tools once you have them? Read our recent article on the top 7 SEO ranking factors for 2021.
2. Email Marketing
Email is truly the unsung hero of the digital marketing world. It is one of the most cost-effective ways to increase pageviews, reduce abandoned carts, and send your profits through that hole in the eCommerce ozone.
That's why you a good email marketing plugin to make your efforts that much more successful. The following plugins will help you grow your subscriber lists, set up automated campaigns, and ensure your messages make it safely to their new inbox homes.
The best email marketing WordPress plugins:
Did you know that about two-thirds of all online shopping carts are abandoned? Learn how to create abandoned cart emails that work.
3. Broken Links & Redirection
There are few things that can ruin your users' experience faster than a broken link or an unexpected 404 page. Of course, you're a busy marketer, so you simply don't have the time to manually crawl your site each day to discover these never-ending disturbances.
The following plugins will help you manage these SEO headaches. In no time you'll be discovering broken internal and external links, setting up 301 redirections, and tidying up any loose ends your site has to offer.
The best broken link and redirection WordPress plugins:
Okay, now that you've discovered your site's broken backlinks, it's time to learn how to fix them.
4. Caching & Page Speed
Welcome to the era of the Google Page Experience update. If your site is painfully slow, not only will your visitors grow impatient and leave, but thanks to Google's algorithm, no one will find you to begin with. Fortunately, it's easier than ever to optimize your site and boost your page speed.
The following plugins are great for compressing your images, caching your files, and lazy-loading your off-page content. Before you know it, your visitors will be flying through your site like Chuck Yeager in a P-51 Mustang.
The best caching and page speed WordPress plugins:
Worried about your site not passing the Core Web Vitals? Here's a quick summary of everything you need to know.
5. Analytics
You're no slouch. You know having access to the right data is key to your success as a marketer. So do yourself a favor and install one of the following plugins already.
You'll be surprised at how easy it is to connect your WordPress site to Google Analytics (or the dashboard of your choice) so you can grow your business with confidence.
The best analytics WordPress plugins:
Are you worried you're not monitoring the right data? Here are the 8 things you should be tracking in Analytics.
6. Social Media Marketing
I think it's safe to say that social media is not going away anytime soon. Whether you enjoy it or not, as a digital marketer, you've no doubt spent some time on at least the top 3-4 platforms. And with a little help from one of the plugins below, you'll be gaining followers and driving more engaged traffic to your site in no time.
Floating Social lets you easily connect and customize the social icons on your site, making it a better experience for your visitors. Revive Old Posts makes it simple to schedule and share new and old content alike to keep your followers engaged. Finally, Smash Balloon lets you display a stunning photo feed from your Instagram account to breathe a little life into your site.
The best social media marketing WordPress plugins:
Are you like most businesses and lack the time and resources to manage a meaningful social media strategy? Here are four reasons you need an agency to manage your social.
7. Content Writing Assistance
I write for a living, so believe me when I say that writing is hard. And writing valuable SEO content across multiple brand voices is even harder. That's why I'm not ashamed to admit that I use Grammarly as a last line of defense to catch any sneaky typos and dangling participles that refuse to be caught by the naked eye.
While you can definitely use Grammarly in your browser as a straight-up spelling and grammar checker, the following plugins all take things a little further into the SEO content writing side of things. With recommended keywords, a detailed readability analysis, and a surprisingly good plagiarism checker, you'll find yourself wondering how you ever wrote content on your own.
The best writing assistant WordPress plugins:
Want to know a secret? Here's how to write content that ranks really well and has a lasting impact on your readers.
8. Engagement & Support
At the end of the day, your website is there to engage with your customers. So, the better the experience you can create for your users, the better.
Want to increase sales and improve your customer service? Try adding a live chat feature to your site. Want to keep your users on your site for longer? Add a related posts plugin to your blog pages. Want to add a highly optimized contact form without any coding knowledge? You can do that too.
The best engagement and support WordPress plugins:
Want to know how to tailor your contact form to achieve maximum submissions? Read our article on how to create a contact form that converts.
Plug into digital marketing success with the experts at Perrill
Doing it all yourself is great—and certainly worthy of admiration—but sometimes that's not the best strategy for your business. When you're ready to stop going it alone, give us a call and we'll help you craft and execute a digital strategy designed to make the most of your marketing dollars.
The Perrill team is comprised of collaborative experts in the latest and most proven trends in digital advertising, SEO, content marketing, and much more. In over 25 years as the original Minneapolis digital agency, we have helped countless local and national businesses establish themselves as online industry leaders—and we're ready to do the same for you.

Greg Johnson is a Copywriter at Perrill. He takes great pride in crafting creative, strategic content for his clients that their audiences find value in and actually enjoy reading. When he's not typing away at his work computer, you can usually find Greg typing away at his home computer, writing superfluous stories and embarrassing poetry.